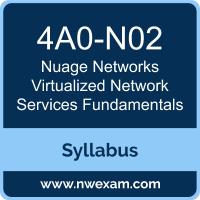 A great way to start the Nuage Networks Professional - Software Defined WAN (NNP SD-WAN) (VNS Fundamentals) preparation is to begin by properly appreciating the role that syllabus and study guide play in the Nuage Networks 4A0-N02 certification exam. This study guide is an instrument to get you on the same page with Nuage Networks and understand the nature of the Nuage Networks Virtualized Network Services Fundamentals exam.
Our team of experts has composed this Nuage Networks 4A0-N02 exam preparation guide to provide the overview about Nuage Networks Nuage Networks Virtualized Network Services (VNS) Fundamentals exam, study material, sample questions, practice exam and ways to interpret the exam objectives to help you assess your readiness for the Nuage Networks VNS Fundamentals exam by identifying prerequisite areas of knowledge. We recommend you to refer the simulation questions and practice test listed in this guide to determine what type of questions will be asked and the level of difficulty that could be tested in the Nuage Networks Virtualized Network Services Fundamentals certification exam.
Nuage Networks 4A0-N02 Exam Overview:
Nuage Networks 4A0-N02 Exam Topics:
Section

Objectives

Introduction to VNS

- Software-Defined Wide Area Networks (SD-WAN)
- Virtualized Network Services
- Relevant Technology (VXLAN Overlay, BGP EVPN)
- Typical deployments

VNS Product Portfolio

- Nuage Networks Product Portfolio overview Virtualized Services Directory (VSD)
- Virtualized Services Controller (VSC)
- Nuage Gateways and the WBX
- Network Services Gateway (NSG) product line
- NSG deployment
- IPv6 support and use cases

VNS Use Cases

- NSG Bootstrapping
- NSG Uplink Connections
- NSG Branch-to-branch communication
- DHCP on the Bridge Ports
- SD-WAN/Datacenter Overlay Interop
- Exploring VSC and NSG
- Security Policies
- Service Chaining
- VNS Quality of Service
- NAT/PAT (Internet Offload)
- NSG Dual Uplinks
- IPsec VPN
- NAT-Traversal
- Access Redundancy

Extensions to the VNS solution: NSG Maps, SD-WAN Portal and VNO

- NSG Enterprise Maps
- SD-WAN Service Portal
- Virtual Networks Orchestration (VNO)
Nuage Networks VNS Fundamentals Exam Description:
Service providers, web-scale operators and enterprises needing to understand the technology, techniques, and best practices for implementing an SDN solution using Nuage Networks Virtualized Network Services (VNS).