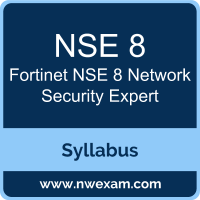 A great way to start the Fortinet Network Security Expert 8 (NSE8 811) preparation is to begin by properly appreciating the role that syllabus and study guide play in the Fortinet NSE 8 certification exam. This study guide is an instrument to get you on the same page with Fortinet and understand the nature of the Fortinet NSE 8 Network Security Expert exam.
Our team of experts has composed this Fortinet NSE 8 exam preparation guide to provide the overview about Fortinet Network Security Expert 8 Written Exam exam, study material, sample questions, practice exam and ways to interpret the exam objectives to help you assess your readiness for the Fortinet NSE8 811 exam by identifying prerequisite areas of knowledge. We recommend you to refer the simulation questions and practice test listed in this guide to determine what type of questions will be asked and the level of difficulty that could be tested in the Fortinet NSE 8 Network Security Expert certification exam.
Fortinet NSE 8 Exam Overview:
Fortinet NSE 8 Exam Topics:
Section

Objectives

Security architectures

Fortinet cloud security solutions

- FortiGate VM models and licensing
- FortiGate VM deployments
- Fortinet on private clouds
- Fortinet on public clouds

Designing resilient solutions

- Fortinet solutions advanced high availability features
- Fortinet solutions operation and deployment modes
- FortiGate Cluster protocol
- FortiGate Session Life Support protocol
- Session-aware load-balancing clustering
- Load balancing
- Fault tolerance

Designing enhanced Fortinet solutions

- Fortinet solutions for specific scenarios

Secure access networks

Web application security

Advanced threat protection

Cloud security

Enterprise firewall

Fortinet high-end solutions

- FortiGate 3000 Series
- FortiGate 5000 Series
- FortiGate 7000 Series

Hardware acceleration

Hardware acceleration overview

- Content processors
- Security processors
- Network processors
- FortiGate blades
- FortiGate chassis

Traffic in Fortinet products

- Traffic offloading
- Life of a packet
- Fortinet communication ports and protocols

Networking

Advanced routing

- Static routing
- Dynamic routing
- Routing and high availability
- Asymmetric routing
- Secure SD-WAN

Advanced NAT

- Central NAT
- NAT64
- NAT46
- DNS64

VPN technologies

- Advanced IPsec
- Advanced SSL

Network troubleshooting

- Debugging tools
- Diagnostic tools
- Routing and VPN troubleshooting
- CLI in Fortinet solutions

Authentication

Authentication with Fortinet products

- Advanced single sign-on
- RADIUS
- Two-factor authentication
- 802.1x
- Certificate-based authentication
- Troubleshooting

Content inspection

Inspection modes

- SSL/SSH
- Certificate
- Sandbox inspection

FortiOS security profiles

- Antivirus
- Intrusion prevention systems (IPS)
- Application control
- Web filtering
- DNS filtering
- VoIP inspection
- Session helpers

FortiGuard Services

Security operations

Fortinet solutions APIs

- Rest API

Handling security events with Fortinet solutions

- FortiSIEM
- FortiAnalyzer
- Log analysis
- Event management

Fortinet central management solutions

- FortiManager
- FortiCloud

Integrated Solutions

Integrate Fortinet solutions for advanced threat protection

FortiLink

Fortinet wireless solutions

Fortinet authentication solutions

Fortinet hybrid solutions (traditional network and cloud)

Enhanced Technologies

Fortinet enhanced solutions including:

- FortiWeb
- FortiADC
- FortiDDoS
- FortiAuthenticator
- FortiMail
Fortinet NSE8 811 Exam Description:
The NSE 8 Fortinet Network Security Expert designation identifies a candidate's comprehensive knowledge of network security design, configuration, and troubleshooting for complex networks. To attempt the exam, candidates must have related industry experience.