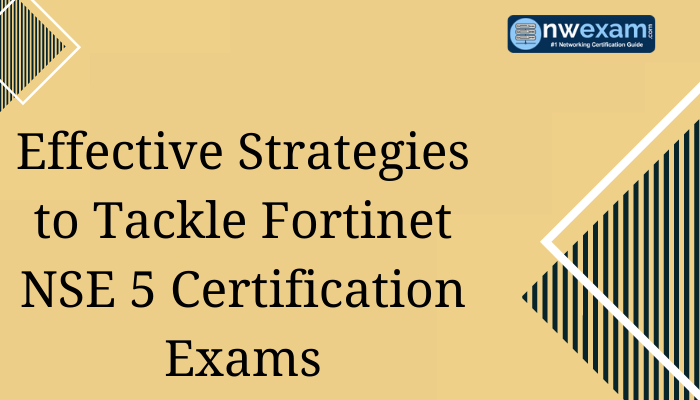 The Fortinet Network Security Expert (NSE) program is an eight-level training and certification path aimed at offering enthusiastic technical professionals an independent confirmation of their network security skills and experience. This post will focus on Fortinet NSE 5 Certifications.
Overview of Fortinet NSE 5 Certification Exams
NSE 5 acknowledges your skills in carrying out network security management and analytics utilizing Fortinet security devices. The NSE5 certification is best suited for those who need the proficiency to fundamentally analyze, manage, and inform on Fortinet security devices. This certification is acknowledged when you successfully pass a minimum of any two Fortinet NSE 5 certification exams.
To receive Fortinet NSE 5certification, you must pass at least two exams from the following list:
Proven Tips On How to Pass Fortinet NSE 5 Exams Successfully
Some resources assume that there's a high failure rate for applicants who make their first try to pass the NSE5 exams. Here are a few tips you can take to ensure your success. So, here are the tips to clear the Fortinet NSE5 exams on the first try:
1. Obtain Trustworthy Study Material
The Internet may include a lot of cheap or even free study materials for the Fortinet NSE 5 exam. However, these resources may possess unauthentic information. Apart from obtaining study resources from Fortinet, you should do detailed research about the authenticity of any other sources you may wish to take up for exam preparation.
2. Create an Effective Study Plan
Preparing for a Fortinet NSE 5 certification without a study plan is extremely inappropriate, and this usually causes inadequate preparation for the exam. Having an elaborate study plan will allow you to keep tabs on your objectives and help you see what you have already accomplished and what topics require improvement.
3. Use Fortinet NSE 5 Practice Test
Practice tests are an excellent way to prepare for any exam because they provide an idea of your actual preparation level. You will also acquire competence during the actual exam when you practice a lot of NSE5 practice tests. It will help in improving your time management skills. There are many websites that provide Fortinet practice tests, but make sure you take up practice tests from reliable and updated websites such as NWExam.com.
Practice tests on this site are based on the actual exam format exam, which will simulate the exam environment so that you can become comfortable with the time and pressure.
4. Join Study Groups and Discussion Forums
Applicants can study with other exam takers if they join the relevant community. Here, you will find supportive discussions about exam preparation and will be able to learn from the experiences of certified professionals.
5. Online Videos
One can learn from watching online videos which provide all the information about the Fortinet NSE5 exam. They help learn the basics and give additional information about the exam like exam structure, syllabus, tips to ace the exam, and so on.
Why Achieve Fortinet NSE 5 Certification?
It is correct that this exam unlocks doors for many opportunities for IT professionals. Let's dive into some other reasons why Fortinet NSE 5 certification is the most valued.
1. Fortinet is Globally Acknowledged
Having a certification from a known and respected vendor is a boon. Your knowledge and skills will be acknowledged anywhere across the globe because most organizations believe that professionals with Fortinet certifications have top-notch skills in their area of specialization. This suggests that your skills would never fail to be considered even when you decide to work online for various organizations overseas.
2. Passing NSE 5 Exams Extend Knowledgebase
Passing Fortinet NSE5 gives a wider understanding of Network Security concepts. You're going to be evaluated on your skills to troubleshoot security networks and make sure you help secure businesses from cybercrime and online security threats.
3. Promotions
This is one of the most notable reasons most IT professionals spend time and money to earn certifications. Everyone needs to update their knowledge and skills and advance their career. Having listed Fortinet certification in your resume will give you the first preference for promotion in your current job.
Conclusion
No exam preparation journey is a cakewalk, and the tough & tiresome structure of the Fortinet NSE5 certification exam makes it even more difficult. However, the right attitude carved after directing to the above-mentioned pointers can hit it. So, make sure you follow the above tips, keep in mind the benefits and get through the NSE5 exams. All the Best!!