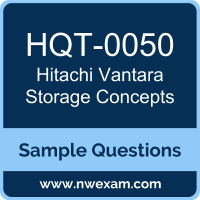 Before you write the Hitachi Vantara Storage Concepts (HQT-0050) certification exam, you may have certain doubts in your mind regarding the pattern of the test, the types of questions asked in it, the difficulty level of the questions and time required to complete the questions. These Hitachi Vantara Qualified Associate - Storage Concepts sample questions and demo exam help you in removing these doubts and prepare you to take the test.
The best approach to pass your Hitachi Vantara HQT-0050 exam is to challenge and improve your knowledge. To test your learning and identify improvement areas with actual exam format, we suggest you practice with Premium Hitachi Vantara HQT-0050 Certification Practice Exam. The practice test is one of the most important elements of your Hitachi Vantara Storage Concepts Associate exam study strategy to discover your strengths and weaknesses, to improve your time management skills and to get an idea of the score you can expect.
Hitachi Vantara HQT-0050 (Storage Concepts) Sample Questions:
01. A customer needs to identify performance bottlenecks in their FC SAN. Using performance monitoring software, what should be investigated first?
a) buffer credits values
b) storage system cache write pending rates
c) file system usage
d) database system global area
02. What represents the unique number used to identify each element on a Fibre Channel storage network?
a) HDD
b) LAN
c) SFP
d) WWPN
03. Which customer type will benefit from a content management platform solution?
a) Customers with a large number of departmental offices in multiple locations.
b) Customers with large numbers of file servers or NAS systems considering an archiving or a tiering strategy.
c) Customers wanting to improve application availability by reducing downtime caused by backups.
d) Customers wanting to deploy a structured database for their customer data.
04. A consulting company would like to automatically invoke movement, retention and disposal of data according to defined rules. Which process should they implement?
a) a content-based management system
b) a file-based management system
c) a policy-based management system
d) an object-based management system
05. What are two advantages of data mirroring in a RAID implementation?
a) It provides faster random write performance.
b) It is the least expensive way to implement RAID.
c) It allows data recovery if a disk failure occurs.
d) It provides increased capacity.
06. You are implementing a zone containing ports 1, 3, 5 and 7 on a switch. Which type of zoning are you implementing?
a) LUN masking
b) hard zoning
c) soft zoning
d) WWN zoning
07. How does a switch enable better network performance than a hub?
a) by connecting two networks together
b) by identifying the source of a data packet
c) by delivering each data packet only to the intended device
d) by delivering each data packet to all devices on the network
08. Why is parity information distributed across all disks in some RAID 5 implementations?
a) to reduce the cost of implementing a RAID solution
b) to allow for double disk failures
c) to create an exact data copy on two or more disks
d) to balance the workload across all disks
09. An insurance customer would like to implement lifecycle management in their data center. What is a benefit of adopting this solution?
a) It reduces the amount of data being handled in the production environment.
b) All data is migrated to off-line silos to streamline production.
c) All duplicated data is deleted to release storage capacity.
d) Replication times will be reduced.
10. What are two benefits of dividing a storage system into logical partitions?
a) It will enhance administrative security.
b) It will automatically migrate resources between partitions.
c) It will enable QoS targets to be maintained for applications.
d) It will allocate extra resources on demand.
Solutions:
Question: 01

Answer: a

Question: 02

Answer: d

Question: 03

Answer: b

Question: 04

Answer: c

Question: 05

Answer: a, c

Question: 06

Answer: b

Question: 07

Answer: c

Question: 08

Answer: d

Question: 09

Answer: a

Question: 10

Answer: a, c
Note: If you find any error in these Hitachi Vantara Storage Concepts Associate sample questions, you can update us by write an email on feedback@nwexam.com.