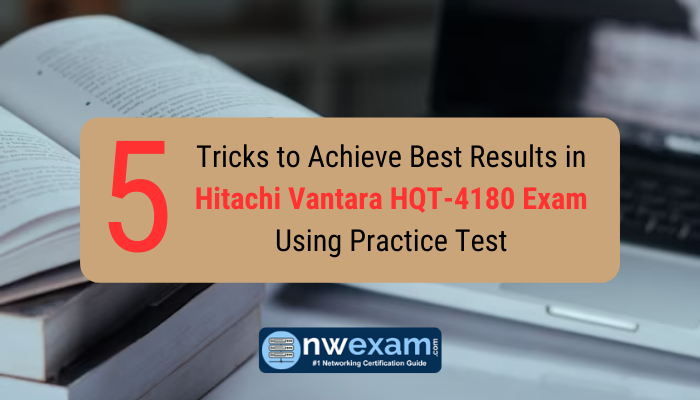 The Hitachi Vantara certification confirms that individuals possess the necessary expertise, knowledge, and capabilities to excel in their digital transformation endeavors. This article will discuss the Hitachi Vantara VSP Midrange Family Installation Professional HQT-4180 certification.
What Is HQT-4180 Certification?
Hitachi Vantara VSP Midrange Family Installation Professional certification is designed for Hitachi Vantara partners and installation staff employed by the company, responsible for installing, setting up, and providing support for Hitachi Vantara products and systems. The exam will assess whether the candidate possesses the necessary knowledge and abilities to install, configure effectively, and support Hitachi midrange storage systems at customer locations. This encompasses a deep understanding of the system's hardware and familiarity with installation and configuration processes. The test also includes topics on basic storage management tasks and the tools, techniques, and best practices associated with supporting and servicing the Hitachi VSP midrange family.
HQT-4180 Exam Details
The Hitachi Vantara HQT-4180 exam is a comprehensive assessment consisting of 35 questions. To pass the exam, candidates must achieve a minimum score of 65%. The exam duration is 60 minutes, during which participants will be required to showcase their knowledge and expertise in the subject matter. To participate in this exam, candidates are required to pay a fee of US $100.
The exam format is proctored, ensuring the integrity and security of the assessment. It is also a closed-book exam, meaning that candidates cannot refer to external materials or resources during the test. The HQT-4180 exam aims to evaluate the skills and proficiency of individuals in a controlled environment to ensure a fair and accurate assessment of their capabilities.
Hitachi Vantara
HQT-4180 Exam Preparation Tips and Tricks
While nobody finds pleasure in preparing for or sitting through certification exams, sometimes there is no alternative. If you wish to obtain a particular certificate or advance in your career, passing these exams becomes necessary. In such circumstances, it's essential to ready yourself adequately to increase your chances of achieving the high grades you aspire to. Here are five steps you can follow to prepare for the Hitachi Vantara HQT-4180 exam:
1. Comprehend the Objective of the HQT-4180 Examination
The initial action you should take is to understand the purpose of the exam. Before delving into your studies, familiarize yourself with the content and benefits of the test you are registering for. Be aware of the number of questions, subject areas, and other crucial details. Identify the most efficient study methods for the exam. Additionally, we suggest visiting the official certification page after reading our article to explore any additional information we may not have covered. This will aid in shaping your preparation process and getting off to a strong start.
2. Chart Out a Plan for How You Will Prepare
Opting for a daily short study session to grasp the fundamentals of the test will prove more manageable than attempting to cram all the material in just one or two days. To achieve this, design a well-structured plan outlining when and how you will cover each exam topic. Make the most of your study time by avoiding procrastination and adhering to the planned schedule.
3. Take Up Recommended Training
Taking up the recommended training is one of the best ways to prepare for the HQT-4180 exam. Hitachi Vantara provides training materials on its official website. The courses there will help you prepare for the exam by researching the domains and planning your study accordingly. Some of the most highly recommended training are as follows:
1024PI Installing and Configuring Hitachi VSP Midrange (3d ILT)

1037PI VSP E Series Refresher Workshop for Certified Partners: What's New (1d ILT)

1067PC What's New in the Hitachi VSP E Series: New VSP E1090, and Updates to VSP E790 and E590 (1h online)
4. Take HQT-4180 Practice Test
This approach is indispensable. Engaging in HQT-4180 practice tests allows you to assess whether your preparation is on target or requires further improvement. These practice questions are designed to help learners evaluate their progress and understanding of the topics. You can access dependable practice questions on the nwexam website.
5. Allow Yourself Enough Time for Relaxation
This is a crucial step that must be considered. Without giving yourself some time to rest, absorbing the HQT-4180 exam topics and comprehending all the details becomes challenging. Insufficient sleep can scatter your focus, causing you to miss crucial information that may be included in the exam questions. It is essential to take periodic breaks and engage in enjoyable hobbies to make the process more enjoyable.
How Can Practice Tests from NWExam Ease Your Preparation for Hitachi Vantara HQT-4180 Exam?
Candidates must ensure they are well-prepared for the exam, so incorporating practice tests into their study process is essential. Let's explore how these practice tests can facilitate and streamline your preparation.
1. Mastering HQT-4180 Exam Format and Structure
By utilizing HQT-4180 practice tests, you gain a deep understanding of the exam format and structure. These tests mirror the HQT-4180 exam, allowing you to familiarize yourself with the exam question types, time constraints, and overall flow. This familiarity builds confidence, minimizes anxiety, and enhances your efficiency during the exam, giving you an edge over other candidates.
2. Identifying Knowledge Gaps
Practice tests act as diagnostic tools, enabling you to identify your strengths and weaknesses in the subject matter. Analyzing your performance in various topics helps you pinpoint knowledge gaps, allowing you to focus your study efforts strategically. You can optimize your learning experience and maximize your score potential with targeted preparation.
3. Improving Time Management Skills
Time management is critical in any exam, and the HQT-4180 test is no exception. Through practice tests, you develop invaluable time management skills. By simulating exam conditions, nwexam practice tests challenge you to answer questions within the allotted time, enhancing your ability to work efficiently under pressure. As a result, you will be better equipped to complete the actual exam on time, ensuring that you don't miss out on valuable marks.
Conclusion
While aiming for the highest score in the Hitachi Vantara HQT-4180 exam is commendable, remember that your achieved grade plays a crucial role in determining your accomplishments. Beyond merely passing the exam, this endeavor is about acquiring the professional skills and knowledge necessary for success in your career. Dedicate the attention your preparation deserves to emerge from this experience as a well-rounded individual.