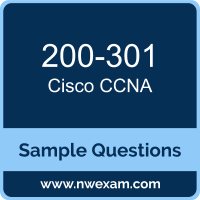 Before you write the Cisco CCNA (200-301) certification exam, you may have certain doubts in your mind regarding the pattern of the test, the types of questions asked in it, the difficulty level of the questions and time required to complete the questions. These Cisco Certified Network Associate (CCNA) sample questions and demo exam help you in removing these doubts and prepare you to take the test.
The best approach to pass your Cisco 200-301 exam is to challenge and improve your knowledge. To test your learning and identify improvement areas with actual exam format, we suggest you practice with Premium Cisco 200-301 Certification Practice Exam. The practice test is one of the most important elements of your Implementing and Administering Cisco Solutions (CCNA) exam study strategy to discover your strengths and weaknesses, to improve your time management skills and to get an idea of the score you can expect.
Cisco 200-301 (CCNA) Sample Questions:
01. What do you call data that includes the Layer 4 protocol header, and data given to Layer 4 by the upper layers, not including any headers and trailers from Layers 1 to 3?
a) L3PDU
b) Chunk
c) Segment
d) Packet
e) Frame
f) L4PDU
02. Before Class B network 172.16.0.0 is subnetted by a network engineer, what parts of the structure of the IP addresses in this network already exist, with a specific size?
a) Network
b) Subnet
c) Host
d) Broadcast
03. Router R15 has been a working part of a network that uses OSPFv2. An engineer then issues the shutdown command in OSPF configuration mode on R15. Which of the following occurs?
a) R15 empties its IP routing table of all OSPF routes but keeps its LSDB intact.
b) R15 empties its LSDB but keeps OSPF neighbor relationships active.
c) R15 keeps OSPF neighbors open but does not accept new OSPF neighbors.
d) R15 keeps all OSPF configuration but ceases all OSPF activities (routes, LSDB, neighbors).
04. An enterprise moves away from manual configuration methods, making changes by editing centralized configuration files. Which answers list an issue solved by using a version control system with those centralized files?
a) The ability to find which engineer changed the central configuration file on a date/time
b) The ability to find the details of what changed in the configuration file over time
c) The ability to use a template with per-device variables to create configurations
d) The ability to recognize configuration drift in a device and notify the staff
05. ​The Wi-Fi Alliance offers which of the following certifications for wireless devices that correctly implement security standards?
a) WEP
b) WPA2
c) 802.11
d) AES
06. Which of the following line subcommands tells a switch to wait until a show command's output has completed before displaying log messages on the screen?
b) no ip domain-lookup
d) history size 15
07. A single-line ACL has been added to a router configuration using the command ip access-list 1 permit 172.16.4.0 0.0.1.255. The configuration also includes the access-class 1 in command in VTY configuration mode.
Which answer accurately describes how the router uses ACL 1?
a) Hosts in subnet 172.16.4.0/23 alone can telnet into the router.
b) CLI users cannot telnet from the router to hosts in subnet 172.16.4.0/23 alone.
c) Hosts in subnet 172.16.4.0/23 alone can log in but cannot reach enable mode of the router.
d) The router will only forward packets with source addresses in subnet 172.16.4.0/23.
08. With static NAT, performing translation for inside addresses only, what causes NAT table entries to be created?
a) The first packet from the inside network to the outside network
b) The first packet from the outside network to the inside network
c) Configuration using the ip nat inside source command
d) Configuration using the ip nat outside source command
09. Eight virtual machines run on one physical server; the server has two physical Ethernet NICs. Which answer describes a method that allows all eight VMs to communicate?
a) The VMs must share two IP addresses and coordinate to avoid using duplicate TCP or UDP ports.
b)
Each VM uses a virtual NIC that logically connects to a virtual switch.
c) Each VM uses a virtual NIC that is mapped to a physical NIC.
d)
The hypervisor acts as an IP router using the NICs as routed IP interfaces.
10. Which of the following statements is true about classless IP addressing concepts?
a) Uses a 128-bit IP address
b) Applies only for Class A and B networks
c) Separates IP addresses into network, subnet, and host parts
d) Ignores Class A, B, and C network rules
Solutions:
Question: 01

Answer: c, f

Question: 02

Answer: a, c

Question: 03

Answer: d

Question: 04

Answer: a, b

Question: 05

Answer: b

Question: 06

Answer: c

Question: 07

Answer: a

Question: 08

Answer: c

Question: 09

Answer: b

Question: 10

Answer: d
Note: If you find any error in these Implementing and Administering Cisco Solutions (CCNA) sample questions, you can update us by write an email on feedback@nwexam.com.