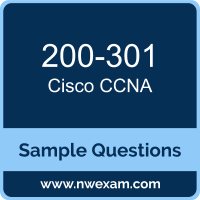 Before you write the Cisco CCNA (200-301) certification exam, you may have certain doubts in your mind regarding the pattern of the test, the types of questions asked in it, the difficulty level of the questions and time required to complete the questions. These Cisco Certified Network Associate (CCNA) sample questions and demo exam help you in removing these doubts and prepare you to take the test.
The best approach to pass your Cisco 200-301 exam is to challenge and improve your knowledge. To test your learning and identify improvement areas with actual exam format, we suggest you practice with Premium Cisco 200-301 Certification Practice Exam. The practice test is one of the most important elements of your Implementing and Administering Cisco Solutions (CCNA) exam study strategy to discover your strengths and weaknesses, to improve your time management skills and to get an idea of the score you can expect.
Cisco 200-301 (CCNA) Sample Questions:
01. On which default interface have you configured an IP address for a switch?
a) int fa0/0
b) int vty 0 15
c) int vlan 1
d) int s/0/0
02. If a notice-level message is sent to a syslog server, which event has occurred?
a) A network device has restarted.
b) A debug operation is running.
c) An ARP inspection has failed.
d) A routing instance has flapped.
03. You run ipconfig on your Windows system and see an IPv6 address that starts FE80. What type of address is this?
a) Link local
b) Multicast
c) Anycast
d) Global unicast
04. How large is the typical network portion of an IPv6 global unicast address?
a) 32 bits
b) 48 bits
c) 64 bits
d) 128 bits
05. In OSPF, Hellos are sent to what IP address?
a) 224.0.0.5
b) 224.0.0.9
c) 224.0.0.10
d) 224.0.0.1
06. You have an interface on a router with the IP address of 192.168.192.10/29. Including the router interface,
how many hosts can have IP addresses on the LAN attached to the router interface?
a) 6
b) 8
c) 30
d) 62
e) 126
07. The DSCP field constitutes how many fields in the IP header?
a) 3 bits
b) 4 bits
c) 6 bits
d) 8 bits
08. In software defined architectures, which plane is distributed and responsible for traffic forwarding?
a) management plane
b) control plane
c) policy plane
d) data plane
09. How many more bits are used in an IPv6 address than in an IPv4 address?
a) 96
b) 128
c) 48
d) 64
10. If a switch has five workstations attached, how many collision domains are created?
a) 1
b) 0
c) 5
d) 6
Solutions:
Question: 01

Answer: c

Question: 02

Answer: d

Question: 03

Answer: a

Question: 04

Answer: c

Question: 05

Answer: a

Question: 06

Answer: a

Question: 07

Answer: c

Question: 08

Answer: d

Question: 09

Answer: a

Question: 10

Answer: c
Note: If you find any error in these Implementing and Administering Cisco Solutions (CCNA) sample questions, you can update us by write an email on feedback@nwexam.com.