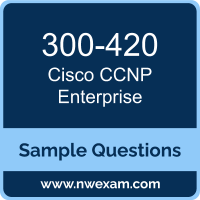 Before you write the Cisco CCNP Enterprise (300-420) certification exam, you may have certain doubts in your mind regarding the pattern of the test, the types of questions asked in it, the difficulty level of the questions and time required to complete the questions. These Cisco Certified Network Professional Enterprise (ENSLD) sample questions and demo exam help you in removing these doubts and prepare you to take the test.
The best approach to pass your Cisco 300-420 exam is to challenge and improve your knowledge. To test your learning and identify improvement areas with actual exam format, we suggest you practice with Premium Cisco 300-420 Certification Practice Exam. The practice test is one of the most important elements of your Designing Cisco Enterprise Networks (ENSLD) exam study strategy to discover your strengths and weaknesses, to improve your time management skills and to get an idea of the score you can expect.
Cisco 300-420 (ENSLD) Sample Questions:
01. Which design principle involves redundancy through hardware, software, and connectivity?
a) Performance
b) Security
c) Scalability
d) High availability
02. NAT-PT translates between what address types?
a) RFC 1918 private addresses and public IPv4 addresses
b) IPv4 and IPv6 addresses
c) Network addresses and IPv6 ports
d) Private IPv6 addresses and public IPv6 addresses
03. By default, if IS-IS is enabled on all routers, and this is an IPv6 network, what path is taken?
a) Path 1
b) Path 2
c) Unequal-cost load balancing with Path 1 and Path 2
d) Equal-cost load balancing with Path 1 and Path 2
04. How many host addresses are available with a Class B network with the default mask?
a) 63,998
b) 64,000
c) 65,534
d) 65,536
05. A packet sent to a multicast address reaches what destinations?
a) The nearest destination in a set of hosts
b) All destinations in a set of hosts
c) All hosts
d) Reserved global destinations
06. What does a hierarchical EIGRP design help with?
a) Redistribution
b) Route summarization
c) Faster convergence
d) Load balancing
07. During the integration of ISE and DNA Center, which of the following are used to establish trust through ISE?
a) REST APIs
b) pxGRID services
c) Scalable groups
d) SGACLs
08. In IS-IS networks, the backup designated router (BDR) forms adjacencies to what router or routers?
a) It forms an adjacency only with the DR
b) It forms adjacencies with all routers
c) The BDR only becomes adjacent when the DR is down
d) There is no BDR in IS-IS
09. You need to connect sites that are 8 kilometers apart by using fiber. Which media do you recommend?
a) 10GBASE-T
b) 10GBASE-ER
c) 10GBASE-LR
d) 10GBASE-SR
10. The customization of routing decisions is an example of which policy type?
a) Centralized control policy
b) Centralized data Policy
c) Localized data policy
d) Localized control policy
Solutions:
Question: 01

Answer: d

Question: 02

Answer: b

Question: 03

Answer: a

Question: 04

Answer: c

Question: 05

Answer: b

Question: 06

Answer: b, c

Question: 07

Answer: b

Question: 08

Answer: d

Question: 09

Answer: c

Question: 10

Answer: a
Note: If you find any error in these Designing Cisco Enterprise Networks (ENSLD) sample questions, you can update us by write an email on feedback@nwexam.com.