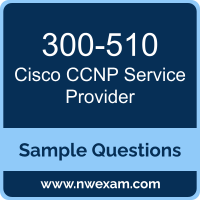 Before you write the Cisco CCNP Service Provider (300-510) certification exam, you may have certain doubts in your mind regarding the pattern of the test, the types of questions asked in it, the difficulty level of the questions and time required to complete the questions. These Cisco Certified Specialist Service Provider Advanced Routing Implementation (SPRI) sample questions and demo exam help you in removing these doubts and prepare you to take the test.
The best approach to pass your Cisco 300-510 exam is to challenge and improve your knowledge. To test your learning and identify improvement areas with actual exam format, we suggest you practice with Premium Cisco 300-510 Certification Practice Exam. The practice test is one of the most important elements of your Implementing Cisco Service Provider Advanced Routing Solutions (SPRI) exam study strategy to discover your strengths and weaknesses, to improve your time management skills and to get an idea of the score you can expect.
Cisco 300-510 (SPRI) Sample Questions:
01. What can be used to determine a path from the head-end to a tail-end router when implementing SR-TE with a head-end, with little information on the network topology?
a) traffic controller
b) path computation engine
c) tail-end router
d) SNMP server
02. A network consultant is troubleshooting IS-IS instances to identify why a routing domains is having communication problems between the two instances.
Which description of the possible cause of issues in the routing domain is true?
a) The same interface cannot be advertised in two different IS-IS instances
b) The IS-IS "ISP" and "ISP2" instances are unrelated and unable to intercommunicate
c) The configured IS-IS NSEL value is not allowing the routing systems to establish a neighborship
d) The interface mode ip router is-is command was not included in the script
03. Which command is used to enable BIDIR-PIM under global configuration mode for Cisco IOS XE Software?
a) multicast-routing
b) ipv4 pim bidir-enable
c) Ip pim bidir-enable
d) ip pim bidir ip
04. For which reason can two BGP peers fail to establish a neighbor relationship?
a) They are both activated under an IPv4 address family
b) Their BGP timers are mismatched
c) Their BGP send-community strings are misconfigured
d) Their remote-as numbers are misconfigured
05. What is the role of segment routing mapping server?
a) It advertises a local SID mapping policy to all the mapping clients
b) It works with IGP instances to calculate the prefix-SIDs in the absence of a mapping policy
c) It selects multiple mapping entries to create overlapping active mapping policies
d) It reads and translates remotely received SIDs from other mapping servers to create SID mapping entries
06. Which feature is used in multicast routing to prevent loops?
a) inverse ARP
b) STP
c) RPF
d) split horizon
07. In a PIM-SM environment, which mechanism determines the traffic that a receiver receives?
a) The receiver explicitly requests its desired traffic from the RP on the shared tree
b) The receiver explicitly requests traffic from each desired source, which responds by sending all traffic
c) The receiver explicitly requests traffic from a single source, which responds by forwarding all traffic
d) The RP on the shared tree floods traffic out of all PIM configured interfaces
08. You have configured routing policies on a Cisco IOS XR device with routing policy language. Which two statements about the routing policies are true?
a) If you make edits to an existing routing policy without pasting the full policy into the CLI, the previous policy is overwritten
b) The routing policies are implemented using route maps
c) The routing policies are implemented in a sequential manner
d) The routing policies affect BGP-related routes only
09. An engineer is troubleshooting a connectivity issue across the MPLS network and is verifying the forwarding behavior of packets.
Which table does the engineer look at to verify the forwarding behavior of an IP packet as it enters the MPLS network at the ingress LSR?
a) LIB
b) RIB
10. You have configured MSDP peering between two autonomous systems that pass traffic between two sites, but the peering has failed to come up.
Which task do you perform to begin troubleshooting the problem?
a) Verify that PIM-DM is configured on the source interface
b) Verify that multicast has been disabled globally
c) Verify that the two MSDP peers allow asymmetric routing
d) Verify that both source interfaces are reachable from both peers
Solutions:
Question: 01

Answer: b

Question: 02

Answer: a

Question: 03

Answer: c

Question: 04

Answer: d

Question: 05

Answer: a

Question: 06

Answer: c

Question: 07

Answer: b

Question: 08

Answer: c, d

Question: 09

Answer: c

Question: 10

Answer: d
Note: If you find any error in these Implementing Cisco Service Provider Advanced Routing Solutions (SPRI) sample questions, you can update us by write an email on feedback@nwexam.com.