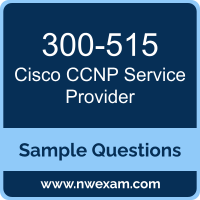 Before you write the Cisco CCNP Service Provider (300-515) certification exam, you may have certain doubts in your mind regarding the pattern of the test, the types of questions asked in it, the difficulty level of the questions and time required to complete the questions. These Cisco Certified Network Professional Service Provider (SPVI) sample questions and demo exam help you in removing these doubts and prepare you to take the test.
The best approach to pass your Cisco 300-515 exam is to challenge and improve your knowledge. To test your learning and identify improvement areas with actual exam format, we suggest you practice with Premium Cisco 300-515 Certification Practice Exam. The practice test is one of the most important elements of your Implementing Cisco Service Provider VPN Services (SPVI) exam study strategy to discover your strengths and weaknesses, to improve your time management skills and to get an idea of the score you can expect.
Cisco 300-515 (SPVI) Sample Questions:
01. While implementing Layer 3 MPLS VPN, which feature should an engineer use at the PEs to transform the customer IPv4 prefixes into a unique 96-bit prefix?
a) RT
b) VC ID
c) RD
d) PW ID
02. A network architect is troubleshooting the L2TPv3 tunneling security due to the untrusted nature of the underlaying network. Which two L2TPv3 features does the architect deploy to address the ongoing issues?
a) TCP MD5 authentication
b) control message hashing
c) CHAP authentication
d) control message rate limiting
e) asymmetric mutual authentication with PSK
03. How do PE routers exchange CE routes between remote sites?
a) by establishing BGP neighbor relationships between all connected CEs to exchange routing information
b) by learning IPv4 routes from connected CEs and redistributing them into the global IGP
c) by converting CE routes into VPNv4 routes and exchanging them using the global IGP
d) by converting CE routes into VPNv4 routes and exchanging them using MP-BGP
04. In an Ethernet Virtual Circuit environment, which restriction do bridge domains have when STP is running?
a) The STP mode must be RSTP or PVST+
b) Bridge domains must be mapped to a different VLAN.
c) The STP mode must be MSTP
d) Bridge domains must belong to different MST instances.
05. Which BGP feature causes to replace the AS number of originating router with the AS number of the sending router?
a) route reflectors
b) route dampening
c) confederations
d) AS override
06. In a typical service provider environment, which two tools are used to help scale PE router connectivity requirements?
a) route reflectors
b) VPNv4 address family
c) originator ID
d) cluster ID
e) confederations
07. The CTO of a company requires the support of a network consultant to deliver an MPLS solution without resigning to a certain degree of redundancy and scalability.
Which solution effectively scales to hundreds or thousands of sites?
a) L2VPN with the broadcast traffic processed at the ingress PE.
b) L3VPN with direct LSP connectivity between all PEs.
c) L2VPN by encapsulating multiple frame formats with interworking.
d) L3VPN using a hierarchical topology of N-PEs and U-PEs.
08. An engineer is investigating an MPLS LDP issue. Which command should an engineer use on a Cisco IOS XE device to display the contents of the LFIB?
a) show mpls forwarding-table
b) show mpls ldp neighbors
c) show mpls ldp labels
d) show mpls ldp bindings
09. What do EVPN single-active and all-active have in common?
a) They are default gateway redundancy options.
b) They are multihoming mechanisms used for CE devices.
c) They are used to provide single connection from a CE device to a service provider.
d) They are both roles that a designated router can take when MPLS is used with EVPN.
10. Which two are characteristics of using a non-MPLS peer-to-peer model over a traditional overlay model?
a) The model is suited for nonredundant configurations.
b) The configuration on a newly added site PE is updated automatically.
c) Provider routers know the customer network topology.
d) The customer specifies the exact site-to-site traffic profile.
e) Routing information is exchanged between the customer router and one or a few PEs.
Solutions:
Question: 01

Answer: c

Question: 02

Answer: b, c

Question: 03

Answer: d

Question: 04

Answer: c

Question: 05

Answer: d

Question: 06

Answer: a, e

Question: 07

Answer: d

Question: 08

Answer: a

Question: 09

Answer: d

Question: 10

Answer: c, e
Note: If you find any error in these Implementing Cisco Service Provider VPN Services (SPVI) sample questions, you can update us by write an email on feedback@nwexam.com.