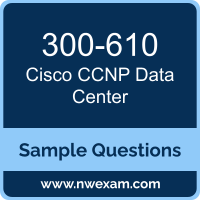 Before you write the Cisco CCNP Data Center (300-610) certification exam, you may have certain doubts in your mind regarding the pattern of the test, the types of questions asked in it, the difficulty level of the questions and time required to complete the questions. These Cisco Certified Specialist Data Center Design (DCID) sample questions and demo exam help you in removing these doubts and prepare you to take the test.
The best approach to pass your Cisco 300-610 exam is to challenge and improve your knowledge. To test your learning and identify improvement areas with actual exam format, we suggest you practice with Premium Cisco 300-610 Certification Practice Exam. The practice test is one of the most important elements of your Designing Cisco Data Center Infrastructure (DCID) exam study strategy to discover your strengths and weaknesses, to improve your time management skills and to get an idea of the score you can expect.
Cisco 300-610 (DCID) Sample Questions:
01. Which two features are provided by deploying an OOB management network in a Cisco Nexus data center?
a) Layer 3 path for monitoring purposes
b) Layer 2 path for server traffic
c) Layer 2 path for a vPC peer link
d) Layer 3 path for vPC keepalive packets
e) Layer 3 path for server traffic
02. Where does Cisco UCS handle Fibre Channel traffic failover?
a) on a Cisco UCS Fabric Interconnect ASIC in Fibre Channel switching mode
b) on the host, by using multipathing software
c) in the hardware on the Cisco UCS VIC 12xx adapter or later
d) in the hardware on any Cisco UCS VIC adapter
03. A client in a commercial building installs a Cisco blade server in the multitenant Cisco UCS blade infrastructure. To cut operating costs, the client's data center is shared with other organizations.
The client asks an engineer to prevent third parties from accessing their equipment and from accessing BIOS-related information when booting a server.
Which two policies must be used to meet these requirements?
a) post error pause
b) CDN control
c) ASPM support
d) front panel lockout
e) quiet boot
04. When planning to deploy a load-balancing service as a managed node, which ACI configuration must be included?
a) BGP ECMP
b) Layer 4 to Layer 7 device package
c) inline load-balancing device
d) ITD
05. The management of the Cisco Nexus switches is provided over an isolated put-of-band network. The VDC feature is configured on the Cisco Nexus core switches.
How is out-of-band management access provided for each VDC?
a) All the VDC have the same out-of-band IP address.
b) Each VDC has a dedicated out-of-band Ethernet management port.
c) Each VDC has a unique out-of-band IP address from the same IP subnet.
d) Each VDC has a unique out-of-band IP address from different IP subnets among VDCs.
06. Which technology enables Layer 2 extension between remote data center sites?
a) FCIP
b) GRE
c) DMVPN
d) OTV
07. What are two advantages of using Cisco vPC over traditional access layer designs?
a) supports Layer 3 port channels
b) disables spanning-tree
c) no spanning-tree blocked ports
d) uses all available uplink bandwidth
e) maintains a single control plane
08. A Cisco UCS instance has four interfaces on a UCS VIC. Where on the fabric interconnect does each interface terminate?
a) vPC
b) virtual interface
c) port channel
d) physical port
09. What are two reasons to select OTV as the DCI solution to connect multisite topologies?
a) It propagates hosts reachability without support of traffic flooding.
b) Layer 3 failures do not propagate beyond the OTV edge device.
c) It extends the spanning tree between data centers.
d) It is an open standard.
e) It constrains HSRP hello messages to each data center.
10. Which Cisco HyperFlex feature provides virtual machine-level cost scaling for desktop virtualization growth?
a) HyperFlex Edge support
b) encryption offload cards
c) dedicated compute nodes
d) fabric interconnects
Solutions:
Question: 01

Answer: b, c

Question: 02

Answer: b

Question: 03

Answer: d, e

Question: 04

Answer: b

Question: 05

Answer: c

Question: 06

Answer: d

Question: 07

Answer: c, d

Question: 08

Answer: b

Question: 09

Answer: b, c

Question: 10

Answer: a
Note: If you find any error in these Designing Cisco Data Center Infrastructure (DCID) sample questions, you can update us by write an email on feedback@nwexam.com.