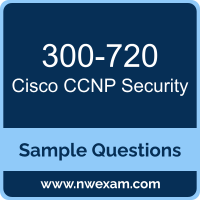 Before you write the Cisco CCNP Security (300-720) certification exam, you may have certain doubts in your mind regarding the pattern of the test, the types of questions asked in it, the difficulty level of the questions and time required to complete the questions. These Cisco Certified Specialist Email Content Security (SESA) sample questions and demo exam help you in removing these doubts and prepare you to take the test.
The best approach to pass your Cisco 300-720 exam is to challenge and improve your knowledge. To test your learning and identify improvement areas with actual exam format, we suggest you practice with Premium Cisco 300-720 Certification Practice Exam. The practice test is one of the most important elements of your Securing Email with Cisco Email Security Appliance (SESA) exam study strategy to discover your strengths and weaknesses, to improve your time management skills and to get an idea of the score you can expect.
Cisco 300-720 (SESA) Sample Questions:
01. What is the default HTTPS port when configuring spam quarantine on Cisco ESA?
a) 83
b) 82
c) 443
d) 80
02. An administrator is trying to enable centralized PVO but receives the error, "Unable to proceed with Centralized Policy, Virus and Outbreak Quarantines configuration as esa1 in Cluster has content filters / DLP actions available at a level different from the cluster level."
What is the cause of this error?
a) Content filters are configured at the machine-level on esa1
b) DLP is configured at the cluster-level on esa2
c) DLP is configured at the domain-level on esa1
d) DLP is not configured on host1
03. When the Cisco ESA is configured to perform antivirus scanning, what is the default timeout value?
a) 30 seconds
b) 90 seconds
c) 60 seconds
d) 120 seconds
04. How does the graymail safe unsubscribe feature function?
a) It strips the malicious content of the URI before unsubscribing
b) It checks the URI reputation and category and allows the content filter to take an action on it
c) It redirects the end user who clicks the unsubscribe button to a sandbox environment to allow a safe unsubscribe
d) It checks the reputation of the URI and performs the unsubscribe process on behalf of the end user
05. Which type of attack is prevented by configuring file reputation filtering and file analysis features?
a) denial of service
b) zero-day
c) backscatter
d) phishing
06. What are two prerequisites for implementing undesirable URL protection in Cisco ESA?
a) Enable outbreak filters
b) Enable email relay
c) Enable antispam scanning
d) Enable port bouncing
e) Enable antivirus scanning
07. Which process is skipped when an email is received from safedomain.com, which is on the safelist?
a) outbreak filter
b) antivirus scanning
c) message filter
d) antispam scanning
08. What occurs when configuring separate incoming mail policies?
a) message splintering
b) message exceptions
c) message detachment
d) message aggregation
09. Which action must be taken before a custom quarantine that is being used can be deleted?
a) Delete the quarantine that is assigned to a filter
b) Remove the quarantine from the message action of a filter
c) Delete only the unused quarantine
d) Delete the quarantine that is not assigned to a filter
10. Which two features are applied to either incoming or outgoing mail policies?
a) Indication of Compromise
b) application filtering
c) outbreak filters
d) sender reputation filtering
e) antivirus
Solutions:
Question: 01

Answer: a

Question: 02

Answer: d

Question: 03

Answer: c

Question: 04

Answer: d

Question: 05

Answer: b

Question: 06

Answer: a, c

Question: 07

Answer: d

Question: 08

Answer: a

Question: 09

Answer: b

Question: 10

Answer: c, e
Note: If you find any error in these Securing Email with Cisco Email Security Appliance (SESA) sample questions, you can update us by write an email on feedback@nwexam.com.