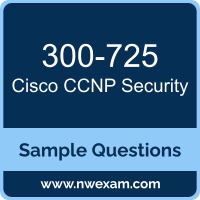 Before you write the Cisco CCNP Security (300-725) certification exam, you may have certain doubts in your mind regarding the pattern of the test, the types of questions asked in it, the difficulty level of the questions and time required to complete the questions. These Cisco Certified Specialist Web Content Security (SWSA) sample questions and demo exam help you in removing these doubts and prepare you to take the test.
The best approach to pass your Cisco 300-725 exam is to challenge and improve your knowledge. To test your learning and identify improvement areas with actual exam format, we suggest you practice with Premium Cisco 300-725 Certification Practice Exam. The practice test is one of the most important elements of your Securing the Web with Cisco Web Security Appliance (SWSA) exam study strategy to discover your strengths and weaknesses, to improve your time management skills and to get an idea of the score you can expect.
Cisco 300-725 (SWSA) Sample Questions:
01. Which action is a valid default for the Global Access Policy in the Application Visibility Control engine on the Cisco WSA?
a) bandwidth limit
b) permit
c) restrict
d) monitor
02. Which two log types does the Cisco WSA provide to troubleshoot Cisco data security and external data loss prevention policies?
a) upload data
b) data security
c) default proxy
d) data access
e) external data
03. Which port is configured in a browser to use the Cisco WSA web proxy with default settings?
a) 3128
b) 8443
c) 8021
d) 8080
04. By default, which two pieces of information does the Cisco WSA access log contain?
a) HTTP Request Code
b) Content Type
c) Client IP Address
d) User Agent
e) Transaction ID
05. What is a valid predefined time range when configuring a Web Tracking query?
a) year
b) minute
c) hour
d) month
06. Which two configuration options can be configured when invalid certificates are processed with the HTTPS proxy on WSA enabled?
a) allow
b) monitor
c) drop
d) block
e) redirect
07. When a Cisco WSA is installed with default settings, which port is assigned to the web proxy if the M1 port is used exclusively for management?
a) T1
b) P2
c) T2
d) P1
08. Which two types of reports are scheduled on the Cisco WSA to analyze traffic?
a) Layer 3 traffic monitor
b) URL categories
c) host statistics
d) application visibility
e) system capacity
09. How does dynamic content analysis improve URL categorization?
a) It analyzes content based on cached destination content
b) It adds intelligence to detect categories by analyzing responses
c) It can be used as the only URL analysis method
d) It analyzes content of categorized URL to tune decisions and correct categorization errors
10. What is the purpose of using AMP file analysis on a Cisco WSA to continuously evaluate emerging threats?
a) to take appropriate action on new files that enter the network
b) to remove files from quarantine by stopping their retention period
c) to notify you of files that are determined to be threats after they have entered your network
d) to send all files downloaded through the Cisco WSA to the AMP cloud
Solutions:
Question: 01

Answer: d

Question: 02

Answer: c, e

Question: 03

Answer: a

Question: 04

Answer: a, c

Question: 05

Answer: b

Question: 06

Answer: b, c

Question: 07

Answer: d

Question: 08

Answer: b, d

Question: 09

Answer: d

Question: 10

Answer: c
Note: If you find any error in these Securing the Web with Cisco Web Security Appliance (SWSA) sample questions, you can update us by write an email on feedback@nwexam.com.