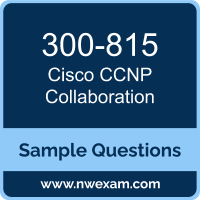 Before you write the Cisco CCNP Collaboration (300-815) certification exam, you may have certain doubts in your mind regarding the pattern of the test, the types of questions asked in it, the difficulty level of the questions and time required to complete the questions. These Cisco Certified Network Professional Collaboration (CLACCM) sample questions and demo exam help you in removing these doubts and prepare you to take the test.
The best approach to pass your Cisco 300-815 exam is to challenge and improve your knowledge. To test your learning and identify improvement areas with actual exam format, we suggest you practice with Premium Cisco 300-815 Certification Practice Exam. The practice test is one of the most important elements of your Implementing Cisco Advanced Call Control and Mobility Services (CLACCM) exam study strategy to discover your strengths and weaknesses, to improve your time management skills and to get an idea of the score you can expect.
Cisco 300-815 (CLACCM) Sample Questions:
01. Where is most configuration for the Conference Now feature performed?
a) Conference bridge media resource configuration
b) End-user configuration
c) Device configuration
d) Annunciator configuration
e) Interactive voice response configuration
02. For s SIP to SIP call flow, when does Cisco Unified Border Element require transcoding resources for DTMF?
a) interworking between an OOB method and RFC2833 for flow-through calls
b) interworking between h245-alpha numeric and sip-kpml
c) interworking between an OOB method and RFC2833 for flow-around calls
d) interworking between h245-signal and rtp-nte
03. An administrator is configuring a cluster for ILS and wants to limit the amount of entities that Cisco Unified Communications Manager can write to the database for data that is learned through ILS.
Which service parameter is used to adjust this limit?
a) Global Data Service Parameter Limit
b) ILS Max Number of Learned Objects in Database
c) ILS Active Learned Object Upper Limit
d) Imported Dial Plan Replication Database Object Lower Limit
04. What applications can be integrated with Unified CM using SIP trunks?
a) Cisco Emergency Responder (CER)
b) Cisco Unity Connection (CUC)
c) Active Directory (AD)
d) Unified instant messaging and presence (IM&P)
e) Cisco Unified Bore Element (CUBE)
05. How can Unified CM determine if the remote peer defined on a SIP trunk is available to receive calls?
a) Check the Dialed Number Analyzer (DNA) tool in Unified CM.
b) SIP is a peer-to-peer protocol, so this is not possible.
c) Use SIP OPTIONS ping.
d) Do a TCP handshake to see if it succeeds.
06. You see the voice register pool 1 command in your Cisco Unified Communications Manager Express configuration. Which configuration is occurring in this section?
a) configuration for SIP registrar service
b) configuration for a single SIP phone
c) configuration for a pool of SIP phones (similar to device pool on Cisco Unified Communications Manager)
d) configuration items common for all SIP phones
07. In an early offer call, which two SIP messages carry the SDP message body?
a) INVITE
b) 100 Trying
c) 200 OK
d) ACK
e) BYE
08. When does Unified CM perform digit analysis for remote destination numbers?
a) In parallel with digit analysis for the desk phone number
b) After the Delay Before Ringing timer expires
c) When the user clicks the iDivert softkey
d) At the time of configuring the remote destination
09. By default, when CUBE receives a SIP packet from an untrusted source, what action is taken?
a) CUBE sends a 403 Forbidden.
b) CUBE trusts all IP addresses and routes the call.
c) CUBE drops the packet.
d) CUBE sends a 503 Service Unavailable.
10. Which command is required before registered SIP IP phones can call other SIP IP phones or endpoints behind a SIP trunk?
a) ip address trusted list
b) allow-connections sip to sip
c) registrar server
d) telephony-service
Solutions:
Question: 01

Answer: b

Question: 02

Answer: c

Question: 03

Answer: b

Question: 04

Answer: b, d, e

Question: 05

Answer: c

Question: 06

Answer: b

Question: 07

Answer: a, c

Question: 08

Answer: a

Question: 09

Answer: c

Question: 10

Answer: b
Note: If you find any error in these Implementing Cisco Advanced Call Control and Mobility Services (CLACCM) sample questions, you can update us by write an email on feedback@nwexam.com.