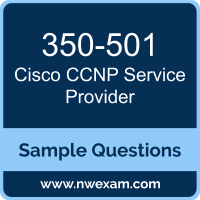 Before you write the Cisco CCNP Service Provider (350-501) certification exam, you may have certain doubts in your mind regarding the pattern of the test, the types of questions asked in it, the difficulty level of the questions and time required to complete the questions. These Cisco Certified Network Professional Service Provider (SPCOR) sample questions and demo exam help you in removing these doubts and prepare you to take the test.
The best approach to pass your Cisco 350-501 exam is to challenge and improve your knowledge. To test your learning and identify improvement areas with actual exam format, we suggest you practice with Premium Cisco 350-501 Certification Practice Exam. The practice test is one of the most important elements of your Implementing and Operating Cisco Service Provider Network Core Technologies (SPCOR) exam study strategy to discover your strengths and weaknesses, to improve your time management skills and to get an idea of the score you can expect.
Cisco 350-501 (SPCOR) Sample Questions:
01. In an MPLS network, which protocol can be used to distribute a Segment Prefix?
a) OSPF
b) RSVP-TE
c) EIGRP
d) LDP
02. Which configuration mode do you use to apply the mpls ldp graceful-restart command in IOS XE Software?
a) LDP neighbor
b) interface
c) MPLS
d) global
03. What do Ansible and SaltStack have in common?
a) They both use DSL configuration language.
b) They both use YAML configuration language.
c) They both have agents running on the client machine.
d) They both can be designed with more than one master server.
04. An engineer working for telecommunication company with an employee id: 3715 15 021 needs to secure the LAN network using a prefix list.
Which best practice should the engineer follow when he implements a prefix list?
a) An engineer must use non sequential sequence numbers in the prefix list so that he can insert additional entries later.
b) An engineer must include only the prefixes for which he needs to log activity.
c) An engineer must identity the prefix list with a number only
d) The final entry in a prefix list must be /32
05. When configuring traffic engineering tunnels in Cisco MPLS core network, you see the traffic is not taking the expected path in the core.
Which command do you use to quickly check path of a TE tunnel?
a) traceroute <tunnel destination IP>
b) show mpls traffic-engineering tunnels
c) Ping <tunnel destination IP>
d) traceroute mpls ipv4 <tunnel destination>
06. You are creating new Cisco MPLS TE tunnels. Which type of RSVP message does the headend router send to reserve bandwidth on the path to the tailend router?
a) path
b) tear
c) error
d) reservation
07. How can shared services in an MPLS Layer 3 VPN provide Internet access to the customers of a central service provider?
a) Route distinguishes are used to identify the routes that CEs can use to reach the Internet
b) Static routes on CE routers allow route leakage from a PE global routing table
c) The CE router can establish a BGP peering to a PE router and use the PE device to reach the Internet
d) The customer VRF uses route targets to import and export routes to and from a shared services VRF
08. Which two IS-IS parameters must match before two Level 2 peers can form an adjacency?
a) authentication settings
b) area ID
c) hello timer setting
d) system ID
e) MTU
09. A customer of an ISP requests support to preferred exit points for the customer AS?
a) highest local preference outbound
b) lowest local preference inbound
c) highest local preference inbound
d) lowest multi-exit discriminator
10. Why do Cisco MPLS TE tunnels require a link-state routing protocol?
a) The tunnel endpoints can use the link-state database to evaluate the entire topology and determine the best path
b) The link state database provides segmentation by area, which improves the path-selection process
c) The link-state database provides a data repository from which the tunnel endpoints can dynamically select a source ID
d) Link-state routing protocols use SPF calculations that the tunnel endpoints leverage to implement the tunnel
Solutions:
Question: 01

Answer: a

Question: 02

Answer: d

Question: 03

Answer: b

Question: 04

Answer: a

Question: 05

Answer: d

Question: 06

Answer: a

Question: 07

Answer: d

Question: 08

Answer: a, e

Question: 09

Answer: c

Question: 10

Answer: a
Note: If you find any error in these Implementing and Operating Cisco Service Provider Network Core Technologies (SPCOR) sample questions, you can update us by write an email on feedback@nwexam.com.