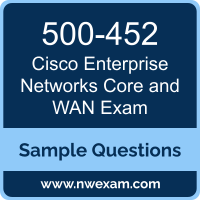 Before you write the Cisco Enterprise Networks Core and WAN Exam (500-452) certification exam, you may have certain doubts in your mind regarding the pattern of the test, the types of questions asked in it, the difficulty level of the questions and time required to complete the questions. These Cisco Enterprise Networks Specialization (ENCWE) sample questions and demo exam help you in removing these doubts and prepare you to take the test.
The best approach to pass your Cisco 500-452 exam is to challenge and improve your knowledge. To test your learning and identify improvement areas with actual exam format, we suggest you practice with Premium Cisco 500-452 Certification Practice Exam. The practice test is one of the most important elements of your Cisco Enterprise Networks Core and WAN Exam (ENCWE) exam study strategy to discover your strengths and weaknesses, to improve your time management skills and to get an idea of the score you can expect.
Cisco 500-452 (ENCWE) Sample Questions:
01. The use of which option is a major difference between DMVPN and Group Encrypted Transport VPN?
a) switching
b) MPBGP
c) tunnels
d) RIPv3
02. Which management platform is the Cisco IWAN solution of choice for providing visualization of performance routing?
a) Cisco Prime Infrastructure
b) LiveAction
c) Compuware Vantage
d) Glue Networks
03. To provide the best scalability for DMVPN, which two routing protocols should you use?
a) BGP
b) EIGRP
c) IS-IS
d) OSPF
e) ODR
f) RIP
04. With which type of integrated services routers can you perform zero-touch deployment of remote equipment?
a) Cisco Prime Plug and Play
b) CiscoWorks
c) Cisco ISR G2
d) ActionPack
05. Unified monitoring is configured by using which two options?
a) web-based GUI
b) no option
c) Cisco Prime Infrastructure
d) EZPM
e) MACE
06. Cisco NCE is a component of Cisco ISR G2. Which other product is an example of an NCE?
a) Cisco multiservice blade
b) Cisco UCS C-Series server
c) Cisco Services Ready Engine
d) Cisco UCS E-Series server
07. Flexible NetFlow has the ability to view both key and nonkey fields. What is one example of a key field?
a) packet data
b) destination IP
c) routing source
d) timestamp sys-uptime last
08. Why has visibility into network applications become a problem for IT?
a) IT has no tools that can look inside an Ethernet packet.
b) New protocols are being used.
c) HTTP has become the primary transport protocol for most applications.
d) Visibility into applications is not an issue.
09. What can you use to create a dynamic spoke-to-spoke tunnel in Cisco IWAN?
a) DMVPN
b) L2TP
c) GETVPN
d) FlexVPN
10. DMVPN builds tunnels in which two ways?
a) statically
b) randomly
c) by requiring IKEv2
d) by using dynamic spoke to spoke
e) by using multipoint hub to spoke
f) by using full mesh
Solutions:
Question: 01

Answer: c

Question: 02

Answer: b

Question: 03

Answer: a, b

Question: 04

Answer: a

Question: 05

Answer: c, d

Question: 06

Answer: d

Question: 07

Answer: b

Question: 08

Answer: c

Question: 09

Answer: a

Question: 10

Answer: d, e
Note: If you find any error in these Cisco Enterprise Networks Core and WAN Exam (ENCWE) sample questions, you can update us by write an email on feedback@nwexam.com.