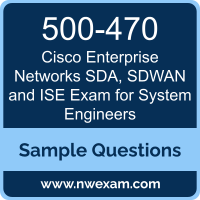 Before you write the Cisco Enterprise Networks SDA, SDWAN and ISE Exam for System Engineers (500-470) certification exam, you may have certain doubts in your mind regarding the pattern of the test, the types of questions asked in it, the difficulty level of the questions and time required to complete the questions. These Advanced Enterprise Networks Architecture Specialization (ENSDENG) sample questions and demo exam help you in removing these doubts and prepare you to take the test.
The best approach to pass your Cisco 500-470 exam is to challenge and improve your knowledge. To test your learning and identify improvement areas with actual exam format, we suggest you practice with Premium Cisco 500-470 Certification Practice Exam. The practice test is one of the most important elements of your Cisco Enterprise Networks SDA, SDWAN and ISE Exam for System Engineers (ENSDENG) exam study strategy to discover your strengths and weaknesses, to improve your time management skills and to get an idea of the score you can expect.
Cisco 500-470 (ENSDENG) Sample Questions:
01. Device Sensor provides which two types of information to ISE?
a) DHCP
b) Encrypted traffic
c) User/Device Name
d) CDP
e) NetFlow
02. What definition is not part of 4D Training?
a) Deploy
b) Design
c) Discover
d) Defend
e) Demo
03. How does identity management solve two customer problems?
a) Achieves dynamic and adaptive network segmentation
b) Manages group membership
c) Provides network visibility and security
d) Enables and enforces 802.1X across the network platform
e) Increases digitization
04. What two best describe self-healing functionality on vEdges?
a) Software reconfiguration capability allowing for dynamic reconfiguration of existing channels
b) In software upgrade process, rolling back to the previously running software image when connectivity to vManage fails
c) vManage detect routing outage detection to detect reachability outages and understand their scope and likely root cause
d) With configuration change, rolling back the configuration change when loss of connectivity to vManage
05. Which Cisco SD WAN component provides a secure data plane with remote vEdge routers?
a) vManage
b) vSmart
c) vBond
d) vEdge
06. Which are three Cisco recommendations on "How to Win"?
a) Show case Cisco portfolio or ISE feature set during PoC
b) Demonstrate complex policy flows, rather show case Wizards and enhanced context visibility.
c) Explain architectural advantage of holistic Cisco solution.
d) Talk about Cisco's focus on Security and integration with StealthWatch, Sourcefire, WSA, vulnerability scanner to make smarter policy decisions.
e) Explain support for 3rd party network devices.
07. Which two are benefits from a WAN design?
a) Ensure remote site uptime
b) Reduce cost and increase operational complexity
c) Provide lower quality service to guest users
d) Prioritize and secure with granular control
e) Lower circuit bandwidth requirements
08. Which workflow is necessary for setting up a network hierarchy?
a) Design
b) Policy
c) Provision
d) Assurance
09. How many vEdge router security zones (VPN's) can be configured?
a) 256
b) 16
c) 510
d) 32
10. Which party solution integrates with Cisco's security and network portfolios within the ISE?
a) 25+ 3rd party solutions
b) 20+ 3rd party solutions
c) 30+ 3rd party solutions
d) 45+ 3rd party solutions
e) 60+ 3rd party solutions
Solutions:
Question: 01

Answer: a, d

Question: 02

Answer: a

Question: 03

Answer: a, c

Question: 04

Answer: b, d

Question: 05

Answer: d

Question: 06

Answer: a, c, d

Question: 07

Answer: a, d

Question: 08

Answer: a

Question: 09

Answer: c

Question: 10

Answer: e
Note: If you find any error in these Cisco Enterprise Networks SDA, SDWAN and ISE Exam for System Engineers (ENSDENG) sample questions, you can update us by write an email on feedback@nwexam.com.