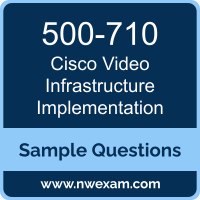 Before you write the Cisco Video Infrastructure Implementation (500-710) certification exam, you may have certain doubts in your mind regarding the pattern of the test, the types of questions asked in it, the difficulty level of the questions and time required to complete the questions. These Cisco Video Infrastructure (VII) sample questions and demo exam help you in removing these doubts and prepare you to take the test.
The best approach to pass your Cisco 500-710 exam is to challenge and improve your knowledge. To test your learning and identify improvement areas with actual exam format, we suggest you practice with Premium Cisco 500-710 Certification Practice Exam. The practice test is one of the most important elements of your Cisco Video Infrastructure Implementation (VII) exam study strategy to discover your strengths and weaknesses, to improve your time management skills and to get an idea of the score you can expect.
Cisco 500-710 (VII) Sample Questions:
01. Which two options are deployment models for Cisco Spark implementation?
a) CMR Hybrid
b) CMR Premises
c) CMR Cloud
d) Spark Cloud
e) Spark Premises
f) Spark Hybrid
02. An engineer wants to add a domain to a numeric E.164 alias dialed by an H.323 endpoint. Which option is the Cisco recommended method to add this domain in the Expressway configurations?
a) call policy
b) service preference
c) user policy
d) transforms
03. Which SIP message is sent from the called endpoint after the call request is accepted?
a) "Hello"
b) "Connect"
c) "200 OK"
d) "404 OK"
04. Cisco Meeting Server can be deployed using three different deployment models. Which option lists deployment models that are the best solution to accommodate fail-over?
a) scaled and resilient server deployment
b) single combined server deployment
c) scaled and combines server deployment
d) single split server deployment
05. Which port does the Cisco Meeting Server use for SIP signaling from the call bridge to the H.323 gateway?
a) 5222
b) 6061
c) 4999
d) 5060
06. Which configuration on the Expressway is needed for a SIP endpoint to register?
a) active neighbor zone between the endpoint and the Expressway
b) SIP authentication enabled
c) SIP domain
d) registration restriction policy in Allow mode
07. Where does an engineer look for a list of all endpoints registered to an Expressway?
a) Status > Registrations > By Device
b) Configuration > Registrations > Registration List
c) Registrations can only be found in the CLI interface.
d) Status > Calls > Call History
08. Which information can be retrieved from the Cisco event log on the TelePresence Server?
a) view packet loss, jitter, and latency of a call
b) view registration events
c) view upcoming conferences
d) view and sort through conferencing events
09. Where in the TMS application does an engineer enter system license keys?
a) Diagnostics
b) Administrative Settings
c) Maintenance
d) General Settings
10. Which trouble shooting toll does an engineer use to determine possible reasons for a call failing to set up?
a) calls log
b) registration log
c) event log
d) search history log
Solutions:
Question: 01

Answer: d, f

Question: 02

Answer: d

Question: 03

Answer: c

Question: 04

Answer: a

Question: 05

Answer: b

Question: 06

Answer: c

Question: 07

Answer: a

Question: 08

Answer: b

Question: 09

Answer: d

Question: 10

Answer: c
Note: If you find any error in these Cisco Video Infrastructure Implementation (VII) sample questions, you can update us by write an email on feedback@nwexam.com.