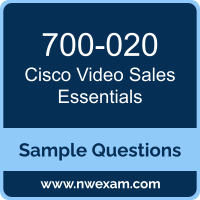 Before you write the Cisco Video Sales Essentials (700-020) certification exam, you may have certain doubts in your mind regarding the pattern of the test, the types of questions asked in it, the difficulty level of the questions and time required to complete the questions. These Cisco Video Collaboration (VSE) sample questions and demo exam help you in removing these doubts and prepare you to take the test.
The best approach to pass your Cisco 700-020 exam is to challenge and improve your knowledge. To test your learning and identify improvement areas with actual exam format, we suggest you practice with Premium Cisco 700-020 Certification Practice Exam. The practice test is one of the most important elements of your Cisco Video Sales Essentials (VSE) exam study strategy to discover your strengths and weaknesses, to improve your time management skills and to get an idea of the score you can expect.
Cisco 700-020 (VSE) Sample Questions:
01. According to PWC, how many patients are willing to meet with a physician on video?
a) 30%
b) 50%
c) 80%
d) 60%
02. What is a vertical approach to selling?
a) Selling to a line of business, regardless of industry.
b) Selling to friends and family.
c) Selling based on common industry needs.
d) Selling to IT.
03. How does Cisco make work streams easier after a meeting?
a) Calendars store meeting notes.
b) All meetings are automatically recorded.
c) A persistent virtual meeting room is established.
d) Each Cisco system comes with 10 hours of remote meeting management.
04. Where can you find links to upcoming informational webinars, training resources, and other helpful partner resource links?
a) Cisco Collaboration Community
b) Collaboration Page for Partners
c) Refresh Collab Website
d) Project Workplace
05. Where can you show your customers how Cisco Collaboration products fit into different scenarios and experiences?
a) RCisco Collaboration Community
b) Collaboration Page for Partners
c) Project Workplace
d) Refresh Collab Website
06. What is a common government or public sector industry need?
a) Addressing higher citizen expectation for communications, services and information access.
b) Providing lifelong learning opportunities.
c) Addressing cost, quality and access to healthcare for patients.
d) Streamlining production processes for more efficient supply chains.
07. How can you address a customer's previous investment in Microsoft Skype for Business?
a) Show them that Jabber is better than Skype.
b) Explain that Skype tor Business cannot meet all of their needs, and they will eventually have to "rip and replace".
c) Explain that Cisco's video solutions interoperate with most devices including Skype for Business, so they won't have to "rip and replace".
d) Offer to cut your price.
08. What can a Cisco solution enable a travel leader line of business customer to do?
a) Keep employees up-to-date on regulatory requirements.
b) Provide a face-to-face experience that makes the work stream productive.
c) Improve access to primary and specialist caregivers.
d) Improve supply chain agility through improved partner and supplier relationships via face-to-face video.
09. Which Spark package supports meetings up to 200 people powered by WebEx and 25 people powered by Spark?
a) Plus, or M1
b) Premium, or M3
c) Meeting Center
d) Advanced, or M2
10. Which WebEx Center has polling and break out rooms?
a) Support Center
b) Meeting Center
c) Event Center
d) Training Center
Solutions:
Question: 01

Answer: c

Question: 02

Answer: a

Question: 03

Answer: c

Question: 04

Answer: b

Question: 05

Answer: b

Question: 06

Answer: a

Question: 07

Answer: c

Question: 08

Answer: d

Question: 09

Answer: a

Question: 10

Answer: d
Note: If you find any error in these Cisco Video Sales Essentials (VSE) sample questions, you can update us by write an email on feedback@nwexam.com.