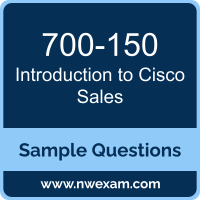 Before you write the Introduction to Cisco Sales (700-150) certification exam, you may have certain doubts in your mind regarding the pattern of the test, the types of questions asked in it, the difficulty level of the questions and time required to complete the questions. These Cisco Sales Expert (ICS) sample questions and demo exam help you in removing these doubts and prepare you to take the test.
The best approach to pass your Cisco 700-150 exam is to challenge and improve your knowledge. To test your learning and identify improvement areas with actual exam format, we suggest you practice with Premium Cisco 700-150 Certification Practice Exam. The practice test is one of the most important elements of your Introduction to Cisco Sales (ICS) exam study strategy to discover your strengths and weaknesses, to improve your time management skills and to get an idea of the score you can expect.
Cisco 700-150 (ICS) Sample Questions:
01. How does Cisco's web security appliance protect the organization?
a) file reputation during an attack
b) daily scanning of web traffic for anomalies
c) parallel AV scanning
d) automated monitoring and analysis across the network
02. Which of these is one-step Cisco is aiming to take to reduce the company's environmental impact by the year 2022?
a) Cisco is aiming to run at least 35 percent of its global operations exclusively on solar power.
b) Cisco is aiming to use electricity generated from renewable sources for at least 85 percent of the company's global electricity needs
c) Cisco is improving product power consumption and aiming to increase system efficiency to 99 percent
d) Cisco is aiming to reduce greenhouse gas emissions by 15 percent from lis global operations
03. How is creating and capturing business value achieved by Cisco?
a) determining the business priorities, business capabilities, and business solutions that enable the customer-defined outcomes
b) strategizing with the sales team on how to empower their sales personnel in attaining business goals
c) delving into the mam issues faced by customers and gelling feedback from previous work done
d) measuring the efforts of every team in delivering on their promises
04. A business capability consists of which of the following to enable the long-term strategy of the business?
a) Security, enablement, experience
b) Technology, expertise, process
c) People, tools, experience
d) People, process and technology
05. With Cisco ONE, what happens when a customer refreshes hardware?
a) The customer can refresh hardware in the same tier and port software at no charge but must purchase new licenses for the next tier of hardware
b) The customer can refresh or go to the next tier of hardware and port or upgrade software at no additional charge
c) The customer must purchase entirely new software licenses
d) The customer can refresh hardware in the same tier and port software at no charge, or go to the next tier hardware and just pay the difference for their software
06. What approach does Cisco take to provide pervasive and comprehensive security for our customers?
a) Digital Forensic Model
b) Cisco ONE Security Model
c) Threat-Centric Security Model
d) Insight-Led Security Analytics
07. Which of the following describes the NFV ENCS Virtualized branch?
a) a cloud-delivered overlay WAN architecture that facilitates digital and cloud transformation for enterprises
b) a hybrid platform that combines the benefits of a traditional router and a traditional server to offer the same functionality with a smaller infrastructure footprint
c) a security application that mitigates vulnerabilities to offer branch and consumers protection where they need it most
d) a network device that mathematically verifies the entire network for correctness
08. During which phases of protection would Cisco's Next Generation Firewalls be deployed?
a) after an attack
b) during an attack
c) before an attack
d) during and after an attack
09. In addressing the full attack continuum, what type of capabilities are required before an attack?
a) Preventive and Response
b) Preventive and Detective
c) Predictive and Response
d) Preventive and Predictive
10. What key aspect of digitization allows the deployment of new services without lengthy and costly investments in server or networking infrastructure"?
a) cloud computing
b) data science
c) streaming services
d) Enterprise network architecture
Solutions:
Question: 01

Answer: d

Question: 02

Answer: b

Question: 03

Answer: a

Question: 04

Answer: b

Question: 05

Answer: d

Question: 06

Answer: c

Question: 07

Answer: b

Question: 08

Answer: c

Question: 09

Answer: d

Question: 10

Answer: a
Note: If you find any error in these Introduction to Cisco Sales (ICS) sample questions, you can update us by write an email on feedback@nwexam.com.