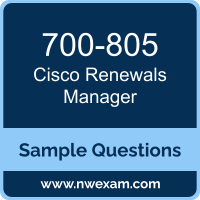 Before you write the Cisco Renewals Manager (700-805) certification exam, you may have certain doubts in your mind regarding the pattern of the test, the types of questions asked in it, the difficulty level of the questions and time required to complete the questions. These Cisco Renewals Manager (CRM) sample questions and demo exam help you in removing these doubts and prepare you to take the test.
The best approach to pass your Cisco 700-805 exam is to challenge and improve your knowledge. To test your learning and identify improvement areas with actual exam format, we suggest you practice with Premium Cisco 700-805 Certification Practice Exam. The practice test is one of the most important elements of your Cisco Renewals Manager (CRM) exam study strategy to discover your strengths and weaknesses, to improve your time management skills and to get an idea of the score you can expect.
Cisco 700-805 (CRM) Sample Questions:
01. Customer A purchased a one-year WebEx contract of 100 seats at $10 per seat. Customer B purchases a three-year WebEx contract of 100 seats at $10 per seat.
What is the annual recurring revenue (ARR) for each?
a) $1000 and $1000
c) $1100 and $3300
02. What is the ATR on a $10,000 one year recuring revenue contract?
a) 10% of $10,000
b) $10,000
c) $10,000 divided by 12
d) $1,200
03. How does Cisco define ATR?
a) Contracts/subscriptions that are available to renew.
b) Contracts/subscriptions that have attrition terms revoked.
c) Any customer agreement where attrition has been an issue.
d) ATR is the sum of RP ad iarr, minus the attrition rate.
04. Who do Renewals Managers (RMs) work with?
a) RMs work by themselves to develop a high level view customer requirements and objectives.
b) RMs work with service delivery teams and monitor engagements.
c) RMs work with pre-sales engineers and build customer solutions.
d) RMs work with account managers to drive ongoing revenue risk assessments and plays.
05. How does Cisco define Business Critical Services?
a) Pay-as-you-go, services covering business-critical functions
b) Pay-as-you-go, technology-based services
c) hardware replacement
d) subscription-based services covering the lifecycle of a technology
06. When renewing a contract with a customer,which action is important?
a) Start discussions once the contract has expired
b) Validate customers business needs.
c) Propose only the most important part of the solution
d) Do not offer any financing solutions.
07. Which three financial metrics are critical in renewing subscriptions?
a) Renewal rate
b) Annual recurring revenue
c) Training costs
d) Net new sales
e) Close rate
08. Which business benefit of on-time renewals on Cisco products and services is valid?
a) Rebates and discounts from Cisco
b) Acess to training programs and material
c) Exclusive relationship with the customer
d) Ability to ensure that our TAC cases get priority over others
09. An important Cisco customer has a large number of individual licenses for Cisco One in Enterprise Networking and engages many Webex users. The customer has expressed the intention to grow both groups and needs a compelling and simplified proposal.
Which Cisco offer represents the best value for the customer?
a) Ask Cisco team to engage into a Smart Account or Enterprise Agreement and propose a creation of a Customer Success Plan.
b) Prepare a Partner Branded Managed Service deal.
c) Propose to migrate to perpetual model.
d) Suggest a simplified discount DSA with the total of licenses from each product Cisco One and Webex.
10. Which critical task must be performed during the Qualification phase?
a) develop a Success Plan
b) quote delivery
c) validate customer inventory
d) Renewal Plan development
Solutions:
Question: 01

Answer: d

Question: 02

Answer: c

Question: 03

Answer: a

Question: 04

Answer: b

Question: 05

Answer: a

Question: 06

Answer: b

Question: 07

Answer: a, b, c

Question: 08

Answer: d

Question: 09

Answer: a

Question: 10

Answer: c
Note: If you find any error in these Cisco Renewals Manager (CRM) sample questions, you can update us by write an email on feedback@nwexam.com.