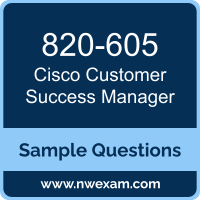 Before you write the Cisco Customer Success Manager (820-605) certification exam, you may have certain doubts in your mind regarding the pattern of the test, the types of questions asked in it, the difficulty level of the questions and time required to complete the questions. These Cisco Customer Success Manager Specialist (CSM) sample questions and demo exam help you in removing these doubts and prepare you to take the test.
The best approach to pass your Cisco 820-605 exam is to challenge and improve your knowledge. To test your learning and identify improvement areas with actual exam format, we suggest you practice with Premium Cisco 820-605 Certification Practice Exam. The practice test is one of the most important elements of your Cisco Customer Success Manager (CSM) exam study strategy to discover your strengths and weaknesses, to improve your time management skills and to get an idea of the score you can expect.
Cisco 820-605 (CSM) Sample Questions:
01. Which outcome is the best that a Customer Success Manager can achieve for a customer?
a) adoption of all the licenses and features the customer purchased leading to expansion to improve the customer's business
b) full adoption of all the technologies the customer purchased
c) removing barriers so the customer achieves the fastest time to value possible from the solution they purchased
d) ensuring the customers deployment teams and end users are trained and ready to adopt the technology
02. On which two objectives should communication with customer executives focus?
a) time to value
b) user training
c) new sales
d) return on investment
e) product improvement
03. A customer's call center unexpectedly moved from in-person to remote operations and discovered that agents could no
longer record their calls.
The customer escalates this problem to their Customer Success Manager and requests a resolution.
The Customer Success Manager recognizes that the customer is using collaboration products with outdated software.
What is the
first step of the mitigation plan?
a) Evaluate the availability of resources to work on the problem.
b) Engage a specialist to identify a technical solution or workaround.
c) Conduct an assessment of the business impact of the problem.
d) Establish a timeline of when a solution must be in place.
04. The Customer Success Manager notices that their customer has delayed going into production. Which action does the
Customer Success Manager consider?
a) Provide the customer with a chargeable deployment service
b) Re-enforce the time to value of the solution
c) Give the customer a discount on a future purchase
d) Suggest that the customer replace their existing staff
05. Which action should be taken to identify and remove barriers when a customer moves from the Implement to the Use stage
in the lifecycle?
a) Provide training content to address current and existing barriers.
b) Provide a detailed cost structure for the management team.
c) Provide break-fix support for technical problems experienced or observed by the customer.
d) Provide direct and in-depth technical expertise upon customer request.
06. Why should a customer's success be documented?
a) to establish KPIs that measure success
b) to document roles and responsibilities for project management
c) to provide awareness of the value achieved by the solution
d) to provide expansion opportunities for the sales team
07. What is Quarterly Success Review?
a) technical analysis that outlines the implementation plan and adoption barriers.
b) a conversation that outlines key initiatives that are agreed upon in the success plan.
c) gap analysis that focuses on the state of the customer's current architecture.
d) new success plan that focuses on the upcoming goals for the customer.
08. Your customer's business outcome is to drive employee efficiencies. Which key metrics measure this outcome?
a) increase in new subscribers or increase in end users
b) number of incidents reported or number of compliance issues
c) reduction in headcount or operational support costs
d) customer and employee feedback
e) number of activities completed or increase in direct time
09. From a Customer Success perspective, why should the customer's health be monitored?
a) to provide the opportunity to address any changes in the customer's experience around the solution
b) to identify unused licenses so they can be addressed via a service improvement plan
c) to directly enable renewals
d) to give the customer valuable insight so they can automatically renew critical services on time
10. What are two barriers of adoption in an organization?
a) new product sales motion
b) lack of knowledge on solution
c) organizational announcements
d) implementation issues
e) hiring practices
Solutions:
Question: 01

Answer: c

Question: 02

Answer: a, d

Question: 03

Answer: c

Question: 04

Answer: b

Question: 05

Answer: d

Question: 06

Answer: c

Question: 07

Answer: c

Question: 08

Answer: e

Question: 09

Answer: d

Question: 10

Answer: b, d
Note: If you find any error in these Cisco Customer Success Manager (CSM) sample questions, you can update us by write an email on feedback@nwexam.com.