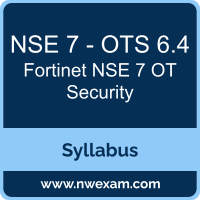 A great way to start the Fortinet Network Security Expert 7 - Network Security Architect (NSE 7 - FortiOS 6.4) preparation is to begin by properly appreciating the role that syllabus and study guide play in the Fortinet NSE 7 - OTS 6.4 certification exam. This study guide is an instrument to get you on the same page with Fortinet and understand the nature of the Fortinet NSE 7 OT Security exam.
Our team of experts has composed this Fortinet NSE 7 - OTS 6.4 exam preparation guide to provide the overview about Fortinet NSE 7 - OT Security 6.4 exam, study material, sample questions, practice exam and ways to interpret the exam objectives to help you assess your readiness for the Fortinet NSE 7 - FortiOS 6.4 exam by identifying prerequisite areas of knowledge. We recommend you to refer the simulation questions and practice test listed in this guide to determine what type of questions will be asked and the level of difficulty that could be tested in the Fortinet NSE 7 OT Security certification exam.
Fortinet NSE 7 - OTS 6.4 Exam Overview:
Fortinet NSE 7 - OTS 6.4 Exam Topics:
Section

Objectives

Asset Management

- Explain the OT architecture with Fortinet products
- Configure the security fabric for OT network
- Implement device detection with FortiGate
- Explain network visibility with FortiNAC

Network access control

- Explain role-based authentication
- Apply authentication to control access to devices
- Explain industrial Ethernet protocols
- Explain internal segmentation implementation for OT networks

Protecting OT network

- Identify industrial protocols and signatures
- Implement IPS to secure OT networks
- Implement application control for industrial applications

Monitoring and risk assessment

- Implement logging and monitoring with FortiAnalyzer and FortiSIEM
- Explain FortiSIEM rules and incidents
- Customize and generate reports with FortiAnalyzer and FortiSIEM
- Build OT security dashboard with FortiSIEM
Fortinet NSE 7 - FortiOS 6.4 Exam Description:
The NSE 7 Network Security Architect designation recognizes your advanced skills and ability to deploy, administer, and troubleshoot Fortinet security solutions.