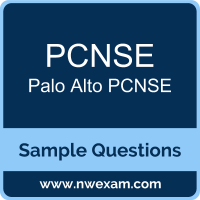 Before you write the Palo Alto PCNSE (PCNSE) certification exam, you may have certain doubts in your mind regarding the pattern of the test, the types of questions asked in it, the difficulty level of the questions and time required to complete the questions. These Palo Alto Networks Certified Network Security Engineer (PCNSE PAN-OS 8) sample questions and demo exam help you in removing these doubts and prepare you to take the test.
The best approach to pass your Palo Alto PCNSE exam is to challenge and improve your knowledge. To test your learning and identify improvement areas with actual exam format, we suggest you practice with Premium Palo Alto PCNSE Certification Practice Exam. The practice test is one of the most important elements of your Palo Alto Network Security Engineer (PCNSE PAN-OS 8) exam study strategy to discover your strengths and weaknesses, to improve your time management skills and to get an idea of the score you can expect.
Palo Alto PCNSE (PCNSE PAN-OS 8) Sample Questions:
01. The Management network port on a firewall can be configured as which type of interface?
a) Layer 2
b) Layer 3
c) Virtual wire
d) Serial
02. Which two Palo Alto Networks firewall models support active/active High Availability?
a) PA-200
b) VM-300
c) PA-7050
d) PA-3020
e) VM-200
03. Which three statements are true about Palo Alto Networks Next-Generation Firewalls?
a) The Single Pass Architecture design includes an industry-leading content scanning engine available as a software or hardware option.
b) Palo Alto Networks firewalls are part of a Security Platform that includes integration with a Threat Intelligence Cloud.
c) The App-ID next-generation feature of the firewall will accurately identify the responsible application generating all traffic passing through the firewall.
d) Palo Alto Networks firewalls natively support encrypted connections with IPSec and SSL encryption technologies.
04. Complete the following statement: Packet captures can be performed by:
a) Security profiles
b) manual configuration by an administrator in the WebUI
c) manual configuration on the CLI
d) specified trigger events from the WebUI
05. What are three advantages of the Palo Alto Networks Next-Generation Firewall?
a) Application-based rather than port-based traffic recognition for better rules and granularity
b) Ports can now be safely ignored because they are no longer a factor
c) Uses a stream-based, single-pass parallel processing engine for fast performance
d) Application signatures are distributed regularly from Palo Alto Networks, although custom signatures cannot be created
e) Provides full Unified Threat Management on a single platform with one policy and log database
06. In a new firewall, which port provides WebUI access by default?
a) Traffic port #1
b) Any Traffic port
c) Management port
d) Console port
e) Maintenance port
07. Which statement is not true about User-ID?
a) User-ID is collected by an endpoint agent.
b) User-ID monitors Domain Controllers for authentication.
c) User-ID tasks can be shared among multiple firewalls.
d) User-ID collects LDAP group membership data for users.
08. Firewall configuration files can :
a) Be captured at any time and stored on the firewall
b) Restored to the running configuration
c) Transferred out of the firewall
d) Shared between firewalls
09. Which two types of encryptions can a Palo Alto Networks firewall decrypt through decryption policies?
a) SSL
b) Blowfish
c) AES
d) SSH
e) 3DES
10. The configuration of a DoS Protection profile can defend nodes from which attacks?
a) Floods
b) TCP port scans
c) IP address spoofing
d) ICMP large packets
Solutions:
Question: 01

Answer: b

Question: 02

Answer: c, d

Question: 03

Answer: b, c, d

Question: 04

Answer: a, b, c

Question: 05

Answer: a, c, e

Question: 06

Answer: c

Question: 07

Answer: a

Question: 08

Answer: a, c

Question: 09

Answer: c, e

Question: 10

Answer: a
Note: If you find any error in these Palo Alto Network Security Engineer (PCNSE PAN-OS 8) sample questions, you can update us by write an email on feedback@nwexam.com.