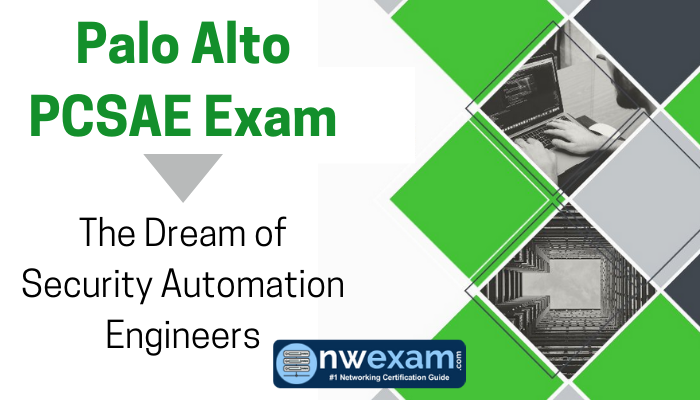 The PCSAE certification confirms the knowledge and skills needed to develop, analyze and administer our Cortex XSOAR security orchestration, automation, and response platform with primary threat intelligence management.
Target Audience
Professionals who want to prove knowledge, skills, and expertise using Palo Alto Networks Cortex XSOAR functionality, including customers, partners, system engineers, analysts, and administrators.
Palo Alto PCSAE Exam Objectives
Playbook Development 25%

Incident Types, Indicator Types, Layouts, and Fields (20%)

Automation and Integration and Related Concepts (20%)

Solution Architecture (15%)

Content Updates and Content Management (10%)

UI Workflow, Dashboards, and Reports (10%)
Core Objective of PCSAE Certification
Cortex XSOAR is a single platform that orchestrates actions over your overall security product stack for quicker and more extensible incident response. The PCSAE certification confirms that engineers can perfectly understand the use of out-of-the-box and custom playbooks and integrations. They can also make out client processes that can be automated through XSOAR and know-how to customize XSOAR to lessen the Mean Time to Resolution leveraging the rest of their security products.
Responsibilities of Security Automation Engineer
Security system engineers are responsible for examining and screening security software and monitoring networks and systems for security intrusions or violations. They can often fix possible causes of security threats early on by looking at things from a security perspective and recommending improvements to management. They are experts in various fields such as network security, information security, and mobile security.
Benefits of Passing Palo Alto PCSAE Certification Exam
Now it's time for you to understand what you'll get once you pass the Palo Alto PCSAE exam. Here are five benefits that come with passing this Palo Alto certification exam:
1. Greater Credibility
Professional credibility is important in every field involving IT. Passing the Palo Alto PCSAE exam and obtaining the relevant certification will demonstrate to your organization and co-workers that you are dedicated. They'll also notice someone involved in improving their way of doing things.
2. Better Visibility and Increased Job Opportunities
Passing the Palo Alto PCSAE exam distinguishes you from those who haven't obtained any certifications. The hiring managers take them as a means to decide those who are qualified for the job of Security Automation Engineer. In this instance, having skills in Palo Alto Network will put you at an edge. This puts you ahead of the others as you'll be more noticeable and can be easily selected during recruitment.
3. Exclusive Competitive Advantage
The contemporary job market is very competitive. If you have fundamental skills or no skills at all, it's possible to be by-passed during job recruitment. The skills you will get while studying for the PCSAE exam will place you apart from the group. Apart from receiving a job, this Palo Alto certification will also fetch more opportunities for promotions when such opportunities.
4. Increase in Earning Potential
One of the obvious reasons why people seek to earn Palo Alto certification is the opportunity to get a job and receive a fat paycheque. This is what yields sense to investing one's time and money for certification exam preparation. Having a Palo Alto Networks Certified Security Automation Engineer certification is an added advantage since you can hastily ask for a good salary with your organization. Your certificate will provide you the confidence to do so.
5. Room to Expand Your Skills
The Palo Alto certifications are created in a way that you can always progress by taking associated exams. After passing the PCSAE exam and earning your Palo Alto Networks Certified Security Automation Engineer certification, you can sharpen your skills. This will also enhance your career by opening more opportunities for you. As you can see, the PCSAE exam is crucial in helping you move forward professionally.
Steps to Pass the Palo Alto PCSAE Certification Exam
The Palo Alto PCSAE certification exam is designed to assess your knowledge of Palo Alto Networks. If you are excited about getting Palo Alto certified and meet the prerequisites, follow these steps to succeed in the exam.
First, visit the official website of Palo Alto PCSAE exam to have the current information of the exam, a list of complete syllabus topics, and preparation tips.

Determine your time limit and resources to promote the preparation techniques utilizing only one source or multiple resources for the desired result. You can take study materials amongst books, online resources, video-based training lectures, practice tests, and hands-on training.

Plan out your timetable and exam objectives professionally to follow up the complete lengthy syllabus efficiently and timely.

You should adhere to a strategic study plan and training accordingly to learn each objective clearly from the easiest to the most comprehensive matters. You can follow the format for understanding the exam content from the official site.

Be prepared to follow up the plan to score well in the exam, practice the questions related to each topic, and check your advanced knowledge throughout the preparation journey. Additionally, you must have sufficient practical knowledge to practice your applied knowledge and your learning.

Note down weak topics that you require to work on, take extra time for revision, and study them after completing the exam layout.

When you are confident about your preparation, take a PCSAE practice test to assess your learning, which will strengthen your confidence to tackle the Palo Alto PCSAE certification exam. Likewise, you can eliminate any possible weaknesses before an actual examination.

Be relaxed before the actual exam to ace the exam confidently without any stress.
Conclusion
As you prepare for your Palo Alto PCSAE exam, the benefits it brings must never slip out from your mind. Keep in mind, every effort and involvement that you apply through this process will not be in vain. Your sacrifices will bring you benefits that will help you meet your career goals.