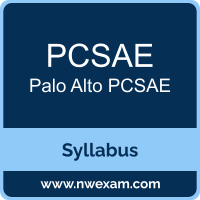 A great way to start the Palo Alto Networks Certified Security Automation Engineer (PCSAE) preparation is to begin by properly appreciating the role that syllabus and study guide play in the Palo Alto PCSAE certification exam. This study guide is an instrument to get you on the same page with Palo Alto and understand the nature of the Palo Alto PCSAE exam.
Our team of experts has composed this Palo Alto PCSAE exam preparation guide to provide the overview about Palo Alto Security Automation Engineer exam, study material, sample questions, practice exam and ways to interpret the exam objectives to help you assess your readiness for the Palo Alto PCSAE exam by identifying prerequisite areas of knowledge. We recommend you to refer the simulation questions and practice test listed in this guide to determine what type of questions will be asked and the level of difficulty that could be tested in the Palo Alto PCSAE certification exam.
Palo Alto PCSAE Exam Overview:
Palo Alto PCSAE Exam Topics:
Section

Weight

Objectives

Playbook Development

27%

- Reference and manipulate context data to manage automation workflow
- Summarize inputs, outputs, and results for playbook tasks
- Configure inputs and outputs for subplaybook tasks
- Enable and configure looping on a subplaybook
- Differentiate among playbook task types

Manual

Automated

Conditional

Data collection

Subplaybook

- Apply filters and transformers to manipulate data
- Apply the playbook debugger to aid in developing playbooks

Incident Objects

13%

- Configure incident types
- Identify the role of an incident type within the incident lifecycle
- Configure an incident layout

Fields and buttons

Tabs

New/Edit and Close Forms

- Summarize the function, capabilities, and purpose of incident fields
- Configure classifiers and mappers

Automations, Integrations, and Related Concepts

18%

- Define the capabilities of automation across XSOAR functions

Playbook tasks

War room

Layouts (dynamic sections, buttons)

Jobs

Field trigger scripts

Pre/post-processing

- Differentiate between automations, commands, and scripts
- Interpret and modify automation scripts

Script helper

Script settings

Language types

Script text

- Identify the properties and capabilities of the XSOAR framework for integration
- Configure and manage integration instances

Content Management and Solution Architecture

17%

- Apply marketplace concepts for the management of content

Searching in marketplace

Installation and updates

Dependencies

Version history

Partner supported versus XSOAR supported

Submitting content to the marketplace

- Apply general content customization and management concepts

Custom versus system content

Duplicating content

Importing/exporting custom content

Version control

- Manage local changes in a remote repository (dev-prod) configuration
- Describe the components of the XSOAR system architecture

System hardware requirements

Remote repositories (dev-prod)

Engines

Multitenancy

Elasticsearch/HA

Docker

- Describe the incident lifecycle within XSOAR
- Define the capabilities of RBAC

Page access

Integration permissions

Incident tabs (layout specification)

Automation permissions

Incident viewing permissions by role

- Identify the troubleshooting tools available to obtain more diagnostic information

Log bundles

Integration testing

- Identify options available for performance tuning

- Monitor system health using the System Diagnostics page

UI Workflow, Dashboards, and Reports

13%

- Identify methods for querying data

Indicators

Incidents

Dashboards

Global search

- Summarize the workflow elements used during an investigation

Layouts

War Room

Work Plan

Evidence Board

Actions menu

- Interact with layouts for incident management

- Summarize tools used for managing incidents

Bulk incident actions

Table view versus summary view

Table settings

- Identify the capabilities of existing dashboards and reports
- Summarize what information can be created, edited, or shared within dashboards and reports
- Summarize the capabilities of widget builder

Threat Intel Management

12%

- Identify the parameters available for configuring indicator Objects

Layouts and types

Fields

Reputation scripts and commands

Expiration

- Generate threat intel reports
- Describe the features of the Threat Intel page

Unit 42 intel feature

XSOAR indicators

Export/import capabilities

- Configure threat intel feed integrations
- Identify the options available to auto extract

Exclusion list

Playbook auto extract

Regex for auto extract

System defaults

Extraction settings for incident types
Palo Alto PCSAE Exam Description:
The PCSAE program is a formal, third-party proctored certification. Success on the PCSAE exam shows that you possess the in-depth skills and knowledge to develop playbooks, manage incidents, create automations and integrations, and demonstrate the highest standard of deployment methodology and operational best practices associated with Palo Alto Networks Cortex XSOAR. The exam is not intended to trick you with its questions or to test obscure detail. However, a nuanced understanding, and the ability gained through significant experience to make subtle technical distinctions, will help you make better answer choices.