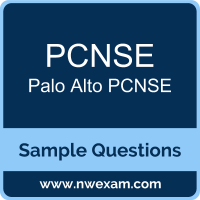 A great way to start the Palo Alto Networks Certified Network Security Engineer (PCNSE PAN-OS 10) preparation is to begin by properly appreciating the role that syllabus and study guide play in the Palo Alto PCNSE certification exam. This study guide is an instrument to get you on the same page with Palo Alto and understand the nature of the Palo Alto PCNSE exam.
Our team of experts has composed this Palo Alto PCNSE exam preparation guide to provide the overview about Palo Alto Network Security Engineer exam, study material, sample questions, practice exam and ways to interpret the exam objectives to help you assess your readiness for the Palo Alto PCNSE PAN-OS 10 exam by identifying prerequisite areas of knowledge. We recommend you to refer the simulation questions and practice test listed in this guide to determine what type of questions will be asked and the level of difficulty that could be tested in the Palo Alto PCNSE certification exam.
Palo Alto PCNSE Exam Overview:
Palo Alto PCNSE Exam Topics:
Section

Objectives

Core Concepts - 12%

Identify how Palo Alto Networks products work together to improve PAN-OS services

- Security components
- Firewall components
- Panorama components
- PAN-OS subscriptions and the features they enable
- Plug-in components
- Heatmap and BPA reports

Determine and assess appropriate interface types for various environments

- Layer 2 interfaces
- Layer 3 interfaces
- vWire interfaces
- Tap interfaces
- Subinterfaces
- Tunnel interfaces
- Aggregate interfaces
- Loopback interfaces
- Decrypt mirror interfaces
- VLAN interfaces

Identify decryption deployment strategies

- Risks and implications of enabling decryption
- Use cases
- Decryption types
- Decryption profiles and certificates
- Create decryption policy in the firewall
- Configure SSH proxy

Enforce User-ID

- Methods of building user-to-IP mappings
- Determine if User-ID agent or agentless should be used
- Compare and contrast User-ID agents
- Methods of User-ID redistribution
- Methods of group mapping
- Server profile & authentication profile

Determine when to use the Authentication policy and methods for doing so

- Purpose of, and use case for, the Authentication policy
- Dependencies
- Captive portal versus GP client

Differentiate between the fundamental functions that reside on the management plane and data plane.

Deploy and Configure Core Components - 20%

Configure management profiles

- Interface management profile
- SSL/TLS profile

Deploy and configure Security profiles

- Custom configuration of different Security profiles and Security profile groups
- Relationship between URL filtering and credential theft prevention
- Use of username and domain name in HTTP header insertion
- DNS Security
- How to tune or add exceptions to a Security profile
- Compare and contrast threat prevention and advanced threat prevention
- Compare and contrast URL Filtering and Advanced URL Filtering

Configure zone protection, packet buffer protection, and DoS protection

Define the initial design/deployment configuration of a Palo Alto Networks firewall

- Considerations for advanced HA deployments
- Implement a high availability pair
- Implement Zero Touch Provisioning
- Configure bootstrapping

Configure authorization, authentication and device access

- Role-based access control for authorization
- Different methods used to authenticate
- The authentication sequence
- The device access method

Configure and manage certificates

- Certificate usage
- Certificate profiles
- Certificate chains

Configure routing

- Dynamic routing
- Redistribution profiles
- Static routes
- Route monitoring
- Policy-based forwarding
- Virtual router versus. logical router

Configure NAT

- NAT policy rules
- Security rules
- Sourcenet
- No NAT
- Use session browser to find NAT rule name
- U-Turn NAT
- Check HIT counts

Configure site-to-site tunnels

- IPSec components
- Static peers and dynamic peers for IPSec
- IPSec tunnel monitor profiles
- IPSec tunnel testing
- GRE
- One-to-one and one-to-many tunnels
- Determine when to use proxy IDs

Configure service routes

- Default service routes
- Custom service routes
- Destination service routes
- Custom routes for different VSYS versus destination routes
- How to verify service routes

Configure application-based QoS

- Enablement requirements
- QoS policy rule
- Add DSCP/TOS component
- QoS profile
- Determine how to control bandwidth use on a per-application basis
- Use QoS to monitor bandwidth utilization

Deploy and Configure Features and Subscriptions - 17%

Configure App-ID

- Create security rules with App-ID
- Convert port and protocol rules to App-ID rules
- Identify the impact of application override to the overall functionality of the firewall
- Create custom apps and threats
- Review App-ID dependencies

Configure GlobalProtect

- GlobalProtect licensing
- Configure gateway and portal
- GlobalProtect agent
- Differentiate between login methods
- Configure clientless VPN
- HIP
- Configure multiple gateway agent profiles
- Split tunneling

Configure decryption

- Inbound decryption
- SSL forward proxy
- SSL decryption exclusions
- SSH proxy

Configure User-ID

- User-ID agent and agentless
- User-ID group mapping
- Shared User-ID mapping across virtual systems
- Data redistribution
- User-ID methods
- Benefits of using dynamic user groups in policy rules
- Requirements to support dynamic user groups
- How GlobalProtect internal and external gateways can be used

Configure WildFire

- Configure WildFire submission profile and add it to the security rule
- Configure WildFire action profile and add it to the security rule
- Review the WildFire submissions and verdicts
- Review WildFire signature actions
- Supported file types and file sizes
- Configure WildFire update schedule
- Configure forwarding decrypted traffic to WildFire

Deploy and Configure Firewalls Using Panorama - 17%

Configure templates and template stacks

- Components configured in a template
- How the order of templates in a stack affects the configuration push to a firewall
- Overriding a template value in a stack
- Configure variables in templates
- Relationship between Panorama and devices as pertaining to dynamic updates versions, policy implementation and/or HA peers

Configure device groups

- Device group hierarchies
- Identify what device groups contain
- Differentiate between different use cases for pre-rules, local rules, the default rules and post-rules
- Identify the impact of configuring a primary device
- Assign firewalls to device groups

Manage firewall configurations within Panorama

- Licensing
- Panorama commit recovery feature
- Configuration settings for Panorama automatic commit recovery
- Commit types and schedules
- Config backups
- Software and dynamic updates
- Import firewall configuration into Panorama
- Configure log collectors
- Check firewall health and status from Panorama
- Configure role-based access on Panorama

Manage and Operate - 16%

Manage and configure Log Forwarding

- Identify log types and criticalities
- Manage external services
- Create and manage tags
- Identify system and traffic issues using the web interface and CLI tools
- Configure Log Forwarding profile and device log settings
- Log monitoring
- Customize logging and reporting settings

Plan and execute the process to upgrade a Palo Alto Networks system

- Update a single firewall
- Update high availability pairs
- Perform Panorama push
- Schedule and manage dynamic updates

Manage HA functions

- Link monitoring
- Path monitoring
- HA links
- Failover
- Active/active and active/passive
- HA interfaces
- Clustering
- Election setting

Troubleshooting - 18%

Troubleshoot site-to-site tunnels

- IPSec
- GRE
- One-to-one and one-to-many tunnels
- Route-based versus policy-based remote hosts
- Tunnel monitoring

Troubleshoot interfaces

- Transceivers
- Settings
- Aggregate interfaces, LACP
- Counters
- Tagging

Troubleshoot Decryption

- Inbound decryption
- SSL forward proxy
- SSH proxy

- Identify what cannot be decrypted and configure exclusions and

bypasses

Troubleshoot routing

- Dynamic routing
- Redistribution profiles
- Static routes
- Route monitoring
- Policy-based forwarding
- Multicast routing
- Service routes

Use logs, reports, and graphs to troubleshoot

- Identify system and traffic issues using the web interface and CLI tools
- Create and interpret reports
- Create and interpret graphs

Troubleshoot resource protections

- Zone protection profiles
- Denial-of-service protections
- Packet buffer protections

Troubleshoot GlobalProtect

- Portal and Gateway
- Access to resources
- GlobalProtect client

Troubleshoot policies

- NAT policies
- Security policies
- Decryption policies
- Authentication policies

Troubleshoot HA functions

- Monitor
- Failover triggers
Palo Alto PCNSE PAN-OS 10 Exam Description:
The Palo Alto Networks Certified Network Security Engineer (PCNSE) is a formal, third-party proctored certification that indicates that those who have passed it possess the in-depth knowledge to design, install, configure, maintain, and troubleshoot most implementations based on the Palo Alto Networks platform.