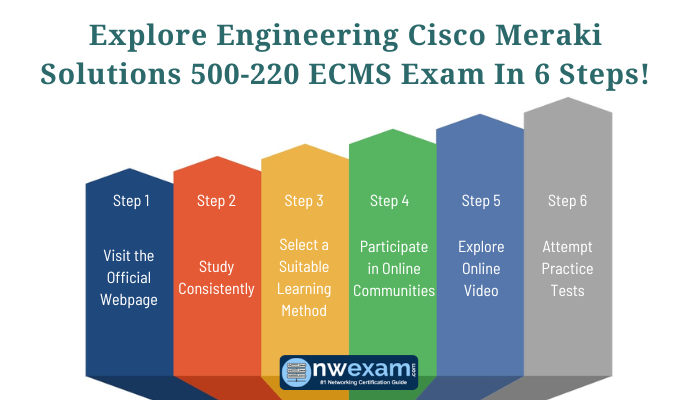 Cisco Meraki Solutions are overwhelming the world, with over 2.5 million active networks in more than 190 countries. But who can operate these new networks? You can, with Cisco Meraki Solutions Specialist certification. The Engineering Cisco Meraki Solutions (500-220 ECMS) certification confirms your skills and knowledge in engineering Meraki solutions, along with cloud management, design, implementation, monitoring, and troubleshooting.
Cisco Meraki is your comprehensive IT solution, so make a start and achieve the complete Meraki certification. Then link your digital certification badge to your social media profiles to inform the world what you've accomplished.
Engineering Cisco Meraki Solutions 500-220 ECMS Exam Details
The Engineering Cisco Meraki Solutions v1.0 (500-220 ECMS) is a 90-minute exam associated with the Cisco Meraki Solutions Specialist. Also, to sit for it, you should pay a $300 enrolment fee. In Cisco 500-220 ECMS test, you will be tested on the following topics:
Cisco 500-220 ECMS Exam Objectives
Cisco Meraki Cloud Management (15%)

Design (20%)

Implementation (25%)

Monitoring and Troubleshooting (30%)
Steps to Prepare for the Engineering Cisco Meraki Solutions 500-220 ECMS Exam
1. Visit the Official Webpage
Once you have determined to take up the Cisco 500-220 ECMS exam, you may explore Cisco's Official Web Page for the most updated and authentic information. This page provides details on:
Exam structure;

Exam objectives;

Exam Cost;

Registration options; and

Exam preparation options
2. Study Consistently
Preparation for an exam cannot be done merely by sitting one night before the scheduled exam date. It demands a lot of time and a moderate increase. The only key to avoiding a huge workload one night before the exam is by doing things on an everyday basis. Make up a study plan and try to manage everything to study competently. Adequate preparation makes you confident and has the energy to keep things inside one's brain rather than remembering them from the last night.
3. Select a Suitable Learning Method
There are many learning options available for the Cisco 500-220 exam preparation. You can go for an online training course or take up a self-study approach. Cisco provides two training courses for this exam. You can also access study guides and self-study lab supplements from the official website.
4. Participate in Online Communities
One of the most effective means to broaden your knowledge is by joining online communities that impart productive ideas. The Cisco community is comprised of intelligent people who have passed different Cisco certification exams. Thus, it is advised to be part of a greatly motivated and reputed group of professionals whom you can keep in touch with throughout your exam preparation and even your everyday work.
5. Explore Online Video
Learning from experienced professionals in the domain of your certification exam allows you to perceive its content in a new way. The best platform to get relevant videos for Cisco 500-220 ECMS exam preparation is YouTube. Numerous videos are uploaded by seasoned professionals, including exam details, preparation tips, and practice questions.
6. Attempt Cisco 500-220 ECMS Practice Tests
Assess your knowledge by attempting Cisco 500-220 ECMS practice tests. With practice tests, you can identify your weak and strong areas. Nwexam offers practice tests for Cisco exams, which could give you a vibe of what the actual exam looks like.
Quick Tips for Engineering Cisco Meraki Solutions 500-220 ECMS Exam Preparation
Below are some tips that will help you in your preparation for the Engineering Cisco Meraki Solutions 500-220 ECMS exam. They are:
Make sure you thoroughly read over the Cisco 500-220 ECMS exam syllabus topics and understand each of the topics.

Take up practice tests to gauge preparation level.

Use different resources to have in-depth knowledge of the exam topics.

Revise regularly to remember the concepts you studied some time ago.

Get practical experience to acquire the skills and expertise needed to enter the industry.

Establish study and exam targets. Setting a target will keep you on track and determine how hard and speedily you should carry out Engineering Cisco Meraki Solutions 500-220 ECMS exam preparation. A target also assures that you do not leave anything to fate as you have to master all topics before the date of your exam.
Conclusion
Gaining an Engineering Cisco Meraki Solutions certification is useful, although this is a very challenging task. But if you learn as per a foolproof study plan along with the best resources at hand, you can easily pass Cisco 500-220 ECMS exam.