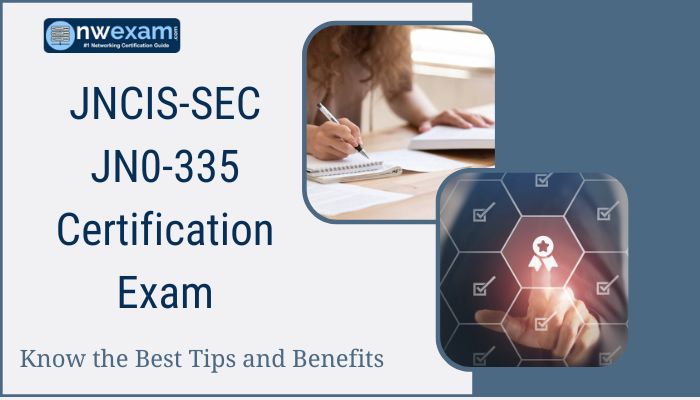 The Junos Security certification track of the Juniper Networks Certification Program (JNCP) enables individuals to showcase their proficiency with Juniper Networks technology. Those who pass the certification exam demonstrate comprehensive knowledge of security technology in general and possess expertise in Junos software for SRX Series devices. This article will specifically discuss the JNCIS-SEC JN0-335 certification.
What is JNCIS-SEC Certification?
The JNCIS-SEC certification is intended for networking professionals with intermediate expertise in Juniper Networks Junos software for SRX Series devices. This certification exam evaluates the candidate's comprehension of security technologies, as well as their platform configuration and troubleshooting abilities. To acquire this certification, passing the JN0-335 exam is necessary.
The JNCIS-SEC exam code is JN0-335 and is administered by Pearson VUE. The exam comprises 65 Multiple Choice Questions and has a maximum duration of 90 minutes. The results are announced immediately upon completion of the exam, which is conducted in a written format. Additionally, candidates receive their pass/fail status at the same time. The JNCIS-SEC JN0-335 Exam incurs a cost of $300, and the certification is valid for three years. It is important to note that the JNCIS-SEC JN0-335 Exam Questions are only available in English.
How Can You Prepare for JNCIS-SEC JN0-335 Exam?
Those who have taken a certification exam can attest that no test is as straightforward as it appears. Juniper's certification exams are specifically crafted to assess a candidate's comprehension of particular domains, and their expertise in these areas is crucial to their exam success. This article concentrates on ways to achieve mastery in these certification content domains. The aim is to offer tips that will help prepare candidates for the JN0-335 JNCIS-SEC exam, ensuring a higher probability of success.
1. Familiarize Yourself With the Topics of the JN0-335 JNCIS-SEC Exam
The JNCIS-SEC JN0-335 exam is centered around security technology in general and Junos OS software for SRX Series devices. Prior to scheduling or registering for the exam, it is essential to have a thorough understanding of this operating system. The certification exam will assess specific topics, and it is recommended to review these topics on the official Juniper webpage. Acquiring knowledge of the exam content is the initial step toward achieving success.
2. Acquire Practical Knowledge
Undoubtedly, having theoretical knowledge of the certification exam is crucial. Nevertheless, to gain an edge, it is important to acquire hands-on experience. It is recommended to get acquainted with the concepts of Junos OS software for SRX Series devices and explore its functionalities. This practical approach will not only enhance your confidence in the technology covered by the certification but also prepare you for success in the exam.
3. Take Recommended Training
This suggestion is likely the most helpful. In order to prepare for the Juniper JN0-335 exam, it is necessary to complete the recommended training course. Juniper offers a five-day course that is specifically designed to equip students with the skills needed to operate Juniper Connected Security devices.
4. Make the Most Out of Juniper TechLibrary
If you are preparing for a Juniper Networks certification exam, the Juniper TechLibrary can be a valuable resource. The TechLibrary is a comprehensive online library that contains all of Juniper Networks' official documentation, including technical manuals, configuration guides, and release notes.
Using the TechLibrary for exam preparation can help you gain a deeper understanding of Juniper Networks' technologies and solutions. You can explore topics in more detail, learn about best practices, and review examples of real-world deployments. In addition, the TechLibrary allows you to search for specific information and filter results by product, version, and document type.
5. Join Online Forums
Groups offer individuals the opportunity to exchange experiences, difficulties, and advice on how to succeed in preparing for and passing the Juniper JN0-335 JNCIS-SEC exam. The initial step is to select a group that will offer substantial support in your exam review. You can determine whether a revision forum is beneficial by reviewing the posts and comments. An effective forum distributes exam tips and other helpful preparation materials.
6. Take JN0-335 JNCIS-SEC Practice Test
Assessing your proficiency and comprehension of the exam topics is of utmost importance when preparing for the test. To gain a thorough understanding of the content, it is essential to engage in practice tests. These tests can assist you in identifying your weaker areas and allocate more time to study them before the actual exam. The NWExam website provides a JNCIS-SEC practice exam that can be utilized to evaluate your skill set.
Benefits of Earning JNCIS-SEC Certification
A JNCIS-SEC (Juniper Networks Certified Specialist Security) certification can benefit network security professionals. Here are some of the key benefits:
Recognition: JNCIS-SEC certification is a globally recognized credential demonstrating your expertise in network security and ability to implement and manage security policies using Juniper Networks security devices.

Career Advancement: JNCIS-SEC certification can open up new career opportunities and help you advance in your current role. Employers often prefer or require certification when hiring or promoting network security professionals.

Competitive Advantage: JNCIS-SEC certification can set you apart from your peers and make you more competitive in the job market. It shows that you are committed to your profession and have taken the initiative to acquire specialized skills and knowledge.

Enhanced Skills and Knowledge: Preparing for and earning JNCIS-SEC certification requires a deep understanding of Juniper Networks' security solutions and technologies. This knowledge can be applied to real-world scenarios, making you more effective in your role and enhancing your problem-solving abilities.

Access to Resources: JNCIS-SEC certified professionals can access exclusive resources, such as Juniper Networks' online support and knowledgebase, and networking opportunities with other certified professionals.
Conclusion
The JNCIS-SEC certification can provide several benefits, including recognition, career advancement, competitive advantage, enhanced skills and knowledge, and access to exclusive resources. With the proper preparation and dedication, candidates can successfully pass the JNCIS-SEC exam and take their network security expertise to the next level.