The Cisco Certified Internetwork Expert Security (CCIE Security) certification identifies security professionals who have the understanding and expertise to implement, architect, engineer, troubleshoot, and maintain the entire suite of Cisco security technologies and solutions applying the latest industry best practices to secure systems and environments against modern security risks, threats, vulnerabilities, and requirements.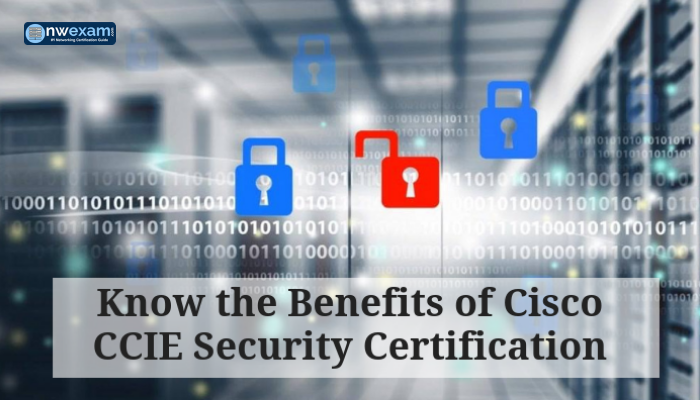 Cisco CCIE certification proves your commitment, urge and technical knowledge on a Network Security field. Once you achieve Cisco CCIE Security certification, you'll get hired by several distinguished IT Giants with coveted salary packages.
Owning a certification not only confirms your understanding of that technology but you also consider enough about your career to spend the time and money to get certified.
Explore the Benefits of CCIE Security Certification
Highest Paid IT Certification
Cisco CCIE Security certification is among the world's highest-paid IT certifications in the world. Whosever do CCIE security certification; it is confirmed that he/she will get a good amount of salary package right after earning their certification.
Networking Opportunities
Once you obtain certification with a specific vendor, then you associate with a unique group of certified skilled professionals and get ample new job opportunities after the certification completion.
However, Cisco certified professionals are continually in high demand as IT field requires more CCIEs to accelerate their companies' economics and growth. Therefore, many IT companies welcome CCIE security professionals with open arms with coveted salary packages.
Salary Packages
Cisco CCIE Security professionals are the highest-paid IT experts in the world. This field presents quite pleasing salary packages to CCIEs or other networking professionals as compared to other technical fields.
Growth Opportunities
There will be enough growth opportunities if you earn Cisco CCIE security certification. The career opportunities are endless. You'll be experienced more growth opportunities because IT industry needs CCIEs more. If a candidate has more than five years of experience in the relative field, then the salary package offered would be excellent.
Jobs after CCIE Security Certification
Network Security Specialist

Network Security Engineer

Network Administrator

Network Engineer

Sr. Network Engineer

Network Security Administrator
The scope of CCIE Security Certification
The scope of CCIE Security is becoming very widespread and expanding as a result of ever-growing technology. Many countries are becoming IT/Networking hubs of the world are hiring Cisco certified professionals to expand their organizations.
With the growing IT organizations, there is also fear of rising insecurity in the network system of business. CCIE security certification qualifies the applicants to maintain the security of the business. The professionals with CCIE security certification will be hired into the organization to manage their security of the organization.