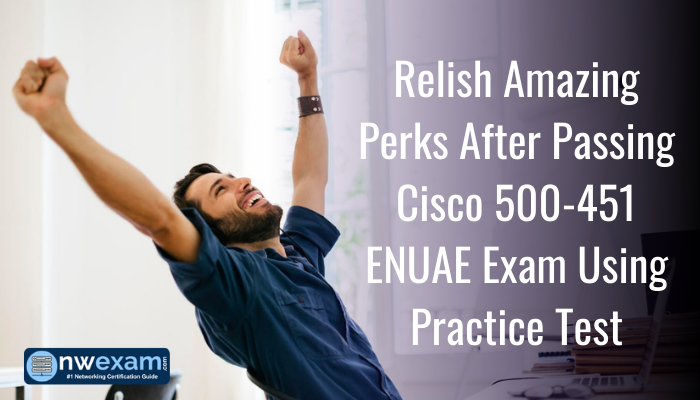 Cisco is the global leader in networking that transforms how people connect, communicate and collaborate. Cisco Channel Partner Program has access to the solutions, training, tools, and support required to help satisfy its customers. The Cisco Channel Partner Program is continuously developing. This program assures that Cisco Partners can seize new opportunities and improve software and services skills while distinguishing themselves in the market. This article is meant to acknowledge you with information regarding - 500-451 ENUAE: Cisco Enterprise Network Unified Access Essentials.
Overview of Cisco 500-451 ENUAE Exam
This exam measures an applicant's knowledge of the UA solution, along with determining its components and features, its advantages, and how to carry out each part effectively as an end-to-end network solution. The Cisco UA solution is a method extremely valued by our clients who look to gather wired and wireless access, network management, and policy enforcement. Cisco Enterprise Network Unified Access Essentials (500-451 ENUAE) is a 60-minute exam comprising 30-40 questions.
Grounds to Pass the Cisco 500-451 ENUAE Exam
Passing any Cisco certification exam fetches thrill and a feeling of gratification. Still, you never perceive your outcome beforehand; that's why it requires hard work and a deliberate focus to prepare for any examination, and the Cisco Enterprise Network Unified Access Essentials 500-451 ENUAE exam is not an exception. In addition to the thrill and satisfaction it brings, let's dive into other reasons for taking Cisco 500-451 ENUAE exam.
1. Qualifies You for the Next Phase of Your Professional Life
Professionals take and pass Cisco 500-451 ENUAE exam to help them accomplish specific objectives. These are objectives like achieving certification and finding a job. This is essential for every professional who desires to advance their IT career by enhancing their skills effectively.
2. Earning Cisco 500-451 ENUAE Certification Is a Smart Investment
Passing the Cisco exam 500-451 ENUAE is one of the vital ways to prove your skills in a niche field. With the certification from Cisco, you prove to your future employers that you are a skilled professional to work in conjunction with Cisco to resell its products and services, often with customizations specific to each individual buyer. Moreover, being a certified professional improves your chances of being acknowledged.
3. Confirms Your Skills and Knowledge
The Cisco 500-451 ENUAE exam confirms your knowledge of definite technologies. By passing this certification exam, Cisco allows channel partners with the needed skill sets and acts on them to embrace these technologies and stay profitable. The technology innovation gives Cisco's partners the capability to move into markets sometimes years before ambitious channel partners.
4. Attractive Financial Packages
By passing Cisco 500-451 ENUAE exam, you'll be all set to receive great financial perks. As long as you've proved your skills by passing the 500-451 ENUAE exam, employers won't have any issue paying you big paycheques.
Tips to Pass Cisco 500-451 ENUAE Exam
Making the best out of your preparation allows you to assuredly take and pass your exam. This is possible through reliable exam resources that assure you take a detailed look into Cisco 500-451 exam syllabus topics. You'll need to take up recommended training courses, study guides, and practice tests to help you master the fundamental exam concepts.
You'll also require resources to ensure your progress in the topics and exam preparation is apparent to you. This is where the Cisco 500-451 ENUAE practice tests come into play. Practice tests have been developed to help applicants go through exam prep successfully and pass their Cisco 500-451 exam on their first attempt. You can take up Cisco 500-451 ENUAE practice tests from NWExam.com.
Benefits of Using Cisco 500-451 ENUAE Practice Tests
Practice tests are important if you want to pass Cisco 500-451 ENUAE exam. Practice tests offered by NWExam.com provide you an idea of what kind of questions will be asked in the actual exam.
One of the main advantages that practice tests offer is that they give you some essential insight into the actual test structure. Through practice tests, you can learn about the type of exam questions that you will be asked, exam structure, and their weight in the syllabus topics.
Another benefit of performing a practice test on NWExam.com is that you can get your score immediately after attempting it. Since the Cisco 500-451 practice questions are very similar to what you will have in the actual exam, you can analyze your practice score and estimate what you will get in the real one. This is why it is suggested that you take as many practice tests as possible. In this way, you can review the result of practice tests and try to understand where you require to divert your focus. You should keep trying to enhance it to pass your certification exam with a flying score.
Conclusion
When your exam prep is on the right path, you can be sure to crack your exam. Thus, studying for your Cisco 500-451 exam with practice tests by NWExam.com can be useful to get a vibe of a real exam, identify your weak and strong areas and relieve stress while having an actual exam. Passing this exam will add value to your professional and personal extents and fetch you many benefits that you can already relish. Wish you success!