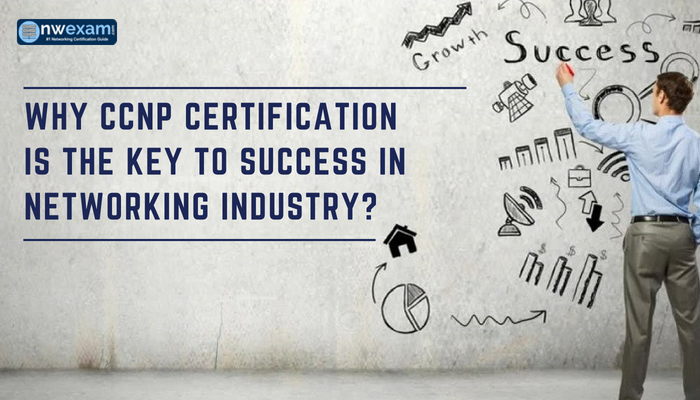 Having a Cisco Certified Network Professional (CCNP) certification validates your ability to implement and troubleshoot both WAN AND LAN networks. Also, you will be accepted as a person who can cooperate with specialists on issues related to voice, wireless, advanced security and video solutions. CCNP certification is becoming for those with at least one year of experience in networking. Individuals who obtain the certification are known to possess a valuable skill set that is needed in enterprise roles such as network engineer, systems engineer, support engineer, network technician and more. You will need to get CCNA certified before attempting for CCNP certification.
With that in mind, here are 10 reasons why CCNP Certification is the key to success in Networking
Huge Job availability
CCNP certification qualifies you for many different jobs such as IT manager; computers and information systems manager; network engineer; computer systems and network administrators; computer network architect or engineer projects, to name a few.

Pay potential is high
Getting a CCNP certification will fit you for an order of employment opportunities and the chance to earn a higher salary. According to research conducted by Cisco, individuals that are CCNP certified are gaining at the least 10% more than those who employed in the same position but without the certification.

Skill recognition
Getting a CCNP certification is a way to have your advanced knowledge and skills in computer networking showcased. Being certified by a reputable organization like Cisco means that you will be recognized as a person that has received the best training available in the industry.

You get an opportunity to keep up with the technology
We are all surrounded by technology. The best way to keep your career growth is to keep up with the current technology, which is precisely what a CCNA certified professional does.

Make your CV/Resume mouthwatering
Your CV tells about your skills, education, and job experience. Once you get a CCNP certification on the resume, you can assume the possible employers to think that you are the kind of person who will carry on with the organization and will be an asset to it. Having certifications in your CV also shows your interest in learning and education.

build up self-confidence
A CCNP certification can run as a morale builder and confidence. As engaged to be afraid of applying for the job due to less education, you build up the confidence of knowing that you have a top-notch certification of an industry that is continuously growing.

Best job growth
Apart from helping you to find an outstanding job in computer networking, getting a CCNP certification sets you on the top of the list when it is time for career advancements and promotions. In case you want to change the company, this certification will help you get a good job without having to start from entry level and working your way up gradually.
CCNP certifications make you fit for positions that have high majority required in coming years. Bureau of Labor Statistics has foretold that both computer and information systems managers and network architects can wait to see the increase of at least fifteen percent between the years 2012 and 2022.

You make yourself eligible for more excellent certifications
Many Cisco certifications work as stepping stones for more advanced certifications or at least provide the additional training necessary for acquiring other certifications. This is undoubtedly the truth with the CCNP certification. Obtaining a CCNP Certification prepares you for further education.

You get a great understanding of the computer networking industry
The very first thing a person with the CCNP certification gets is an in-depth understanding of the computer networking industry. Also, when preparing to pass the test for this certification, you spend a lot of time studying which makes you acutely mindful of the field you will be working in. After you have the certification, it means that you understand most of the requirements of your area as well as have lots of expertise too. It also shows that you have the technical skill to find solutions to wide-ranging issues and the elegance to protect the company from various malicious threats and viruses.
Also, you get an exclusive and private entry to many resources and delicate areas of a company, which in itself is a chance to learn what it takes to create a strong network and a successful business. However, always remember that this access to the internal mechanisms of an industry is given to you for defending the company from several threats not harming it.

You get a chance to work in many nations of the world
Whether you have the experience of the field or not, CCNP certification will offer excellent career opportunities to all CCNP aspirants out there, notably in IT equipped and emerging countries such as Nigeria, India, Dubai, USA, Algeria, Angola, UK, and Australia. Remember, few things in this commercial world are as valuable as certifications.
There are many personal benefits involved:
In addition to getting professional benefits, you will get some own benefits too. You will be granted a credible personality that commands high salary with the full range of job possibilities available.
In summary
According to International Information System Incorporation, for a marked improvement in an organization, empowering employees with security certification is vital. Very few people get this certification every year. Therefore, those who have this certification are sure to make it big in this field.
While getting a CCNP certification is a proof that you know, the right training, expertise, and dedication that is required, keep up with the latest certifications to prove that you have the ability for every aspect of the job. Also, for a network professional, it is essential to understand the essence, as well as the entire artistry attached to the position, is given.
Every organization wants CCNP certified network specialists to join their team because these are the people that shield the company from all kinds of online threats. For a business, getting a CCNP certified security expert is undoubtedly a game-changing moment. Even though earning this certification is difficult, if the candidate is hardworking and determined, nothing will come in between you and the success.