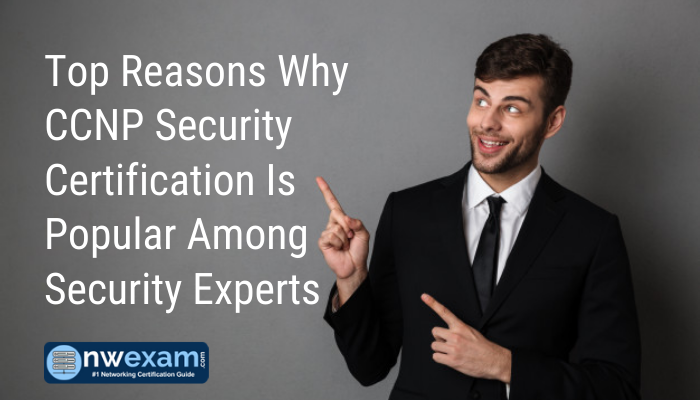 IT industry is increasing all over the world, and due to it, the need for network professionals is also increasing. Various other sectors of Information Technology are also equally growing. Networking is one of the most developing career options. The need for certifications associated with network security is also growing. CCNP Security Certification is one of the most renowned certifications.
CCNP Security certification is one of the fastest-growing options opted by professionals to take advantage of opportunities available in networking. Working in the field of CCNP Security will open up excellent career options for professionals. CCNP security professionals have a solid knowledge of the skills needed to retain organizations' data safe and secure from various threats. Organizations welcome their network security specialists as they secure the organization's systems from any threats.
CCNP Security Certification Examinations
To achive CCNP Security certification, you pass two exams: a core exam and a security concentration exam of your preference. And now, each exam in the CCNP Security certification track gets a professional Specialist certification, so you are acknowledged for your achievements along the path.
The core exam concentrates on your understanding of security infrastructure. The core exam is also the prerequisite exam for CCIE Security certification. Passing this exam supports toward obtaining both of these certifications.
CCNP Security Concentration exams concentrate on developing and industry-specific issues.
CCNP Security Core Exam:
CCNP Security Concentration Exams:
The Benefits of a CCNP Security Certification
1. Increase Earning Potential
According to Cisco, professionals who hold the CCNP certification receive 10 percent more than those who do not know when compared to a colleague working at the same organization and in the same position. Those with Cisco certifications are befitted to advance careers as IT Team Leader, Network Analyst, or Network Administrator.
2. Helps You Stay on Top Of Emerging Technology Trends
Advancements in technology are constantly evolving, and continuous learning is a must to stay competitive. Cisco certification will offer you an advantage over colleagues who do not own it.
3. CCNP Security Certification Add Big Value to Your Resume
Potential employers consider three core points on a resume: education, skills, and work experience. Degrees, along with relevant certifications, make you a more competent employee. CCNP Security certification makes you a crucial asset and convinces leadership that you're reliable to excel in your field.
4. CCNP Security Certification Can Help You Land a Job Abroad
Professionals with a CCNP certification can work abroad where these types of IT skills are required. Nigeria, India, Dubai, Algeria, Angola, UK, and Australia all have expanding IT industries; even if you are not interested in living there long-term, your organization could easily send you there as a representative.
5. Excellent Job Outlook
When it comes to additional perks, promotions, and salary hikes, hiring managers to seek employees going above and beyond the set expectations. With Cisco certification, you'll be acknowledged as someone who has some of the most advanced skills in the industry. Hiring managers will feel more confident knowing that you can handle any pending changes or difficulties in the future.
6. Keep Up With Changing Technology
Technology & Innovation that is here to stay, and for your business to sustain and develop, the best way would be to keep up with the current technology. This is exactly what employee CCNP Security certification is going to help you out in doing.
Conclusion
Software and networking become even more interconnected as day passes, creating ever greater requirement for robust, scalable security over all platforms—based on networks to mobile devices. With intent-based networking, security teams can take benefit of automation to measure their security solutions. To take advantage of these opportunities, today's security professionals require a broader spectrum of skills and profound emphasis in crucial technology areas.
The Cisco certification program equips you entirely that extent of knowledge. CCNP Security certification is designed to enable you confirm your skills in the constantly evolving outlook of security technologies. Among the industry's most comprehensively acknowledged and renowned certifications, Cisco certification sets you apart. It reveals the world you know what you are doing.