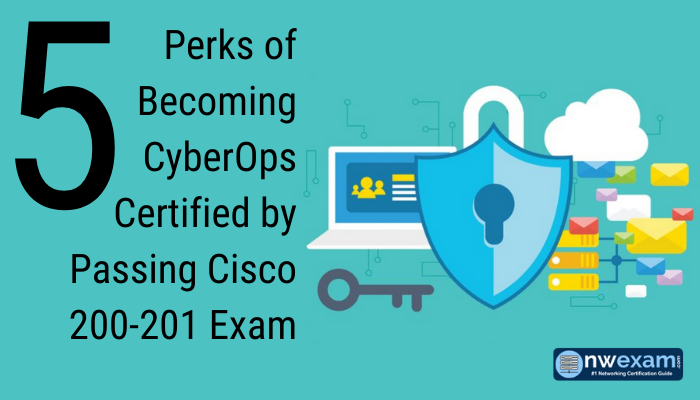 Cisco is a leading IT certification provider that provides a wide array of the most sought-after certifications. While they incorporate many crucial sectors of IT, the Cisco Certified CyberOps Associate certification is one that validates your skills in the basics of cybersecurity. In this article, you'll get vital information for the Cisco 200-201 exam. This is an exam that is designed for cybersecurity beginners. So, let's see what precisely this accreditation is up to!
Overview of Cisco CyberOps Associate 200-201 Certification Exam
The Cisco 200-201 exam offers crucial insights into the cybersecurity field. The learning of these fundamentals will come to a head in the examination conducted in English with 95-105 questions, needs to be completed in 120 minutes. The exam is called 'Understanding Cisco Cybersecurity Operations Fundamentals (CBROPS),' and it has a registration fee of $300. On successfully attaining the minimum target grade, applicants will earn a certification called the Cisco Certified CyberOps Associate.
What Skills Are Measured by Cisco 200-201 Exam?
The certification for the 200-201 exam defines you as an expert who has thoroughly acquired an understanding of specific exam topics. It means that you're better than expected in learning the following:
Security concepts

Host-based analysis

Security monitoring

Analysis for network intrusion
Having a thorough understanding of these objectives and the structure of the 200-201 CBROPS exam is key when you intend to get high-flying scores. The questions will have such a format as multiple choices. In general, it's not a cakewalk to get high marks in the Cisco 200-201 CBROPS exam. But if you study appropriately utilizing the means that have been assessed and adopted, failing shouldn't be a matter of concern for you. There are online training courses offered by Cisco and also many study guides available that can give you comprehensive guidance towards sitting for and passing this exam.
How to Prepare for Cisco 200-201 Exam with Practice Tests?
For the 200-201 exam, practice tests can give you a probability to master its features. Moreover, they can tell you the topics that you've already mastered so that you could command most of your attention to the ones you still find a tough time getting a good grasp on. Practice tests are also known to encourage learning and enhance concept retention. So, as your actual exam date comes nearer, you'll feel less worried as you'll have become familiar with the questions by answering different 200-201 practice questions. In a nutshell, with these practice tests, make your studies manageable and easy.
5 Perks of Becoming CyberOps Certified by Passing Cisco 200-201 Exam
You may think why people chose to earn this certification over other equivalent certifications available. Here are 5 reasons why:
1. Excellent Skills
It equips you with the most vital skills to detect, react to, and counter threats to security.
2. Cisco CyberOps Associate 200-201 Certification Helps Your Resume Get Noticed
If you want to excel in an interview, you must have something extraordinary in your resume. The Cisco CyberOps Associate 200-201 CBROPS certification is the perfect way to accomplish that.
3. Confidence Booster
When you are a fresher in the field, not having a good level of confidence in your skills can be a negative element that adds to the dying of your career. But thanks to this certification, you will know that you have what it requires to do your job and be confident about it.
4. Verification
This certification is now accepted as a true form of confirmation of one's skill in organizations all around the world.
5. Brilliant Career prospects
Becoming Cisco certified is an excellent way to jump-start a career in cybersecurity operations. As it has been observed that jobs in this area of IT remain to grow, your possibilities of getting hired are continually increasing likewise.
Conclusion
Cisco CyberOps Associate 200-201 exam that results in earning the Cisco Certified CyberOps Associate certification is great for those who have made a decision to begin their journey to becoming a cybersecurity professional. The exam objectives are created to equip you with the industry's fundamentals so that you can start your career from a solid foundation. To ace this exam, make sure that you involve practice tests in your study schedule. With this in-depth knowledge of the main exam, we're convinced that you have the right information to guide you through the essential step of preparation.
Time flies, so should you. The present job market expects you to be competitive and expert. The opportunities that open up for you will be infinite if you determine to earn the Cisco Certified CyberOps Associate certification.