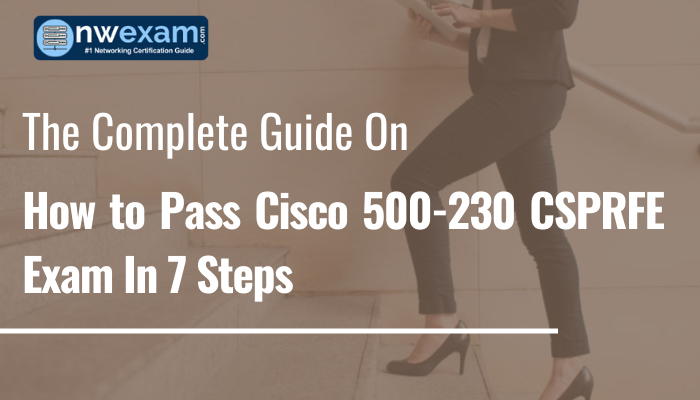 Understanding Cisco 500-230 CSPRFE Exam
The Cisco Service Provider Routing for Field Engineers (500-230 CSPRFE) exam consists of 25-35 questions, which need to be finished in 60 minutes. The exam is affiliated with the Cisco Partner Field Engineer role. This Cisco certification exam measures an applicant's basic understanding of Cisco IOS-XR Software and the ability to foster and manage the customer Cisco IOS XR platform.
The following are the topics that are covered in the Cisco 500-230 CSPRFE Exam:
Cisco Fundamental IoS XR Concepts (50%)

Cisco Advanced IOS XR Concepts (50%)
Preparation Tips for Cisco 500-230 CSPRFE Exam
To pass the Cisco 500-230 CSPRFE exam, all you need is to study smartly with dedication, and you will surely accomplish your goals. Be sure to use reliable preparation resources to help you pass your exam. There is no necessity to spend time and money on websites or study guides that don't help you gain a passing score. This article will provide you with tips that can help you prepare for Cisco 500-230 CSPRFE exam.
Without much fuss, here are some of the most useful exam preparation tips from NWExam. Follow them, and you will not have to register for your exam for the second time because you will pass it on your first try.
1. Understand the Cisco 500-230 CSPRFE Exam Content
Like any other Cisco certification exam, Cisco 500-230 CSPRFE exam syllabus comprises definite objectives. For you to study efficiently for this exam, you have to understand the exam objectives because they are from which the questions are asked. You can find all the details about Cisco 500-230 exam topics on the official website or here.
2. Create an Effective Study Plan
Making a study plan is the first thing on the exam to-do list. Without an effective study plan, you might study aimlessly, and you might not be able to finish your preparation within the time you have set for the exam preparation. Have a realistic study plan with specific days and times when you will be learning. Determine when and for how long you will be studying each topic. To make the most out of your study plan, strictly follow it.
3. Fix a Precise Study Goal
A goal specifies what we plan to accomplish in whatever we do. This is also true when it comes to Cisco 500-230 CSPRFE exam preparation. Defining a goal should be the first hierarchy of your exam preparations.
4. Obtain the Appropriate Study Resources
Use the most relevant and updated Cisco 500-230 CSPRFE exam preparation resources. The study resources you obtain should incorporate comprehensive information about the exam. The Internet is overloaded with the Cisco study materials, and each site swears to have the most valuable ones. But, not all of them can help you pass your Cisco CSPRFE exam, as some are obsolete or contain half-baked information. The good news is that some platforms provide the exam takers with the latest and complete study resources.
5. Take Recommended Training
Taking recommended training can be extremely useful to those applicants who are studying for Cisco 500-230 CSPRFE exam. This will help you understand the exam concepts in detail and the skills you need to master to pass the exam.
6. Perform Cisco 500-230 CSPRFE Practice Test
You can take practice tests before you face the actual exam despite the exam preparation technique you will choose or the type of study resources you will use to prepare for your Cisco 500-230 CSPRFE exam. Taking Cisco 500-230 practice tests on NWExam.com helps you know the kind of questions you are likely to confront in the actual exam, and it also helps you to understand the exam structure and to boost your confidence. Moreover, you will also be able to measure your understanding and point out your weak areas so that you can know the topics you need to work on. Take as many Cisco 500-230 CSPRFE practice tests as possible because this will enhance your odds of passing the Cisco 500-230 exam excellently.
7. Become a Part of the Online Community
What you can achieve when studying with others is far much better than what you can achieve when you are self-studying. This is why you are suggested to become a part of an active online forum where you will meet like-minded people who will occupy you in influential discussions concerning the exam. Joining an active community will allow you to ask doubts and share your experiences.
Benefits of Taking Cisco 500-230 CSPRFE Practice Tests
Practice tests are extremely important when you are preparing for any certification exam, which is why you should always take up them. With the practice tests offered on NWExam.com, exam takers will get a very precise idea of what type of questions to expect in the exam and how to deal with them. For the best results, applicants are advised to take as many Cisco CSPRFE practice tests as possible. With each attempt, you will only enhance your preparation level, and that will boost your chances of getting a better score in the actual exam.
Conclusion
The above-mentioned tips should help you prepare well for your Cisco 500-230 exam. Follow them, and you will be grateful to us because you will surely achieve a high score.