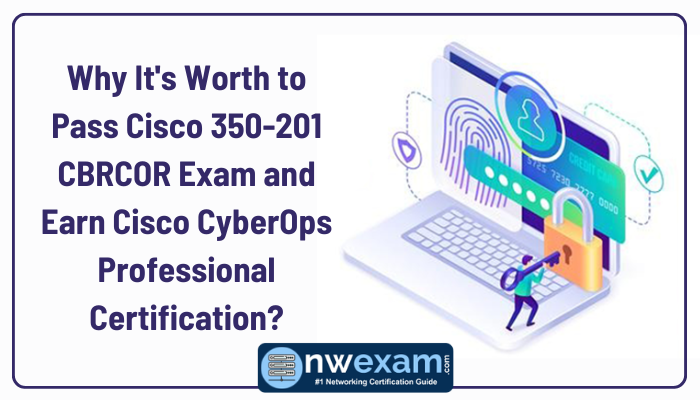 The Cisco Certified CyberOps Professional certification is a certification that confirms the skills of managing, maintaining, and knowing the fundamentals, methods, and automation of cyberattacks of cybersecurity. The applicant has to qualify for two exams to obtain the certification:- Core exam: 350-201 CBRCOR and Concentration exam: 300-215 CBRFIR. Each of these exams will lead to a separate Specialist certification. This article will focus on Cisco 350-201 CBRCOR: Performing CyberOps Using Cisco Security Technologies.
Cisco 350-201 CBRCOR Exam Details
The Performing CyberOps Using Cisco Security Technologies v1.0 (350-201 CBRCOR) exam is a 120-minute exam comprising 90-110 questions associated with the Cisco CyberOps Professional Certification.
This exam measures your knowledge and skills related to Heart Cyber Security operations, for Example:
Fundamentals

Techniques

Processes

Automation
The 350-201 CBRFIR exam includes no official prerequisites. However, applicants must be aware of the topics included in it.
Study Tips for Cisco 350-201 CBRCOR Exam Preparation
Cisco 350-201 CBRCOR certification exam is not only challenging but also commands a rigorous study plan with an extensive understanding of skills to crack it. Thus, you will require to study many aspects, and everything must be solved thoroughly and up to the mark, from study resources to exam preparation. Passing this Cisco CyberOps Professional 350-201 CBRCOR exam will be difficult, but following this guide will give you an upper hand.
1. Obtain Cisco 350-201 CBRCOR Study Guides and Books
Study guides and books are the best way to pass your Cisco 350-201 CBRCOR exam. It comprises a lot of topics with comprehensive explanations and even further learning. The key to passing your exam is finding an excellent book to help you. Several guides can be helpful to, but those that can assure success are few. It is because only a few can offer quality content. They comprise the official Cisco Press exam guides, which are constantly updated.
2. Official Training Course
An official video training course, ''Performing CyberOps Using Cisco Security Technologies (CBRCOR) v1.0,'' is the best option to understand better any topic in detail. The training course will be more suitable if you struggle with learning from a study guide or books. It emphasizes important information, and you can efficiently follow the explanations during lessons.
3. Cisco 350-201 CBRCOR Practice Test
It is a practice that can help you beat barriers and make you identify gaps in your knowledge. Practicing demands a clear ambition and rigorous passion, and you must be able to concentrate on your goal and not compromise it for anything. With Cisco 350-201 CBRCOR practice test, you will not only recall what you have studied but also know how to deal with Cisco 350-201 exam questions.
4. Plan Your Preparations
Plan your Cisco 350-201 CBRCOR exam preparations strenuously if you have a genuine ambition to obtain the Cisco certification. This will help you to concentrate on the essential things, and you can cover the entire syllabus. The first step is studying the exam objectives. Cisco 350-201 exam objectives are what you will need to pass, and if you do not concentrate on them, it won't be easy to pass your certification test. Thus, after apparently outlining the 350-201 CBRCOR syllabus details, begin your preparation in a quiet place with complete concentration.
Why Should You Pass Cisco 350-201 CBRCOR Exam?
To competently comprehend the significance of the 350-201 CBRCOR in your career, we've gathered all its essential features to help you determine whether it's worth the hard work or not.
Reason 1: Confirms Your Skills in CyberOps
The need for CyberOps professionals may be elevated. Still, the supply of these individuals could also be pretty profuse. Thus, you must go through the contest and stand out from the group. With the help of the Cisco 350-201 CBRCOR exam, you are off for a flourishing career in the future. The exam syllabus focuses on your skill to competently handle the day-to-day tasks.
Reason 2: It Keeps You Updated With the Relevant Changes in the Field
The IT field is constantly changing ― and keeping you properly; you must prove to the organizations your expertise to work on new products skillfully and effectively. However, this can't be done only by just working on your day-to-day tasks.
You have to be visionary and look for ways to enhance your skills. Cisco CyberOps Professional certification exam is a pivotal instrument to equip you with the latest knowledge relevant in the domain of CyberOps.
Reason 3: Having a Cisco Certification on Your CV Boosts Your Financial and Professional Status
Successful applicants of the Cisco 350-201 CBRCOR exam obtain the Cisco Certified CyberOps Specialist – CyberOps Core certification. And if you also pass this exam, along with Cisco 300-215 CBRFIR exam, you earn an esteemed accreditation in the name of the Cisco Certified CyberOps Professional Certification. This Cisco certification will convert your flat career into a successful pursuit with excellent opportunities.
Conclusion
Move up the desired career ladder with the help of the Cisco CyberOps Professional 350-201 CBRCOR exam. Passing this certification exam offers you an incredible opportunity to prove your skill and become a pro in the field of CyberOps. So, start with this worthwhile certification journey and discover all its star perks on your own.