The Juniper Network Certified Internet Associate JunOS (JNCIA-Junos) certification tests a candidate's understanding of IP network routing technology and Juniper JunOS configuration and troubleshooting skills. Grab the opportunity to take the JNCIA-Junos exam and with hands-on experience at using JunOS devices.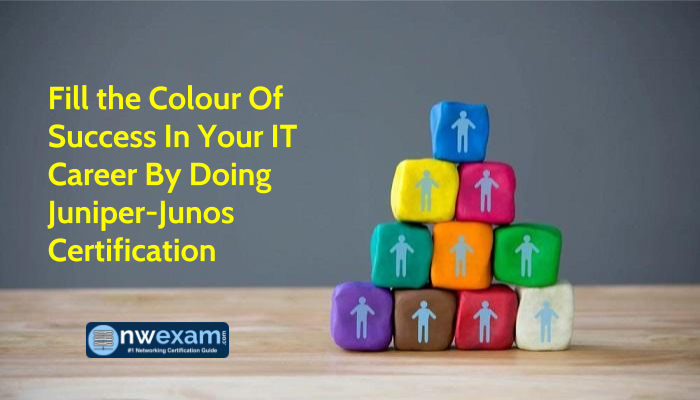 What's on the Exam?
The JNCIA - Junos training is an entry level certification which acts as a foundation for advanced Junos courses. Juniper Networks Certified Associate demonstrates a professional's ability to work with Junos OS, switching, routing and basic networking fundamentals. Get to learn about the key components of Junos software through practical demonstration and lab sessions. Gain expertise in configuration and management of Junos OS and its device operations.
Junos certification will cover topics such as fundamentals of Junos OS, its basic configuration, routing basics, operations monitoring and maintenance, networking, routing policies, firewall filters and Class of Service (CoS).
You will also get to learn how to:
Perform various tasks in the CLI configuration and operational modes

Restore Junos devices to their default factory settings

Install and manage network interfaces

Perform tasks for system logging, configuration archival, SNMP and NTP

Implement network utilities

Configure and operate uni-cast RPF (Reverse Path Forwarding)

Conduct password recovery and file system maintenance of Junos devices

Upgrade Junos OS successfully

Manage routing operations, static routing, OSPF and routing policies

Implement firewall filters
This Junos course is ideal for beginners or networking professionals who wish to expand their knowledge of Junos OS, Juniper Networks fundamentals and routing concepts.
The JNCIA-Junos exam (JN0-101) is a typical computer-based certification exam with 65 questions to be completed in under 90 minutes. Passing is 66% and the score is available immediately upon completing the exam. There is no prerequisite to take the JNCIA-Junos exam.
Each exam item has four answer options and is either single or multiple choice. Some questions have an exhibit that must be examined to answer the question correctly. You can move forward and back and flag questions. At the end of the exam you are given the opportunity to review all of the questions and change any of your answers before you end the exam.
How did I Prepared?
Well, the JNCIA-Junos was the very first non-beta IT certification exam that I have ever failed. I needed 66% to pass and received a score of 63%. My worst sections were (not surprisingly) user interface options and routing policy/firewall filters, and (surprisingly) routing fundamentals. I'm not really surprised that I failed, because I do have very little hands-on JunOS configuration experience, and I really didn't take studying the exam very seriously. Actually, I'm rather relieved that I failed because, had I only just squeaked by with a pass, I would not feel worthy of the certification. It's also an eye-opener to me that I'm not as close to being ready to take Cisco's ICND2 exam as I might have thought.
Will I take the JNCIA-Junos exam again? Yes, I probably will circle back to it after I finish off some Cisco exams that I've had on my schedule for years now. I've got my eye on the Juniper JNCIA-IDP certification too.
Registering for Juniper Certification Exams
Juniper exams are administered at Pearson Vue testing centers. Registering for a Juniper certification exam requires a Juniper account at the Pearson Vue web site. Even if you already have a Pearson Vue web site account from previously taking an exam by another certification vendor, you will still need to create a separate Juniper Pearson Vue account just for your Juniper certification history.
If you have a Juniper exam voucher, you will need to activate the voucher first and then apply it when you sign up for your exam date on the Pearson Vue web site. You will typically have 90 days to take the exam once you have activated the voucher per the instructions included with the voucher. I didn't quite get this detail and had to rush to take my exam or my activated voucher would have expired.
Suggested Certifications: