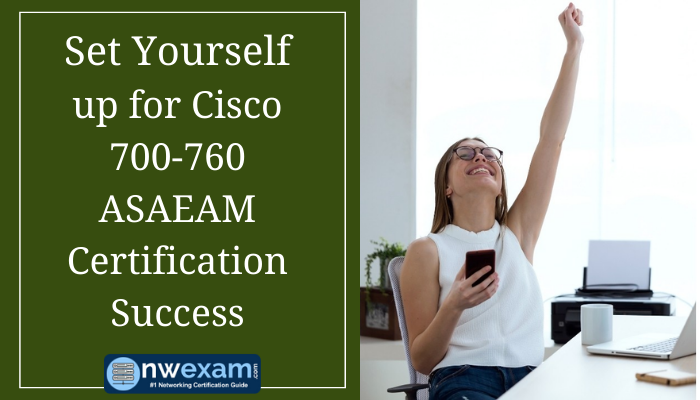 The Cisco Channel Partner Program enables its partners to acquire the sales, technical, and service skills needed to provide Cisco solutions and a customer's business developments. With the program's specializations and certifications, Cisco acknowledges a partner's skill in deploying solutions based on Cisco's cutting-edge technologies and services. The Cisco Channel Partner Program combines the technology focus of each Cisco Partner Specialization with adaptable individual career certification prerequisites, client satisfaction objectives, and pre-and post-sales support abilities. Cisco 700-760 ASAEAM certification is one of the Cisco Channel Partner Program certifications that is becoming increasingly popular.
Overview of Cisco 700-760 ASAEAM Exam
The Cisco Security Architecture for Account Managers (700-760 ASAEAM) is a 90-minute exam for the needed knowledge across the Cisco Security portfolio for a registered partner organization to receive the Security specialization in the AM role.
Cisco 700-760 ASAEAM Exam consists of the following areas:
Threat Landscape and Security Issues (20%)

Selling Cisco Security (15%)

Customer Conversations (15%)

IoT Security (15%)

Cisco Zero Trust (15%)

Cisco Security Solutions Portfolio (20%)
Why Should You Pass Cisco 700-760 ASAEAM Exam?
Passing the Cisco 700-760 ASAEAM exam and becoming Cisco certified channel partner can significantly influence your business. Some of the assured benefits are:
1. Enhanced Partner Performance
Cisco 700-760 ASAEAM exam preparation provides partners the essential product knowledge. A skilled partner can competently communicate the product's advantages and values to clients, and they can trade more, drastically enhancing their performance.
2. Building a Strong Brand
Trained, authorized, and long-standing partners promote brand growth. They demonstrate a higher brand awareness and can assist you in building a strong brand.
3. Higher Customer Retention
Cisco 700-760 ASAEAM exam preparation can drive partners' execution, making them more dynamic and conscious of customers' requirements. When customers connect themselves with such professional partners, their contentment level increases exceptionally, and more satisfied customers remain with a business.
4. Lower Support Expenses
Cisco Security Architecture for Account Managers doesn't need regular support when things don't sort out as envisioned. They are intelligent enough to resolve things by themselves, decreasing the cost of support resources you'd otherwise deliver in such situations.
How to Pass the Cisco 700-760 ASAEAM Exam?
When you take the Cisco 700-760 ASAEAM exam, the period before your scheduled exam date should be used to enhance your knowledge of the exam objectives. This will ensure that you do not have any hardship answering the exam questions on your exam day. In your preparation time, you should plan your time smartly to learn each topic area of the exam. Below are mentioned few tips to help you prepare for Cisco 700-760 ASAEAM exam:
1. Create a Practical Study Plan
The exam will evaluate you in various fields and include many other objectives. Hence, you may want to learn all exam topics before the exam. This comprises studying, taking practice exams, exploring online communities, and identifying areas in which you require further improvement.
If you don't plan your studies, you may find it tough to cover all the Cisco 700-760 certification exam topics. So, it would be best if you designed a realistic and achievable study plan to meet your goals. Even if you have a straightforward to-do list, it will help you immensely.
2. Explore Cisco 700-760 ASAEAM Exam Official Webpage
Cisco 700-760 ASAEAM exam official webpage is the first platform to explore before you begin your exam preparation. You'll find this exam's complete details, including its syllabus, prerequisites, study materials, training details, and so on. So, make the most of it and use all the available resources to prepare for your Cisco ASAEAM exam.
3. Take Recommended training
The recommended training course is intended to equip you with the knowledge and skills needed to become skilled in Cisco Security Architecture for Account Managers. This training will help you understand every aspect of the Cisco 700-760 exam.
4. Take Lots of Cisco 700-760 ASAEAM Practice Tests
Determining your baseline is the next step toward thriving Cisco 700-760 exam preparation. Take practice tests to gauge your preparation level. Take lots of Cisco 700-760 ASAEAM practice tests to evolve your competence in the exam topics. When selecting a resource platform for this learning tool, make sure you rely on a reputable and reliable website - NWExam.com.
Taking Cisco 700-760 ASAEAM practice tests will also help you learn to pace yourself. Performing the full Cisco 700-760 ASAEAM practice tests will help you conceive a feel for the exam's mental and physical needs, ultimately allowing you to ace the entire exam effectively and confidently.
5. Join Online Communities
Joining relevant online communities will be the most economical way to ease your preparation process. In an online community, you can ask your doubts regarding the exam, and there will be seasoned professionals who can solve your doubts.
Conclusion
You will be a Cisco-certified channel partner after passing Cisco 700-760 ASAEAM exam. This will draw many benefits to you, as specified above. With appropriate preparation and accurate study materials, passing the exam should not be challenged.