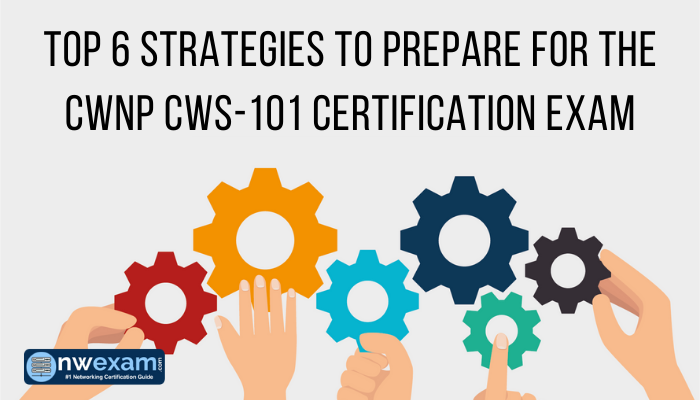 CWNP provides enterprise wireless certifications for entry-level professionals up to experienced network professionals. Each certification level is aimed to benchmark your profound understanding of RF technologies and applications of wireless networks. The CWNP certification aims at IT professionals and wireless LAN administrators and prepares candidates on how to identify, design, and control wireless LAN infrastructure and applications irrespective of vendor solutions. The CWNP certifications concentrate on training, evaluating, testing, and certifying an individual's skill in several wireless networking jobs and domains. This article will line out the CWNP CWS-101 exam.
Overview of CWNP CWS-101 Certification
The CWS-101 certification is an entry-level WLAN certification from the vendor-neutral CWNP organization that brought you CWNA and other higher-level certifications. To achieve the CWS-101 certification, you must pass an online exam with 70% or higher. Those desiring to work as instructors teaching CWS classes must pass with an 80% or higher score. Regardless of how you choose to prepare for the CWS-101 exam, it would be best to start with the exam objectives, which cover the complete list of knowledge tested. The CWS-101 is a three-year certification, and it is renewed by passing the most recent version of the CWS-101 exam again.
The CWNP CWS-101 exam objectives are as follows:
Understand Basic RF Characteristics (15%)

Identify Wireless Networking Features and Functions (30%)

Identify Wireless Hardware and Software (30%)

Understand Organizational Goals (25%)
Reasons to Pass CWS-101 Certification Exam
1. Relish Enhanced Technical Confidence
Your technical skill is at risk every day, which is why you should stay updated with the relevant technologies and achieve certifications to evidence your skills. By passing the CWS-101 exam, your skills will be certified and make you distinguish from the crowd.
2. Make Your CV Stand Out From The Pack
You want to distinguish yourself. Don't be an adherent. Be a leader with CWNP certification. Having certified with CWNP would provide you with a competitive advantage that would contest with a much smaller pool of applicants for similar jobs. Thus, your opportunities would be better for ensuring unique opportunities, and your hard work would poke out.
3. Be a Part of the Elite Group
As a CWNP Certified Wireless Specialist (CWS), you could contribute your experiences, ask questions, and be involved in a dynamic technical community that would enrich your career. Also, once certified, you can digitally display your certification on your social media platforms.
Best Tips to Ace CWNP CWS-101 Exam
1. Create a Study Plan
Before beginning your CWNP CWS-101 exam preparation, prepare a study plan that will fit your personal and professional life. After that, you can develop a realistic and achievable study plan. Avoid hurrying to learn all the exam topics on the last day, as this isn't a smart strategy to pass the exam. Instead, you can assign at least one to two hours every day for two to three months. On the other hand, if you don't have sufficient time, you can assign a couple of hours every weekend. However, don't overstudy as your mind can't grasp much information at one time.
2. Become Familiar with the CWS-101 Exam Structure
The CWNP CWS-101 exam is a challenging certification exam. To crack the exam, you must get familiar with the exam objectives, and you should also know about the types of questions asked in the exam. To get the complete exam objectives and structure details, visit the official website or click here.
3. Obtain an Appropriate Study Resources
When studying for the CWNP CWS-101 exam, using trusted and reliable study resources are essential. Learning from trusted and reliable study resources will help you master all the exam topics in detail.
4. Engage in an Online Forum
Suppose you're confused or need someone while your CWNP CWS-101 exam preparation, it can be an intelligent decision to join an online forum. Social media is always there, but the integrity of information can be hit-or-miss.
5. Take CWNP CWS-101 Practice Test
The CWS-101 exam is tricky, but you can pass it with the help of practice tests. One of the best means to prepare for the CWNP CWS-101 exam is by taking practice tests. It will help you get familiar with the exam syllabus and structure. Moreover, it will help you identify topics where you may require more preparation time.
6. Be Calm and Composed
It can be easy to get stressed out in the exam, but this can make blunders. Stay calm and composed throughout the exam, and take your time when answering questions. It will help assure that your answers are correct and do not lose points due to rushing through questions.
Conclusion
To conclude, the above tips will help you to prepare for your CWNP CWS-101 certification exam in a very reasonable manner. Once you have cracked this certification exam, the opportunities in your career will skyrocket.