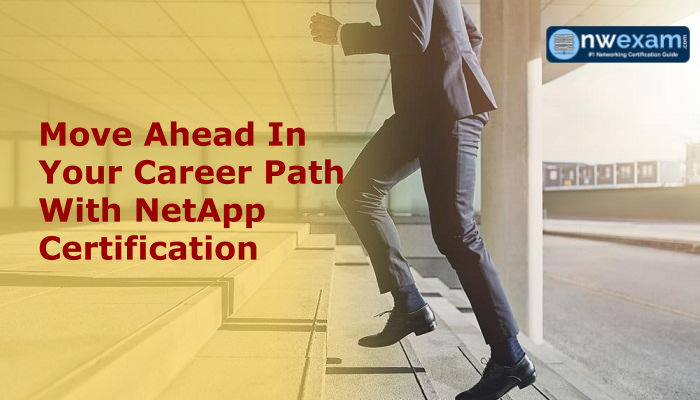 NetApp, as a vendor enduring in storage solutions, offers some of certifications. The certifications are intended to build upon one another, with the entry level being the Associate certification, followed by the intermediate Administrator level, and concluding with the advanced level Engineer certification.
NetApp offers the following Certifications:
Storage professionals working with NetApp technologies should consider on of NetApp's Associate, Specialist or Professional certifications in storage implementation, administration, support, installation and converged infrastructure.
Associate (entry level)
NetApp Certified Storage Associate (NCSA)

Administrator (intermediate level)

NetApp Certified Data Administrator (NCDA):

7-Mode

Clustered Data ONTAP (NS0-157)
Engineer (advanced level)
NetApp Certified Implementation Engineer (NCIE)

Backup & Recovery

Data Protection

NCIE SAN 7-Mode

NCIE SAN Clustered Data ONTAP (NS0-506)

NCIE SAN E-Series
NetApp emphases on data storage and management, and is best known for its line of storage systems called NetApp filers. This nomenclature reflects the storage model that the company uses, which is file oriented, in contrast to block storage systems from other vendors such as EMC, Hitachi Data Systems and IBM. NetApp's products initially used NFS and SMB protocols for storage communications, whereas the block storage system uses conventional SAN technology implemented using Fibre Channel. In 2004, NetApp added block storage to its capabilities.
Today, NetApp systems support block- and file- level storage using NFS, CIFS and SMB on the file side, and iSCI and Fibre Channel (including Fibre Channel over Ethernet, aka FCoE), on the block side. The company's proprietary ONTAP OS supports its storage capabilities, while its On Command software manages, controls and automates networks data storage.
Here are aims to get storage certified for NetApp products:
Essentials of storage networking
Although the exam is vendor specific, all the fundamentals of storage networking are covered in the first few modules. It's vital to understand this if you want your skill set to be relevant to current technology. Once qualified you will have the confidence to contribute to any technical conversation about your company's storage networking policy (or help create one if they don't have one yet).
It's applied technology
Many exams just give you a theoretical understanding of the technology. The NCSA is part theory, but at least half the syllabus is practical based with you installing, configuring, and administering the software. Best of all, NetApp provides a simulator you can download for free.
Understand the Importance
Any company recognizes the value of data storage, management, and protection. Most, in fact, have their very existence depending upon these factors. Add to that the legal ramifications of losing sensitive data, and you can begin to see the huge importance of data storage.
Paradoxically, how many of their IT support staff understand this vital area? If you become the go-to guy for storage networking, you can consider yourself indispensable.
"The value of certifications in the IT industry is often debated, but this year our survey showed average salaries increasing from $94,754 for those without any certifications to $121,750 for those holding four certifications," said Storage Magazine.
NetApp is a BIG Name
You may have never heard of the company unless you are familiar with storage networking; however, NetApp is the biggest storage provider to the US government! That's pretty big. The military are training their own engineers in droves.
While other companies were vanishing during the dot-com bubble burst, NetApp was thriving. It is also in collaboration with Cisco and VMware "to offer customers an end-to-end Secure Multi-tenancy Design Architecture that provides enhanced security in cloud," according to Wikipedia.
Growth & Profit
No other area of technology is experiencing the growth, investment, and development of storage networking. We are still seeing developments in security, voice, and generic routing and switching but nowhere near on the scale of storage networking.
Guaranteed a Job
Check the job boards for "storage engineer" or "NetApp," and see for yourself. If you have passed the exam, you've proven to customers you are at the level NetApp themselves certify as able to support their products. The certification translates into a job.
Better Pay
I know we all like to study what we enjoy, but we also have bills to pay, right?
Storage engineers are in high demand, yet there is only a small pool of qualified engineers from which to draw. Great news for you.
"The average annual salary for the 171 respondents was $98,028 Storage pros in the Pacific region had the highest average salary at $121,400, beating New Englanders' average salary of $112,529. The Southwest was third at $101,063, " according to Storage Magazine.
Yes, I know the novice engineer won't start on that, but you can guarantee that every storage engineer that took part in the survey started out knowing nothing AND is certified to do their job.
Add to that fact you can actually translate the qualification into salary, it seems to make sense to any IT engineer to seriously consider storage networking as a career path.
It's Simply Safe
The NCSA is a foundation certification. Consider that the Cisco CCNA can take weeks or months to pass, but our NCSA course is just over 4 hours long! Sure, you need to do lots of labs with the free simulator, but with a bit of hard work, you could be looking at getting certified in a week or so.
Note that I never said the exam was easy, but it is easily passable. There is a big difference.
I hope you see the value of NetApp certifications. Please check out our NCSA course. Put in the coupon code "ncsa" at the join page, and you can study the course and 20 others for only $20 per month. The discount is applied at the payment page.
Suggestions on NetApp Certifications
NCDA 7-Mode
NCDA ONTAP