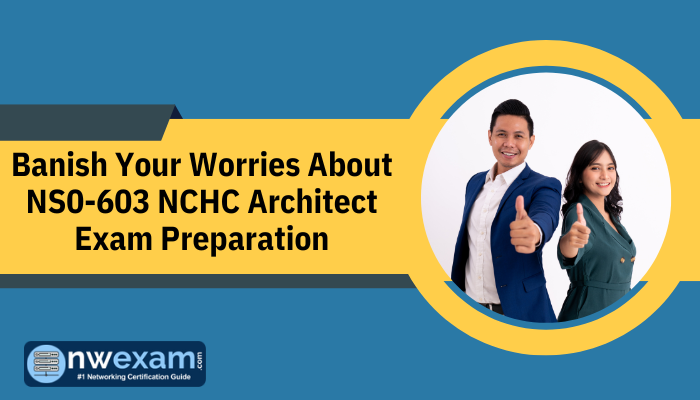 As mixed cloud environments have the desired effect and enterprises integrate hosted infrastructure with private cloud and on-premises IT, networking professionals must be upgraded with the latest hybrid and multi-cloud technologies developments. An excellent way to do that is by achieving certifications. This post will talk about NetApp Hybrid Cloud Architect - NS0-603 NCHC Architect certification.
What is NetApp Hybrid Cloud Architect - NS0-603 NCHC Architect Certification?
NetApp Certified Hybrid Cloud Architect (NS0-603) is NetApp'sNetApp's expert-level certification. This certification validates your skills and knowledge in evaluating customer business requirements and architecting NetApp data fabric solutions in hybrid cloud environments with supported public cloud providers, such as Amazon Web Services (AWS), Google Cloud Platform (GCP), and Microsoft Azure.
NetApp NS0-603 NCHC Architect Exam Details
In the NS0-603 exam, you should be ready to answer 60 questions within 120 minutes. Extra time is possible in countries where English is not the native language and for candidates whose first language is not English. The exam cost is $150.
NetApp NS0-603 Exam Domains
Customer Requirements

NetApp Hybrid Cloud Solutions

Hybrid Cloud Architecture

Business Continuity and Data Protection

Networking

Sizing

Security

Monitoring
How Should You Start Preparing for the NetApp NS0-603 NCHC Architect Exam?
To begin exam preparation, you need the relevant study material. The study material for this can be acquired in the following forms:
Obtain Books
The exam-takers can buy some books from official publishers or Amazon and start reading them to pass the NS0-603 exam. These books are designed especially for the NetApp NCHC Architect certification exam and have all the course material.
Learn from Material Provided by NetApp
The NetApp official website offers study materials that can be very useful for exam preparation. You can get all the information about the exam study resources, such as online community, and training courses, on the official website. You can assess the NetApp Learning Services to learn the basics or up-level your skillset from the NetApp experts.
Enroll in Online Courses
The NetApp NS0-603 online courses are either given by the partners of NetApp or some other websites. The online courses will incorporate all the exam syllabus in detail and allow you to learn at your pace.
Tips to Pass NetApp NS0-603 Exam On the First Attempt
If you want to pass the NetApp NS0-603 certification exam, you should keep in mind the following points:
Be Consistent With Your Studies
Always be consistent with your exam preparation. You should try to develop a study plan that you can follow. You can only pass the exam when you study and do revisions regularly. If you revise the learned concepts, you will remember what you studied before and ultimately save time.
Start Your Exam Preparation Early
Begin your exam preparation as early as possible. The NetApp Hybrid Cloud Architect NS0-603 exam preparation requires ample time to cover all the exam topics. As the NetApp certification exams are challenging, you must study hard to learn all the concepts. You ought to have complete knowledge about everything you might encounter in the exam.
Make a Realistic Study Plan
Make a realistic study plan before you begin NetApp NS0-603 exam preparation. If you don't have any experience and want to start from scratch, go for instructor-led training courses. If you have some prior knowledge and experience in the field, you can self-study, learn from online videos, practice tests, and work on your weak areas.
Read the NetApp NS0-603 Syllabus Completely
You need to have a thorough knowledge of your exam topics. Make sure you have your syllabus handy all the time. This will help you study, and you will be able to comprehend all topics while studying for the NetApp Hybrid Cloud Architect exam.
Take NetApp NS0-603 Practice Tests
It has been observed that people who solve practice questions regularly score much higher than the ones who don't. Try taking the NetApp NS0-603 practice tests every week after studying all the exam objectives.
With the help of practice tests, you can gauge your skills and knowledge and become used to an exam environment. This will give you an advantage in the actual exam, and you might be able to answer all the exam questions in the given time.
Acquire Hands-On Experience
One of the crucial things you ought to do while preparing is acquire hands-on experience in this field. With practical experience, you can easily understand what you are learning in theory and pass the exam on the first attempt.
Become a Part of an Online Community
Online community and study forums are helpful while preparing for the exam. Study groups help you stay in touch with other people who are also studying for the same exam. Furthermore, you can also ask a question associated with the topic you're facing difficulty with. You get to learn from the experience of your colleagues, and therefore joining a community is a crucial step throughout your exam preparation.
Conclusion
If you follow the above tips and study consistently, you will pass the exam on the first attempt. Every applicant should note that there is no shortcut to the NetApp NCHC Architect exam, and you require help finding the easiest way. You will have to work hard to learn the exam concepts in detail and pass the exam on the first shot. All the Best!!