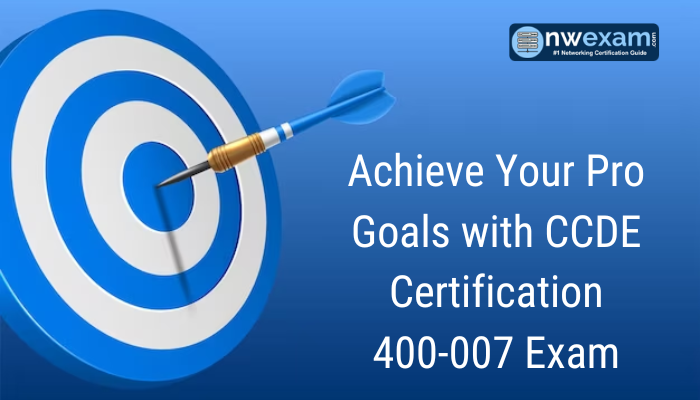 The CCDE certification, officially known as Cisco Certified Design Expert (400-007), is a well-respected qualification demonstrating a person's advanced network design expertise. This certification encompasses advanced principles and methods for designing complex network infrastructures, including routing, switching, services virtualization, security, and infrastructure.
The certification shows a person's competence in tackling intricate networking issues, rendering CCDE-certified experts highly sought-after in the IT sector. Understanding the CCDE exam concepts is vital for crafting advanced, adaptable, and safe internal network systems. Various industries rely on this certification to identify professionals who can create resilient, cost-effective, and influential networks.
What is the Cisco CCDE Certification Exam?
The CCDE certification, short for Cisco Certified Design Expert, is tailored for seasoned network architects and designers with a profound comprehension of constructing intricate enterprise-level networks spanning multiple layers. This certification affirms your expertise in devising creative, scalable, and efficient solutions.
The CCDE examination evaluates your capacity to create comprehensive networking solutions encompassing the entire process, from initial planning and design to implementation, operation, and optimization. It challenges you to analyze practical situations critically and devise inventive solutions, all while keeping business objectives in mind.
A notable distinction between the CCDE certification and other Cisco certifications is its lack of emphasis on configuring particular devices or technologies. Instead, it evaluates your capacity to craft designs that fulfill specific criteria by employing diverse elements such as routing protocols, security measures, etc.
CCDE Exam Information
The CCDE examination is divided into two parts, spanning eight hours, and it evaluates a person's expertise in designing network infrastructure. The exam's initial segment (400-007) includes a multiple-choice section that assesses your comprehension of network design principles, technologies, and optimal approaches.
The second portion of the test involves a practical, hands-on laboratory exercise in which you'll encounter various real-world situations to address. You'll have the opportunity to work with simulated networks employing virtual routers and switches to put your designs into practice.
The CCDE 400-007 examination is one of the most demanding Cisco exams available, yet it also ranks among the most fulfilling. It showcases your proficiency in tackling intricate networking issues through strategic thought and inventive design – attributes greatly esteemed in the contemporary IT sector.
Preparing for the CCDE 400-007 Exam
Preparing for the CCDE 400-007 exam demands a substantial investment of time and dedication. Aspirants should possess a solid grounding in network technologies and design principles before commencing their preparations. Here are some pointers and recommended resources to assist you in your CCDE exam preparation:
Acquire Hands-On Experience: The CCDE examination is structured to assess an individual's capacity to apply their understanding of network technologies and design principles to actual situations. Consequently, having practical exposure to network design and implementation is crucial."

Review the Exam Topics: The CCDE test encompasses many subjects associated with network design principles and resolutions. It's imperative for candidates to meticulously review the exam content and confirm their comprehensive comprehension of each subject.

Utilize Official Study Materials: Cisco provides an extensive selection of study materials tailored for the CCDE exam, encompassing books, videos, and practice examinations. As these materials are expressly crafted for the CCDE exam, candidates should incorporate them into their exam preparation.

Take CCDE 400-007 Practice Test: Utilizing practice exams can be highly beneficial in acclimating you to the exam structure, readying you for the kinds of questions and subject matter encountered in the actual test. Additionally, they serve as an effective means to assess your progress and pinpoint areas where your understanding may be lacking.

Join Relevant Online Community: Becoming a member of a study community is a valuable method for CCDE exam candidates to prepare themselves. These groups offer a forum for candidates to converse about various subjects, seek clarifications, and exchange insights. By engaging with peers, candidates can acquire knowledge from one another and gain advantages from diverse viewpoints and experiences.
What are the Benefits of Earning the Cisco CCDE Certification?
The Cisco CCDE certification can offer several advantages for your information technology career. Here are a few of them:
Boost your proficiency
The CCDE examination assesses the competencies and know-how necessary for crafting intricate network infrastructures, encompassing aspects like security, performance, availability, and scalability. Preparing for this test will enhance your comprehension of diverse networking technologies and protocols while providing valuable insights into the most influential industry approaches.
CCDE Certification Enhance your Trustworthiness
A Cisco certification is a respected accomplishment, signifying to prospective employers or clients that you've attained substantial technical proficiency and professionalism. With the CCDE certification listed on your CV, you can set yourself apart from candidates without this accreditation level.
CCDE Certification Broaden Your Career Prospects
Numerous companies mandate or favor candidates with particular certifications when recruiting for network architecture or engineering positions. The CCDE certification unlocks fresh career opportunities in various industries, including financial institutions and telecommunications firms.
Become Part of an Esteemed Community
The CCDE certification isn't merely a standard credential; it denotes your membership in a select community of leading global experts in network design.
Opportunities and Salary Prospects for Cisco Certified Design Experts (CCDE)
The outlook for individuals holding the Cisco Certified Design Expert (CCDE) certification exceeds expectations. Cisco has established itself as the most dependable technology provider in the IT industry. Consequently, its credentials are highly regarded and sought after worldwide, known for their potential to yield substantial financial rewards for certified professionals. For those aspiring to forge a solid professional career in networking, obtaining the Cisco Certified Design Expert (CCDE) certification will offer an exceptional springboard for success.
Professionals with CCDE certification can expect a secure career with the most competitive salaries and benefits in their portfolio. Currently, CCDE-certified individuals are earning an average salary of $150,364.
Conclusion
The CCDE examination, aimed at network designers and architects, presents a demanding yet fulfilling certification. It evaluates their capacity to craft intricate contemporary networks, discern business needs, and convert them into technical specifications.
The CCDE certification offers professionals advantages such as career progression prospects and acknowledgment as a network design authority within the industry. The examination structure includes an initial written assessment and a hands-on practical lab evaluation.
Preparing for the CCDE certification demands thorough studying and practical involvement in designing extensive networks. Nonetheless, the effort invested is justified, as passing this examination signifies your expertise in crafting efficient solutions aligned with business requirements.