Maintaining your IT certifications shows your employer and customers you are a serious IT professional. If you're looking for a new networking career opportunity or if you work for a company that utilizes Juniper Network products and services, participating in the Juniper Networks Certification Program is a definite career-enhancing move.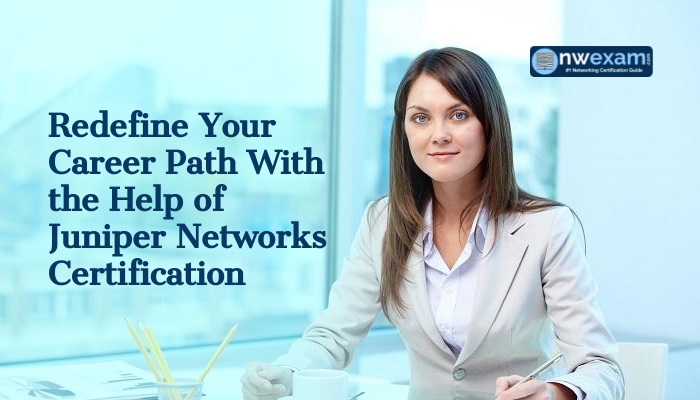 Juniper offers a wide range of certification options. you can achieve certification in the fields of routing, switching and security at the following levels: Juniper Networks Certified Internet Associate (JNCIA), Specialist (JNCIS), Professional (JNCIP) and Expert (JNCIE). All theses Certifications, planning to work on a future deployment, or simply expanding your skills; our site NWExam have the real-world networking experience to guide you to your professional goals.
Our wide range of practice questions, sample questions, Blogs and Syllabus makes Juniper certification easier for you. NWExam provides all the Juniper knowledge needed for a desired Juniper certification.
Juniper Networks helps companies build high-performance networks by providing networking equipment, services and its own network operating system. With about 9,000 employees worldwide, Juniper Networks provides networking services to the world's top 100 service providers as well as banks, stock exchanges, government agencies, health care organizations and many other industries.
To support the wide array of networking technologies and customers who use them, the Juniper Networks Certification Program offers several credentials at the Associate, Specialist, Professional and Expert levels.
A Juniper Networks certification can distinguish you from non certified peers, provide career growth opportunities, give you greater insight into Juniper Networks' products and services and benefit your customers.
Juniper Networks Certification Program Overview
Juniper Networks' Certification Program (JNCP) has several tracks, categorized by career path, that are based on Juniper's technologies, products and services. JNCP tracks include:
We refer to these certifications collectively as "network engineer" certifications because they're all geared toward network engineering professionals. Each track is covered in more detail in the following sections. You can also find more details at the Juniper Networks Certification Tracks website.
Each certification requires one exam, along with any prerequisites. Associate-level certification exams cost $200, Specialist exams are $300 and Professional exams are $400, all of which are offered through Pearson VUE. Expert-level certifications require a hands-on lab exam, which costs $1,400 and is available only at select Juniper Network testing centers.
Juniper Networks requires certification holders to recertify every three years to maintain their credentials. For Associate, Specialist and Professional certifications, credential holders must pass the current exam. Unlike other IT certification programs, however, passing an exam (or taking an approved course) also renews all lower-level certifications achieved on the same track. To renew an Expert-level certification, candidates must pass the current Professional-level exam.
JNCIA-Junos Certification
The Juniper Networks Certified Associate - Junos (JNCIA-Junos) is the entry-level certification for most of the company's network engineer certifications. This credential is geared toward individuals who have basic experience with the Juniper Networks Junos OS, and understand the fundamentals of networking, routing and switching.
Junos Security Track
Junos' Security certifications include Associate, Specialist, Professional and Expert levels. The first step is the associate-level JNCIA-Junos certification. It's a prerequisite to the next certification, the Juniper Networks Certified Specialist Security (JNCIS-SEC). This intermediate-level certification is applicable to candidates who configure and troubleshoot Junos' software for SRX Series devices, and understand security technologies.
Junos Service Provider Routing And Switching Track
Like other Juniper Networks certification tracks, the Service Provider Routing and Switching track has Associate, Specialist, Professional and Expert certifications. JNCIA-Junos is the foundational certification from which a candidate can achieve the Juniper Networks Certified Internet Specialist (JNCIS-SP), then Juniper Networks' Certified Internet Professional (JNCIP-SP) and the Juniper Networks Certified Internet Expert (JNCIE-SP) credentials.
Network Engineering Jobs, Training and Resources
Juniper Networks' certifications most commonly lead to network engineer positions, either with Juniper Networks itself, or with consulting firms that support the company's products. You can also find network administrator, network security engineer and network operations center (NOC) engineer job roles associated with Juniper certs as well as technical sales positions.
More than 2,800 positions bubble up on such job boards as Indeed and Simply Hired when searching for the keywords "Juniper Networks," a fair number of which require or desire a Juniper Networks certification.