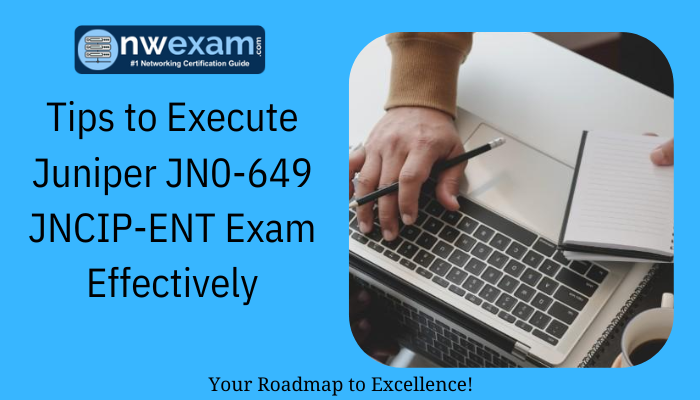 Technology is constantly evolving and developing the way we live and work. Sprouting internet technologies require novel networking solutions to satisfy the rising needs for bandwidth and efficiency. In the networking field, Routing and Switching technologies have taken the front line to connect hardware utilizing routers and switches. As these IT networks expand intricately, the requirement for skilled technicians also rises to deal with infrastructure and deliver solutions. The Juniper Networks Certified Professional Enterprise Routing and Switching (JN0-649 JNCIP-ENT) certification is useful for IT engineers to become skilled in networking technologies. It proves their core ability to manage networking as a whole. Moreover, it makes them qualified in particular skills in Juniper Switching and Routing technology.
About JN0-649 JNCIP-ENT Certification
JNCIP-ENT, the professional-level Juniper certification, is intended for seasoned networking professionals with up-to-date knowledge of the Juniper Networks Junos OS. The Juniper JN0-649 exam confirms your knowledge of cutting-edge routing technologies and corresponding platform configuration and troubleshooting skills.
The JN0-649 JNCIP-ENT exam comprises 65 multiple-choice questions. You will have to answer these questions within 90 minutes, which is the available time duration. The exam is available in English language only. Every applicant intending to sit for this exam should pay $400 as exam fees.
JN0-649 JNCIP-ENT evaluates if you are skilled enough in different topics that include:
Interior Gateway Protocols (IGPs)

BGP

IP Multicast

Ethernet Switching and Spanning Tree

Layer 2 Authentication and Access Control

IP Telephony Features

Class of service (CoS)

EVPN
Shortcut to JN0-649 JNCIP-ENT Exam Success: Expert Tips
Concerning preparation, there is immense information available on the Internet about how to pass the exam smoothly. Even though some of the information can be useful, you need to check the websites you rely on and ensure that it comes from a reliable source before using them. But it is recommended that you start with the official training materials first. You can utilize it with the tips that are mentioned below. They are basic but valuable in helping the exam-takers pass their JNCIP-ENT JN0-649 exam easily. Let's explore them!
Know the JNCIP-ENT syllabus topics and understand every topic thoroughly to determine what you will be evaluated on.

Get appropriate study resources for your preparation and all the information you should comprehend about the Juniper JN0-649 exam.

Make sure that you are obtaining the exam preparation materials from trustworthy sources.

Determine how much time is left for exam preparation before the scheduled exam date. Design a study plan in accordance with the amount of time available and the study resources you will study from.

Become an active member of a relevant online group or community. Many people opt for this Juniper exam now, and you can discuss many topics with them. Online communities will help you uncover concepts that you don't understand. You can also ask questions to withthose who have already passed their exams. There is an excellent opportunity to learn from their experiences.

Take short breaks between your studies so your body and mind can rest and resume further studies.

After you have studied all the exam objectives, you should start taking JN0-649 JNCIP-ENT practice tests. Practice tests will help you understand the types of questions that appear in the actual certification exam and will also get you ready for the actual exam day.

You should conclude your preparation a few days before the exam date. This will allow you to relax and get fully ready without any negative effects from the last-minute rush or worry about not having finished your studies.
Benefits of Earning JN0-649 JNCIP-ENT Certification
Why would anyone spend time and money to get certified if there are no benefits you can acquire from it? Well, here's a list of benefits you can gain by passing the JN0-649 JNCIP-ENT exam and becoming a Juniper Enterprise Routing and Switching Professional:
1. Productive Skills
By studying for the JN0-649 JNCIP-ENT exam, you will be getting new skills to become productive at your workplace.
2. Validation
Any certification works as proof of your skillsets. So it can confirm to hiring managers that you are a qualified person.
3. Recognition
Juniper JNCIP-ENT JN0-649 certification helps applicants acquire recognition. Once you receive your certification, you can add it to your resume and validate the technical skills you own to accomplish given tasks.
4. Job Opportunities
Many organizations looking for network engineers who have passed the Juniper JN0-649 certification exam. You can easily get access to them and relish the perks it fetches if you have Juniper certification.
5. Secured Job
If you want to endure in an ever-evolving IT field, you have to always stay relevant with the transformations and developments that come off there. A JNCIP-ENT certification helps you accomplish this feat.
6. Promotions
A candidate having Juniper Networks Certified Professional Enterprise Routing and Switching Certification can achieve its promotion smoothly compared to the non-certification holders.
7. Salary
Once you become Juniper Enterprise Routing and Switching Professional, you can apply for better job profiles, which means better pay. Network engineers with JNCIP-ENT certification can make up to $111,000.
Conclusion
Time runs fast, and so should you. Give your career a rapid boost and unlock doors for many opportunities by passing the JN0-649 JNCIP-ENT exam. Prepare for your exam with the appropriate resources and practice tests available on nwexam.