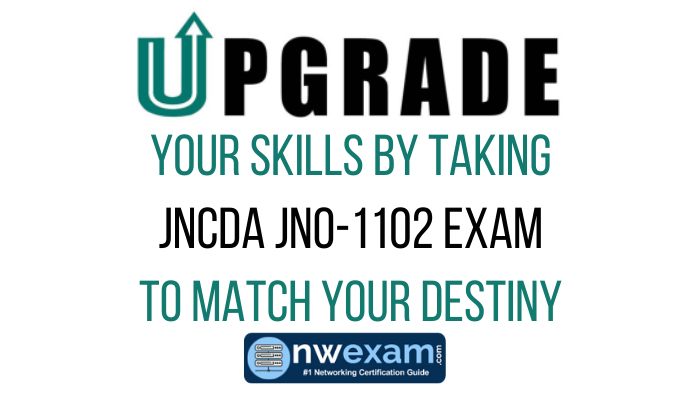 The Juniper Networks Certification Program (JNCP) Design path enables individuals to prove proficiency with Juniper Networks design standards and related technologies. Successful applicants confirm complete knowledge of best practices, theory, and design principles for the network. The Juniper Design Associate JNCDA JN0-1102 certification is intended for networking professionals and designers with a beginner knowledge of network design, theory, and best practices. This written exam confirms the applicant's knowledge of network design fundamentals.
Exam preparation is one of the most important yet difficult journeys. To smoothen your Juniper JNCDA JN0-1102 exam preparation, this article will discuss exam details and tips you'll need to pass the exam.
JNCDA JN0-1102 Exam Details
The Juniper Design Associate (JNCDA JN0-1102) exam consists of 65 multiple-choice questions answerable in 90 minutes. The pass/fail status is accessible instantly.
JNCDA JN0-1102 Exam Objectives
Customer Network Design Requirements

Securing the Network

Business Continuity

Network Automation and Management

Network Design Architectures
Study Resources for Juniper JNCDA JN0-1102 Exam Preparation
1. Take Up Recommended Training
Taking up the recommended training provided by the Juniper itself should be the best way to get prepared for the exam. This training raises your learning to the next level. The official training course covers introductory best practices, theory, and design principles for comprehensive network design.
2. Obtain Appropriate JNCDA Book and Study Guide
The exam-takers must look out for study guides and books that incorporate useful information. Finding a good study guide for this Juniper exam may be tough, but to acquire in-depth knowledge and skills, the applicant must obtain one, read, and understand it. Besides, study guides and books are the most trustworthy source of knowledge advancement.
3. Participate in an Online Community
Participating in online communities lets, you discuss doubts with other exam-takers, compare your preparation strategies with those of other exam-takers, and gain an understanding of how other applicants are studying for the Juniper JN0-1102 exam. Being with like-minded people presents a wealth of resources that can help you enhance your skills, stay motivated throughout the preparation process, and eventually increase your possibility of passing the exam.
4. Try Juniper JN0-1102 JNCDA Practice Test
When it comes to IT certification exam preparation, there is no alternative to hard work. The more JNCDA practice test you attempt, the more acquainted you become with the types of questions and increase your confidence to take the exam. The more you practice, the less likely you will make the same mistakes. NWExam provides the most reliable and updated practice test, which is highly useful for those preparing for the Juniper JN0-1102 exam. So start taking the JNCDA practice test now!!
Tips to Succeed in Juniper JN0-1102 JNCDA Exam
For a person to succeed in the JN0-1102 JNCDA exam, they ought to do the following things:
Begin by going through the details of the Juniper JN0-1102 exam. Understand what topics and subtopics are included in the exam.

Create a study plan, and strictly follow it. Following a detailed schedule will improve your odds of passing the JNCDA JN0-1102 exam. It will also make sure that you are not overlooking any topic.

Gather all the essential information you need for your Juniper Design Associate certification exam preparation. For instance, know where to obtain the study resources and the time you have before the scheduled exam date, and much more.

Get the appropriate study materials that you will be utilizing for JN0-1102 JNCDA exam preparation. Keep in mind that you are getting them from trustworthy sources. The prep resources should be updated and authentic.

Use JN0-1102 JNCDA practice tests from nwexam.com. This helps you to understand the exam structure and identify weak areas.

Ensure that you finish your preparation before the scheduled exam date. Avoid putting off studying until the last minute because it might adversely affect your overall performance.

Get a good night's sleep before taking the JN0-1102 JNCDA exam. This will ensure that you are fresh and energetic to take the exam.
Reasons to Pass Juniper JN0-1102 JNCDA Exam: Knowledge is Wealth
Certifications offered by Juniper are recognized by hiring managers worldwide. Knowing that the JN0-1102 JNCDA exam can sharpen the professional's skills in a meaningful way, many professionals have already passed the Juniper Design Associate exam to raise their prospects in the job market. The skills given and validated by the Juniper JN0-1102 exam are what will make a difference between you and other non-certified IT professionals. Having a Juniper certificate is generally an added benefit because you can negotiate a desired salary with your current or potential employer.
Conclusion
Earning the Juniper JN0-1102 JNCDA certification is one thing that you can never overlook. Growth requires many steps, and the certification you receive in the end will help you enhance your resume and give you amazing job opportunities. Pave your pathway towards passing the exam and enjoy the benefits of being a Juniper Design Associate.