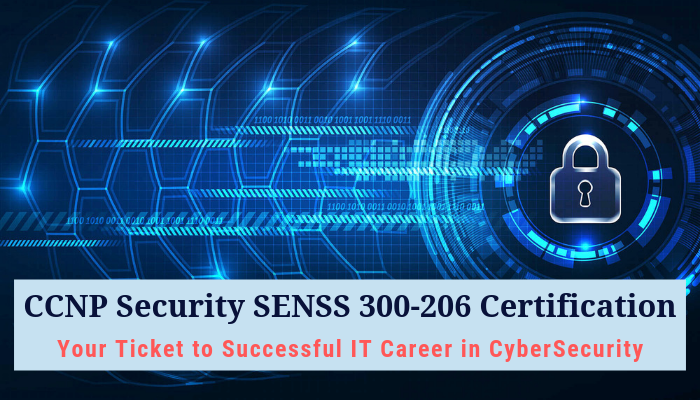 The Cisco SENSS 300-206 certification exam concentrates on measuring the skills and expertise of an experienced network security engineer required for installing, configuring, and execute different security compliance of different perimeter edge devices within a Cisco network, such as Cisco switch, Cisco router, Cisco hub, and Cisco firewall. This 90-minute exam can transform a network security engineer's entire life, as it offers the professionals an excellent opportunity to advance their careers considerably. Cisco SENSS 300-206 mainly emphasize on the advanced technologies, which are now broadly used for strengthening various security perimeters within a network, Network Address Translation or NAT, including ASA policy, and a zone-based Cisco firewall for routers.
Value of the CCNP Security (SENSS 300-206) certification
Nowadays, wireless networks face a continually growing number of severe security problem. With the growing number of security threats and network attacks, the value of the Cisco 300-206 certification exam is rising accordingly. Network security is one of the most crucial concerns for any organization's private network. If the organization's network is not secure from malicious attacks, then the private and confidential information of the organization could be leaked, or otherwise, trouble the overall progress. That is why most organizations look for professionals with the certifications in the security field such as Cisco CCNP. Cisco offers this certificate, so it carries extra value, as the organization is very dependable. With the Cisco CCNP Security certification, a network security professional can confirm his understanding and skills to the employer and enjoy a significant career growth!
Cisco SENSS 300-206 Exam Details and Skills Measured
The 300-206 exam should be completed within the 90 minutes of the time limit and comprises of 65 to 75 questions. The exact number of questions is not fixed, and Cisco doesn't declare it before the exam. The certification exam is administered only in two languages: English and Japanese. After you pass the Cisco 300-206 exam, you will get the CCNP Security certification from this renowned company. But first, you have to obtain the passing mark! To assist you with this challenging task, we have listed some practical tips that you will find at the end of this article.
The Cisco 300-206 exam is designed to measure the experienced network security worker skills and understands how to accurately install, implement, configure, and retain security compliance of various Cisco network devices, such as switches, routers, hubs, and ASA firewalls. This test also evaluates an individual's understanding of the latest and inclining technologies that are presently practiced to reinforce network security. For passing this Cisco SENSS certification exam, the applicant needs to have relevant knowledge of the following topics:
Understanding about Cisco security devices, CLI management, and GUI

Executing ACLs, firewall, static/dynamic NAT, botnet traffic filtering, and layer two security

Configuring DHCP snooping, port security, application filtering, IP source verification, and protocol inspection

Threat defense and threat detection skills

Experience of various types of firewalls, switches, hubs, and routers

Various threat defense architectures, security considerations, and components/li>

Execution of HTTPS, SSHv2, SNMPv3, RBAC, device managers, and ASA firewall features

Managing and configuring different services of various Cisco devices

Maintaining, analyzing, troubleshooting, and monitoring packet tracer and packet capture on the firewall using CLI or ASDM
Intended Audience for Cisco CCNP Security (SENSS 300-206) Certification Exam
Any experienced network security professional or engineer can appear for this certification exam. There is no actual eligibility required for it. Whether you have only one year of experience in the field of network security, you can appear for the Cisco 300-206 exam and receive the CCNP Security certification. Though the company providing the certificate advises some previous experience, you can enroll for this exam even if you are a fresh IT engineer. The Cisco CCNP certification will certainly help you in searching for a job as a network security engineer in a reputed organization. In this way, you can take the lead of others and be the employer's first preference. If you want to build your career as a network security engineer, you should think to prepare for the Cisco 300-206 certification exam.
Preparation Tips for

CCNP

Security (SENSS 300-206) Certification Exam

Anyone who wants to pass the exam and achieve the CCNP Security certification to improve the possibilities of acquiring a better position in the IT field is advised to follow these easy steps:

1) Take the Cisco Edge Network Security Solutions Training Course

If you want to crack the 300-206 exam on your first attempt. By attending this official training course, you will obtain enough knowledge about various feature associated with the certification exam. Additionally, it will give you some standard guidelines that you can follow while preparing for the Cisco certification exam.

2) Look for some study Guides

Study guide to study the exam topics from the official study guide, and start your preparation seriously. Look for the appropriate books that comprise all the exam topics thoroughly and be sure that you study every exam topic in detail.

3) Take Practice Tests

As soon as you complete studying all the exam topics, you should start taking practice tests. This is the best means to perceive how well-prepared you are. These practice tests will also assist you in managing time so that you can complete the actual exam on time.

Take a practice test at least twice a week for a couple of months before taking the actual SENSS exam and become more confident!

Conclusion

Though the Cisco 300-206 exam is not too difficult to pass, the applicants can fail if they do not prepare properly. It is essential that you organize your study schedule and stick to it. With proper learning and dedication, you will surely get the certification on your first attempt!