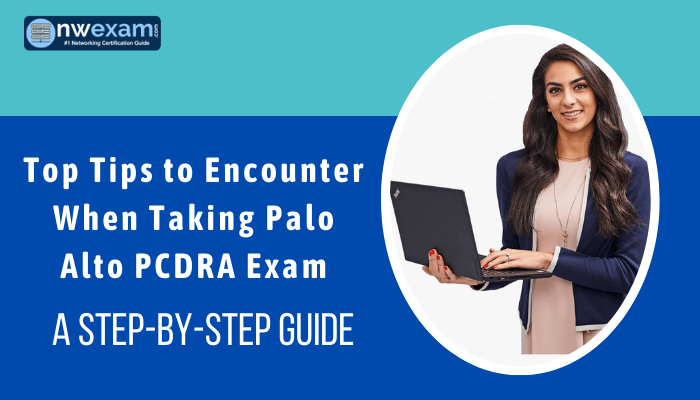 Palo Alto is one of the most recurred to Firewalls. This firewall is a virtualized next-generation Firewall featuring the PAN-OSTM operational system. The VM series works to identify, control, and securely allow install-host traffic and comes with special virtualization security features. The Palo Alto Certifications are greatly revered and beneficial while applying for multiple jobs. In this post, we will focus on Palo Alto Networks Certified Detection and Remediation Analyst - PCDRA exam.
General Overview of the PCDRA Exam
The PCDRA certification incorporates cybersecurity and endpoint security concepts corresponding to identifying and reacting to cyber threats utilizing Cortex XDR.
PCDRA exam comes with 60-75 questions of different types and formats. They include Multiple choice, Scenarios with Graphics, and Matching. The allocated time for this test is 80 minutes. To be able to take it, you need to pay $155 as the exam fee.
You must understand all its objectives to pass any Palo Alto certification exam. The Palo Alto PCDRA exam includes the following objectives:
Threats and Attacks (10%)

Prevention and Detection (20%)

Investigation (20%)

Remediation (15%)

Threat Hunting (10%)

Reporting (10%)

Architecture (15%)
Tips to Ace Palo Alto PCDRA Exam
Preparation before the exam is vital, as it straightaway impacts your score. Here are a few tips for you to ace your Palo Alto PCDRA exam:
1. Make A Realistic Study Plan
The first step that any exam aspirant would do before moving ahead with any step is to make a study plan. Similarly, you need to chart out a study plan to help you get a good overview of the concepts you have to learn and the time you require to master them.
While charting out your study plan, take into account the goal and actions you ought to take to accomplish it. Subsequently, you need to determine how much time you can commit to exam preparation. Then you can assign time for each topic you have to learn.
2. Understand the PCDRA Exam Topics
Many candidates ignore this step and directly start exam preparation. Though it may seem like a very naive step, it will have a notable impact on the productivity of your preparation. By understanding the exam objectives, you will know what you ought to learn and concentrate on more. That will enable you to utilize your time to work on those topics which are difficult for you.
3. Take Advantage of Palo Alto Official Resources
Palo Alto Networks Education Services provides free e-learning courses so that candidates can learn at their pace. It also offers options for digital learning and a PCDRA study guide. These can be the most trusted learning resources as they have been created for exam-takers by Palo Alto itself.
4. Study From External Resources
More than just official Palo Alto study materials might be needed. You need to soak up more knowledge and use other modes of resources to help you understand concepts of the PCDRA exam easily. You can also learn by watching video tutorials on YouTube and reading blogs.
5. Perform PCDRA Practice Tests
Practice tests for the PCDRA exam are useful materials. They help you get familiar with the exam structure, and they also get prepare for all sorts of questions set in the exam. It is an ideal way to identify weak areas and work on them. But you require to get practice tests from trusted websites. NWExam is one of the most trusted platforms when it comes to Palo Alto certification practice tests. Once you've started your preparation and studied all the exam topics, start taking PCDRA practice tests. This is a perfect way to gauge your level of preparation and determine the areas that need improvisation.
6. Engage in Online Communities or Forums
Some candidates think studying alone is more effective than learning in a group. But it is not completely true. When you study independently, you only learn from the materials you have within your reach and only think of things in one direction. But in an online community or forum, you get an approach to more resources and individuals who think differently.
Benefits of Passing Palo Alto PCDRA Exam
Why would a busy working professional spend time and money to pass the PCDRA exam if there are no benefits attached to it? But, here is a lost of benefits that will inspire one to pass this Palo Alto certification exam:
Acceptance
Palo Alto is a renowned certification vendor, and many leading organizations acknowledge and accept it.
PCDRA Exam is of Proof Skills
Any certification works as proof of your distinct skills. So it can demonstrate to whomever it may concern that you are, actually, a qualified person. By studying hard to pass the PCDRA exam, you will be acquiring new skills or brushing up on the existing ones.
Excellent Career Opportunities
Many vacant job positions require you to have a PCDRA certification to apply. You can access them in a flash and relish the perks it fetches to you if you pass this Palo Alto certification exam.
Promotions
You can acquire the certification essential to work in the position you plan to get promoted to by achieving the Palo Alto PCDRA certification.
Conclusion
Earning a Palo Alto PCDRA certification is the best way to ensure success in any IT career despite your professional level. You will be qualified with the most advanced skills in the IT field, allowing you to be a skilled professional. The steps mentioned above will help you crack your exam Palo Alto PCDRA in the first shot. It's time to flourish in your career!