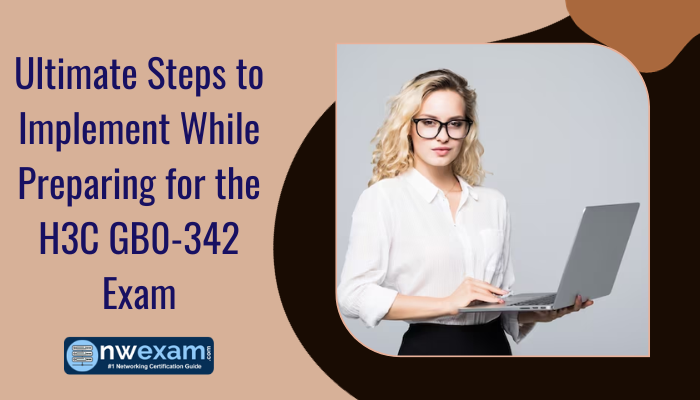 H3C offers a complete spectrum of certified professional training in networking products and technologies to cater to customers' needs, distribution channel partners, and IT professionals in the social sphere. H3C is dedicated to delivering thorough, professional, and highly regarded technology certification training to fulfill customers' requirements at various proficiency levels through its training framework. This article focuses exclusively on H3C GB0-342 certification.
What Is H3C GB0-342 Certification?
The H3C Certified Senior Engineer For WLAN (H3CSE-WLAN GB0-342) Certification is designed to enhance your comprehension of the 802.11 protocol suite, enhance your expertise in WLAN surveying and design using popular WLAN equipment and antennas, and equip you for the utilization of H3C wireless products in deployment, engineering implementation, and operational and maintenance scenarios.
Benefits of H3C GB0-342 Certification
Before we dive into the nitty-gritty details of the GB0-342 certification exam, let's first understand why this certification is worth pursuing.
1. Elevate Your Networking Career
The GB0-342 certification is your passport to the world of advanced networking. It enhances your knowledge and adds a prestigious credential to your resume, making you a desirable candidate for top networking positions.
2. Stay Updated with the Latest Technologies
Networking is a field that's constantly evolving. By pursuing the GB0-342 certification, you'll stay ahead of the curve and gain expertise in the most up-to-date networking technologies and practices.
3. Increase Your Earning Potential
Certified professionals often command higher salaries. With the GB0-342 certification, you can expect a significant boost in your earning potential as you demonstrate your expertise to employers.
4. Join an Elite Community
Becoming GB0-342 certified opens the door to an exclusive community of networking professionals. You'll have access to networking events, forums, and resources that can further enrich your career.
Exam Duration and Format
Duration: The GB0-342 certification exam is a timed assessment lasting for 60 minutes.

Question Types: It consists of 50 questions, which can be a mix of single and multiple-choice questions.

Passing Score: To pass the exam and earn your certification, you need to achieve a minimum score of 600 points out of a total of 1000 points.
GB0-342 Exam Objectives
Wireless Technology System and Theory

H3C Wireless Product Features and Configuration

WLAN Survey and Design

WLAN Solutions

WLAN Product O&M Instructions

Wireless Product Troubleshooting and Management

WLAN Optimization Introduction
10 Expert Tips for GB0-342 Exam Preparation
Preparing for the GB0-342 certification exam requires dedication and a strategic approach. Here are ten expert tips to help you succeed:
1. Create a Study Plan
Begin by crafting a study plan that outlines what topics you need to cover and allocates time for each. Consistency is key, so stick to your plan diligently.
2. Understand the Exam Objectives
Familiarize yourself with the exam objectives. This will help you focus your study efforts on the specific topics tested.
3. Utilize Official Study Materials
As mentioned earlier, H3C provides official study materials. Use these resources as they are tailored to the exam content.
4. Join Online Forums and Communities
Engage with fellow GB0-342 aspirants on online forums and networking communities. Discussions and shared insights can be constructive in your preparation journey.
5. Hands-On Practice
Don't just rely on theory; practice your networking skills on actual equipment whenever possible. Hands-on experience is invaluable.
6. Take GB0-342 Practice Exams
Simulate exam conditions by taking practice exams. This will help you get accustomed to the format and improve your time management.
7. Seek Guidance from Experts
If you encounter challenging topics, don't hesitate to seek guidance from experienced networking professionals or instructors.
8. Avoid Outside Distractions
During your study sessions, eliminate distractions like social media or noisy environments. Create a conducive atmosphere for focused learning.
9. Stay Healthy and Rested
Maintain a healthy lifestyle. A well-rested mind performs better, so ensure you get enough sleep during your preparation phase.
10. Review and Revise
Regularly revisit what you've learned. Revision is crucial to reinforce your knowledge and ensure retention.
Why Use NWexam Practice Tests
As you embark on your GB0-342 certification journey, you might wonder why NWexam's practice tests are considered a valuable resource. Here's why:
NWexam's practice tests are meticulously designed to mimic the GB0-342 exam environment. They provide you with the opportunity to assess your knowledge and readiness. By using NWexam practice tests, you can:
Familiarize Yourself with the Exam Format: NWexam's practice tests closely resemble the actual exam format, allowing you to become comfortable with the types of questions and the timing.

Identify Strengths and Weaknesses: These tests help you identify areas where you excel and topics that need further attention. This allows you to tailor your study plan accordingly.

Boost Confidence: As you consistently perform well in practice tests, your confidence will soar, making you feel more at ease when facing the exam.

Improve Time Management: Practicing with timed tests hones your time management skills, ensuring you can complete the exam within the allocated 60 minutes.
Conclusion
The H3C GB0-342 certification opens doors to a world of networking opportunities. Its benefits, a strategic approach to exam preparation, and the use of resources like NWexam practice tests can pave the way for your success. So, gear up, follow these tips, and embark on your journey towards networking excellence with the GB0-342 certification.