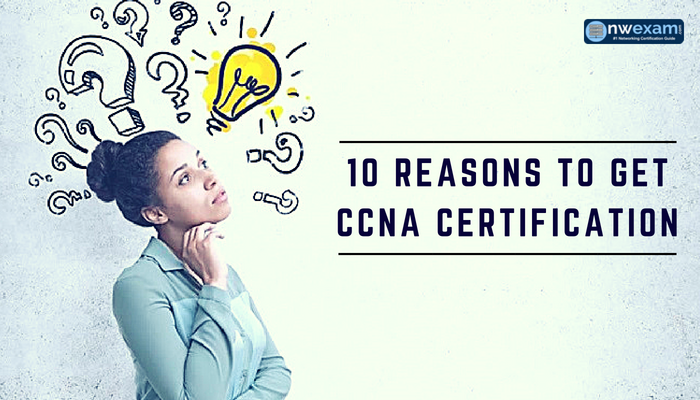 Want to get CCNA certified? Well! The Cisco Certified Network Associate will work as a foundation pillar in your IT career. Offered by Cisco, it is a beginner level certification in networking that uses Cisco technologies and products.
Unveiling the Professional Benefits of CCNA
Cisco certification is a process that whips up advantages for employees and employers and in the IT industry. Many candidates have witnessed positive changes in their career plans after getting the CCNA certification. This certification process encourages them to deliver some real advantages and helpful skills. There are various instances wherein IT professionals have felt the obligation of having a CCNA certificate - even after having 10 or more number of years of experience in the IT field.
So ITians! Get ready to become CCNA certified so that in your networking career, you do not suffer a day when you may end up losing your desired job. Here, we are presenting ten reasons that explain why you cannot go a long way without a CCNA certificate in the current IT scenario.
Top 10 Reasons to get a CCNA Certificate!
The CCNA certification is accepted all around the globe.

Professionals armed with the coveted CCNA certificate are entitled to get higher paying jobs when compared to their non-certified counterparts.

Nowadays, more CCNA jobs are open globally, and to get one quickly, possessing the CCNA certificate is a smart choice.

CCNA certification processes are improving the information base of networking experts – and in many more ways than one!

Are you working in an IT company

now? A CCNA certification would undoubtedly increase your chances of getting a promotion.

Do you want to get more respect from all your co-workers? You can make this dream turn into a reality if you have the CCNA certificate.

If you also think that the Internet will continue dominating the future, then, it is a smart idea to get the CCNA certificate tag on yourself before you start serving the network.

The knowledge inferred through CCNA can be efficiently used for studying other networking modules; such as 210-260 CCNA security and 200-355 CCNA wireless.

The CCNA certificate would help you switch from your current job to a better paying and more challenging networking job.

The knowledge gained through the CCNA certificate will help you solve more problems in networking.
Upgrading Your Demand in the Computer Networking Field
Companies crave the best-qualified candidates; it is as simple as that!
Around the world, 94% of employers are of the notion that Cisco certified employees add more worth to their business, and are more knowledgeable than their non-Cisco certified job aspirants.

It is Required by Cisco partners that they employ people with CCNA certification. Due to this reason, Cisco certification is observed as a prerequisite by the employers of many businesses.
Clearly, all these objects state that once you obtain the CCNA certification, you are in-demand within the IT industry – instantly!
Do You Need the CCNA Certificate?
Oh yes! Even if you have a first class or even more then 90 percent marks in your graduation! This is because your scores do not prove that you hold hands-on incredible IT skills. So, how are you going to describe these skills in your job application?
Remember! The employers out there are compelled to take their decisions by specific limited data. If they find the official CCNA certification in your portfolio, they feel assured that you have achieved competence in the IT field.

Another important fact - Say, you happen to be one of two candidates shortlisted for a fibrous IT job, and both of you have the same level of job experience, then the one who possesses the CCNA certificate would appear as the winner!