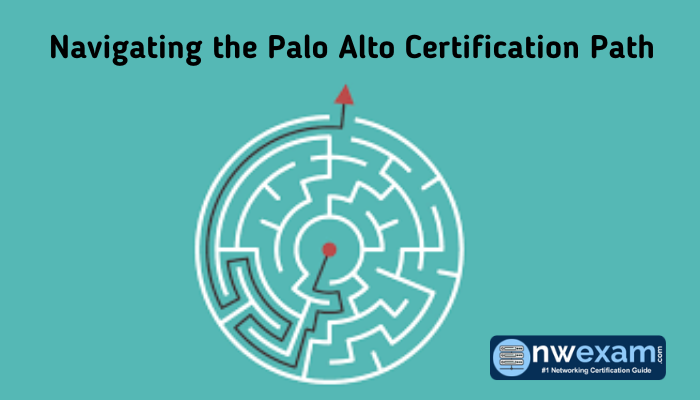 In the ever-evolving world of information technology and cybersecurity, staying ahead of the curve is essential. One way to do this is by obtaining industry-recognized certifications that validate your expertise and skills. Among the top choices for professionals in the field is the Palo Alto certification path. This comprehensive guide will explore the Palo Alto certification program, its benefits, and how you can embark on your journey to becoming a certified Palo Alto professional.
Understanding Palo Alto Networks
Palo Alto Networks is a leading cybersecurity company renowned for its cutting-edge security solutions. Their firewalls and security appliances are considered some of the best in the industry. To effectively operate and manage these systems, professionals need specialized knowledge and skills, which is where Palo Alto certifications come into play.
Why Choose Palo Alto Certification?
1. Industry Recognition
Palo Alto Networks certifications are globally recognized and respected. Earning one of these certifications can significantly boost your career prospects. Many organizations prefer to hire certified professionals as they are seen as experts in Palo Alto's security solutions.
2. Skill Enhancement
The certification process involves rigorous training and testing. This not only validates your current skills but also enhances your knowledge. You'll gain in-depth insights into Palo Alto's security architecture, firewall configuration, and threat prevention strategies.
3. Career Advancement
You become a valuable asset to your organization with a Palo Alto certification. This can lead to promotions and salary increases. Additionally, you'll be better equipped to tackle complex security challenges, making you an indispensable member of any cybersecurity team.
The Palo Alto Certification Path
The Palo Alto certification program offers a structured path for professionals at various skill levels. Here's an overview of the certifications available:
Palo Alto Networks Certified Cybersecurity Entry-level Technician (PCCET)
The PCCET certification is the starting point for those new to Palo Alto Networks. It covers the basics of network security, including firewall fundamentals and threat prevention. This certification is perfect for beginners seeking a solid foundation in Palo Alto technologies.
Palo Alto Networks Certified Cybersecurity Administrator (PCCSA)
The PCCSA certification is designed for security administrators who must manage Palo Alto Networks' next-generation firewalls. It delves deeper into firewall configuration, VPN troubleshooting, and user identification. This certification is ideal for professionals responsible for day-to-day security operations.
Palo Alto Networks Certified Network Security Administrator (PCNSA)
The PCNSA certification is for network security administrators who require a more comprehensive understanding of Palo Alto Networks. Topics covered include advanced firewall policies, NAT, and high availability. This certification is necessary for those responsible for designing and maintaining secure networks.
Palo Alto Networks Certified Network Security Engineer (PCNSE)
The PCNSE certification is the pinnacle of Palo Alto Networks certifications. It's intended for experienced professionals who want to demonstrate their expertise in deploying, configuring, and managing Palo Alto Networks solutions in complex enterprise environments.
Palo Alto Networks Certified Cloud Security Engineer (PCCSE)
The PCCSE certification confirms that individuals possess the necessary expertise to effectively set up, implement, and manage all aspects of Prisma Cloud. This certification encompasses Prisma Cloud, Prisma Cloud Enterprise, and Prisma Cloud Compute, demonstrating a person's understanding of Prisma Cloud's platform applications, data handling, and the entire spectrum of cloud-native technology, spanning from development through various cloud environments, including multi- and hybrid setups.
Palo Alto Networks Micro‑Credential Remote Network Administrator (PMRnA)
The PMRnA certification from Palo Alto Networks verifies that individuals possess extensive expertise, skills, and capabilities essential for network engineers tasked with deploying Prisma SASE and setting up SD-WAN solutions for remote networks. Prisma SASE is a fusion of Prisma Access and Prisma SD-WAN, designed to offer customers secure access at the service edge. PMRnA certification confirms that individuals can establish connections between remote sites using Prisma SD-WAN and Prisma Access.
How to Get Certified
To embark on your journey to Palo Alto certification, follow these steps:
1. Choose Your Palo Alto Certification Path
Determine which certification aligns with your career goals and current skill level. Start with the PCCET if you are new to Palo Alto, or aim for the PCNSE if you have extensive experience.
2. Training and Study
Enroll in Palo Alto Networks-approved training courses or use their study resources. These materials will prepare you for the certification exams.
3. Exam Preparation
Study diligently and use practice exams to gauge your readiness. Familiarize yourself with the exam objectives and Palo Alto technologies.
4. Schedule and Take the Exam
Once confident, schedule your exam through Pearson VUE, Palo Alto Networks' authorized testing partner. Review the Palo Alto Networks Certification Exam Guide for specific details.
5. Maintain Your Palo Alto Certification
Palo Alto certifications are valid for two years. To maintain your status, complete the relevant Palo Alto Networks Accredited Configuration Engineer (ACE) exam or take continuing education courses.
Tips for Success
To excel in your Palo Alto certification journey, consider these tips:
Study Diligently: Invest time in comprehensive study materials and practice exams.

Hands-on Experience: Gain practical experience by working with Palo Alto Networks products and solutions.

Stay Updated: Cybersecurity is an ever-evolving field; stay current with industry trends and updates.

Join Forums: Participate in online forums and discussions to learn from others in the field.

Practice Time Management: Plan your study schedule effectively to balance learning with other commitments.
The Final Stretch: Palo Alto Certification Path Conclusion
Investing in a Palo Alto certification can be a game-changer for your IT and cybersecurity career. These certifications validate your skills and open doors to exciting job opportunities. Whether you're just starting or an experienced professional, a Palo Alto certification is tailored to your needs.