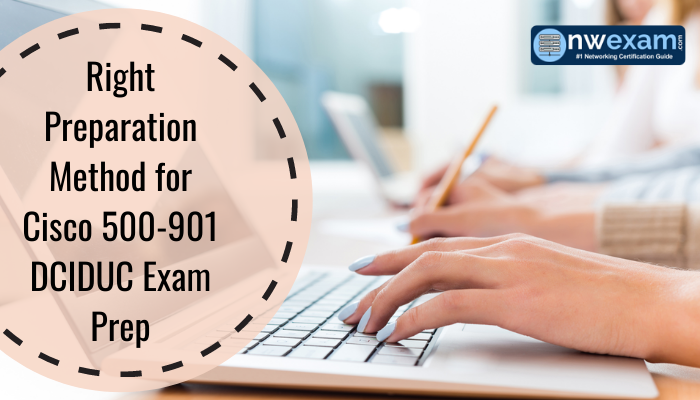 Cisco partner certification can help you expand your business and distinguish yourself from your competitors. The Cisco Channel Partner Program offers a framework for partners to set up the sales, technical, and Cisco Lifecycle Services skills needed to provide Cisco solutions to end-users. Through the program's specializations and certifications, Cisco acknowledges a partner's skills in utilizing solutions on the basis of Cisco's advanced technologies and services. This article will talk about - 500-901 DCIDUC: Cisco Data Center Unified Computing Infrastructure Design certification exam.
Cisco 500-901 DCIDUC Exam Details
The applicants are given 60 minutes, and they have to solve 35-45 questions at this time. Applicant needs to score 750-850 / 1000 to pass the exam. Cisco 500-901 DCIDUC exam includes the following major topics:
Data Center Infrastructure Design

Data Center Compute Connectivity Design

Data Center Compute Resource Parameters Design
Preparation Tips and Valuable Resources for Cisco 500-901 DCIDUC Exam Preparation
The Cisco Channel Partner program certification exams can be challenging to pass. So, comprehensive preparation is needed to pass the exam on the first attempt. There are various learning methods to pass Cisco Data Center Unified Computing Infrastructure Design 500-901 DCIDUC exam. Here are some of the most powerful ways to prepare for the Cisco 500-901 DCIDUC exam:
1. Understand the Cisco 500-901 DCIDUC Exam Topics
Becoming familiar with the exam syllabus topics and structure is essential. The complete information about the topics and skills measured can be obtained from the Cisco official website. Read through the objectives before applying for the Cisco 500-901 exam and start the preparation.
2. Take Up Recommended Training Course
A training course is the most appropriate way of learning, particularly when you wish to have in-depth knowledge of syllabus topics. You need to take up recommended training course - "Designing Cisco Data Center Unified Computing Infrastructure (DCIDUC)," for this Cisco exam. This training course provides you with detailed coverage of all the essential information. So, you shouldn't neglect this training.
3. Make a Study Plan
Create a study plan and make sure you follow it strictly. Following a detailed schedule will boost your chances of passing the Cisco 500-901 exam. It will also assure that you are not leaving any topic untouched. Ensure that you are spreading your study plan across the given time so that you can complete your preparation before the actual exam date.
4. Participate in Online Communities
There are numerous online communities that you can join to meet like-minded people who are also preparing for the same exam 500-901 DCIDUC as you. Members of online communities can share their learning experiences and study resources. You will also know how to carry out your exam preparation and which resources to use.
5. Take Cisco 500-901 DCIDUC Practice Test
You can perform the Cisco 500-901 exam practice tests on different websites, and these will help you become familiar with the questions type and their structure. Cisco 500-901 DCIDUC practice tests are vital for preparation as they allow you to find your weak areas and make your preparation more effective.
6. Relax and Ace Your Exam With a Calm Mind
Once you have studied for the Cisco DCIDUC exam, the next step is to relax and ace it with a calm mind. Don't stress out. You need to be in the proper mindset to tackle all the Cisco 500-901 exam questions accurately. Take sufficient rest the night before your exam. Read the exam questions twice and understand each of them and what you are expected to do before answering them.
How Helpful Are Practice Tests for Passing Cisco 500-901 DCIDUC Exam?
Practice tests have been of great importance over the past few years. Many exam-takers are ready to use them, and the number of practice tests' providing platforms is increasing dramatically. Among the vast resources, the real quest is to select the most trusted and authentic one.
NWExam.com website has confirmed its name by offering reliable practice tests that seasoned IT experts attentively review. NWExam.com is a source for you to perform Cisco 500-901 DCIDUC practice tests. By answering Cisco 500-901 practice questions and reviewing your result, you can find your weaknesses and work on improving them.
Working on time management is crucial because you have to answer all the Cisco 500-901 DCIDUC exam questions within the due period. If you see yourself surpassing the limit, you need more studies and preparation, and you will have to find ways to deal with the exam questions in a given time. And when you enhance your knowledge, you will be able to answer the more straightforward questions within a few seconds and use that extra time to work on the difficult ones.
Conclusion
The success in your Cisco 500-901 DCIDUC certification exam depends not only on the quality and number of exam resources you utilize. You have to prepare thoroughly to master the exam topics and sharpen your skills, regardless of your material. So, begin with a recommended training, make the most of practice tests from the NWExam website, and accomplish your professional goals!